230
MATERIAL DOMAINS
Talia Kwartler on Sophie Taeuber-Arp at the Museum of Modern Art, New York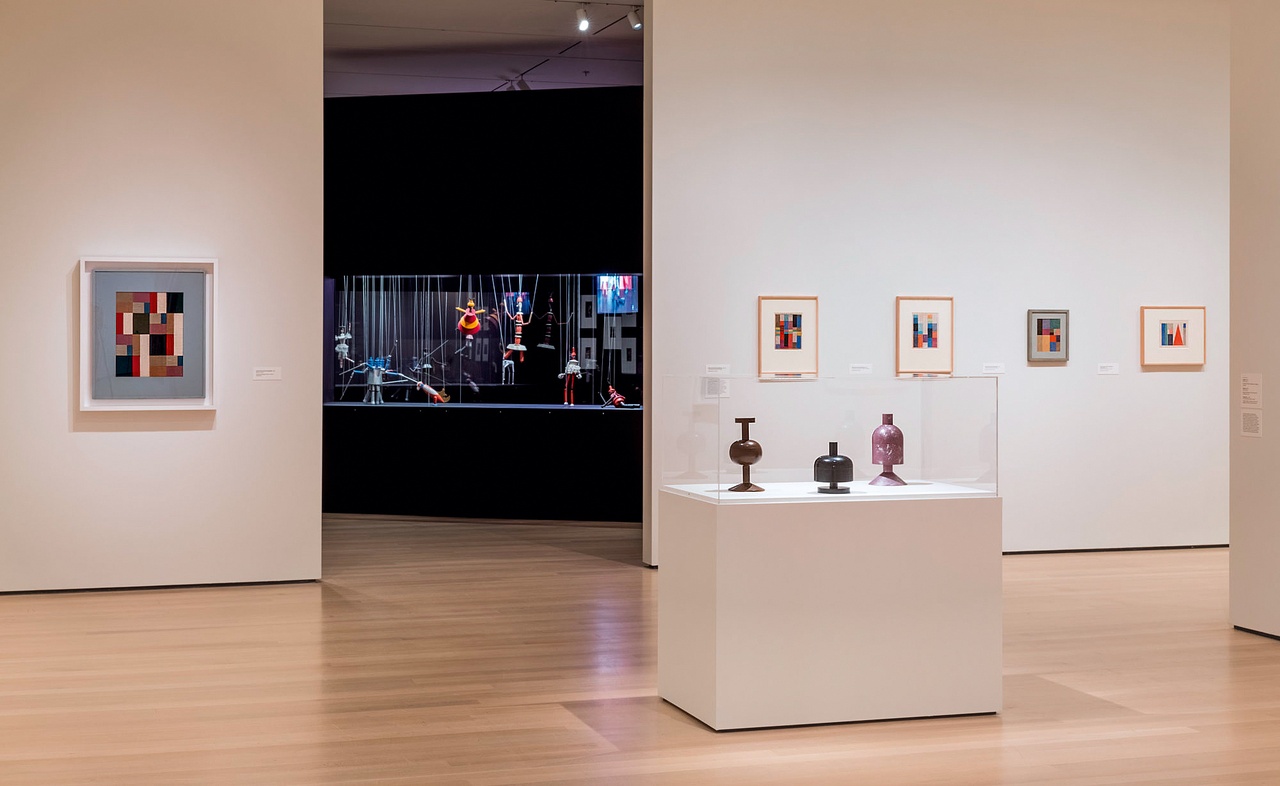 New York's Museum of Modern Art has been central to writing and gatekeeping the principal narrative of modern art. In recent years, it has responded to criticism by attempting to revise and expand its narrow and linear canon. The retrospective of Sophie Taeuber-Arp's work, which first traveled to Basel and London, can be understood as part of this larger effort, producing a definitive and in-depth account of Taeuber-Arp's wide-ranging oeuvre – encompassing a diversity of materials and a heavy influence of craft and design traditions – and its influence on modern art. Art historian and curator Talia Kwartler reports on the exhibition's final stop in New York, writing that the retrospective demonstrates how we can arrive at new histories of art by placing women artists at the center of curatorial narratives.
"Only when we go into ourselves and attempt to be entirely true to ourselves will we succeed in making things of value, living things, and in this way help to develop a new style that is fitting for us," wrote Sophie Taeuber-Arp in 1922. [1] The title of the artist's retrospective, "Sophie Taeuber-Arp: Living Abstraction" – shown at the Kunstmuseum Basel and Tate Modern and now on view at the Museum of Modern Art in New York – builds on this concept of "living things." By bringing the interrelated parts of Taeuber-Arp's artistic practice into dialogue with each other, this exhibition presents Taeuber-Arp as a polymathic pioneer of abstract art.
Organizing a retrospective of this scale and scope is always a monumental effort. The international team of curators who shared Taeuber-Arp with a transatlantic audience includes Anne Umland, senior curator, and Laura Braverman, curatorial assistant, MoMA; Walburga Krupp, independent curator; Eva Reifert, curator, Kunstmuseum Basel; and Natalia Sidlina, curator, Tate Modern. The comprehensive catalogue also involved Charlotte Healy, research assistant at MoMA, as a coeditor, with Mark Nelson of McCall Associates realizing its exquisite design. Its royal-blue cloth cover, printed with a design based on Taeuber-Arp's Gradation (1934), is tactile, like the beaded bags and ornamented marionettes in the exhibition you simply want to take out of their cases and play with in your hands.
The exhibition is presented chronologically, with visitors entering a gallery that makes vivid the affinity between Taeuber-Arp's works in the fine and applied arts. There is a distinctive flow between Taeuber-Arp's abstractions across media, yet much of her applied artwork has not been given the same consideration as her paintings and sculptures, in part because her posthumously compiled catalogue raisonné, assembled by her husband, Jean (Hans) Arp, did not give a full view of these works. [2] The retrospective seeks to redress this limited understanding of Taeuber-Arp's art. Three of her works that bridge the space between object and artwork are on view in a free-standing case: Dada Cup (1916), Amphora (1917), and Powder Box (ca. 1918). They greet museumgoers and beckon them toward new ways of considering Taeuber-Arp's body of work. Many of the other works installed in this gallery revolve around geometric elements and abstract motifs that Taeuber-Arp arranged in space, whether they take form on a piece of wool embroidery, sheet of paper, or beaded necklace.
Visible beyond these everyday objects-cum-artworks is a lush purple theater-like gallery devoted to Taeuber-Arp's designs and marionettes for the 1918 production of King Stag, an adaptation of an 18th-century play by Carlo Gozzi that parodied psychoanalysis. [3] This display, presenting the turned-wood marionettes with a group of sculptures known as "Dada Heads," is the most powerful in the exhibition. Within histories of Dada, these works have more often been considered as sculptures, yet the cross-pollinating nature of these forms is clearer when they are shown together in the context of the theatrical production. The curators also draw a connection between the sculpted objects encountered earlier and the painted (and sometimes beaded) wooden heads. Exhibiting the heads and marionettes alongside historical photographs of this group of works amplifies the relation between them. These photographic materials include Nic Aluf's portraits of Taeuber-Arp posing with Dada Head (1920), which she submitted to Tristan Tzara's anthology Dadaglobe (slated for 1921 but never published).
This interplay between materials, forms, and media in Taeuber-Arp's body of work continues to unfold throughout the exhibition. After the marionettes, visitors cross back into the first gallery, passing by a shimmering display of beaded bags and jewelry before arriving in a room dedicated to the period between 1916 and 1929, when ­Taeuber-Arp taught textile design and embroidery at Zurich's Kunstgewerbeschule (school for applied arts). While Taeuber-Arp was working with these materials as a teacher, she used the same media to inform her work that was shown in avant-garde contexts. This aspect of Taeuber-Arp's practice was made prominent in MoMA's iteration of the retrospective, as it was at the Kunstmuseum Basel, which created a distinctive installation to bring the artist's work in the applied arts to life. [4] Giving such attention to the applied arts – from tablecloths to tapestries to embroidered cushions – made the dialogue between Taeuber-Arp's abstractions across disciplines especially striking.
An evolving conception of the dynamic between material realms in Taeuber-Arp's art propels the exhibition forward. It carries the exhibition from Taeuber-Arp's work in the applied arts to her interior designs – including her collaboration with her husband and Theo van Doesburg on the Aubette entertainment complex in Strasbourg – as well as furniture she designed for an international group of clients and for her and Arp's studio-house in the Parisian suburb of Clamart. These galleries, as well as the preceding one focusing on Tauber-Arp's pedagogy, form the heart of the exhibition, and they set MoMA's presentation apart, particularly from Tate's. By creating distinctive gallery spaces for these important and often understudied parts of Taeuber-Arp's practice, rather than showing them in a single large gallery as Tate did, the curators at MoMA reveal how architecture, design, and teaching were central to Taeuber-Arp's work across media.
As Taeuber-Arp's friend Gabrielle Buffet-Picabia wrote of her work in 1948, "I have often thought that the perfection sought by Sophie Arp […] also relates to a mysterious domain […] that we perceive without being able to express it and where there is maybe the only real raison d'être, the key to the mystery of any artistic invention." [5] The penultimate gallery of the exhibition – followed by a small final space painted in rich red and showing Taeuber-Arp's drawings for an illustrated book – refashions Buffet-Picabia's interpretation of Taeuber-Arp's art. The curators populated this expansive space with Taeuber-Arp's abstractions in two and three dimensions. Painted wooden reliefs such as "Flight": Round Relief in Three Heights (1937) and the carved wooden sculpture Head (1937) emphasize that before the outbreak of the Second World War, Taeuber-Arp was at the height of her career. At the close of the exhibition, we encounter an end to Taeuber-Arp's career that was not meant to be an end at all; rather, it was an ongoing expansion cut short by her tragic, untimely death by accidental carbon monoxide poisoning in 1943, days shy of her 54th birthday.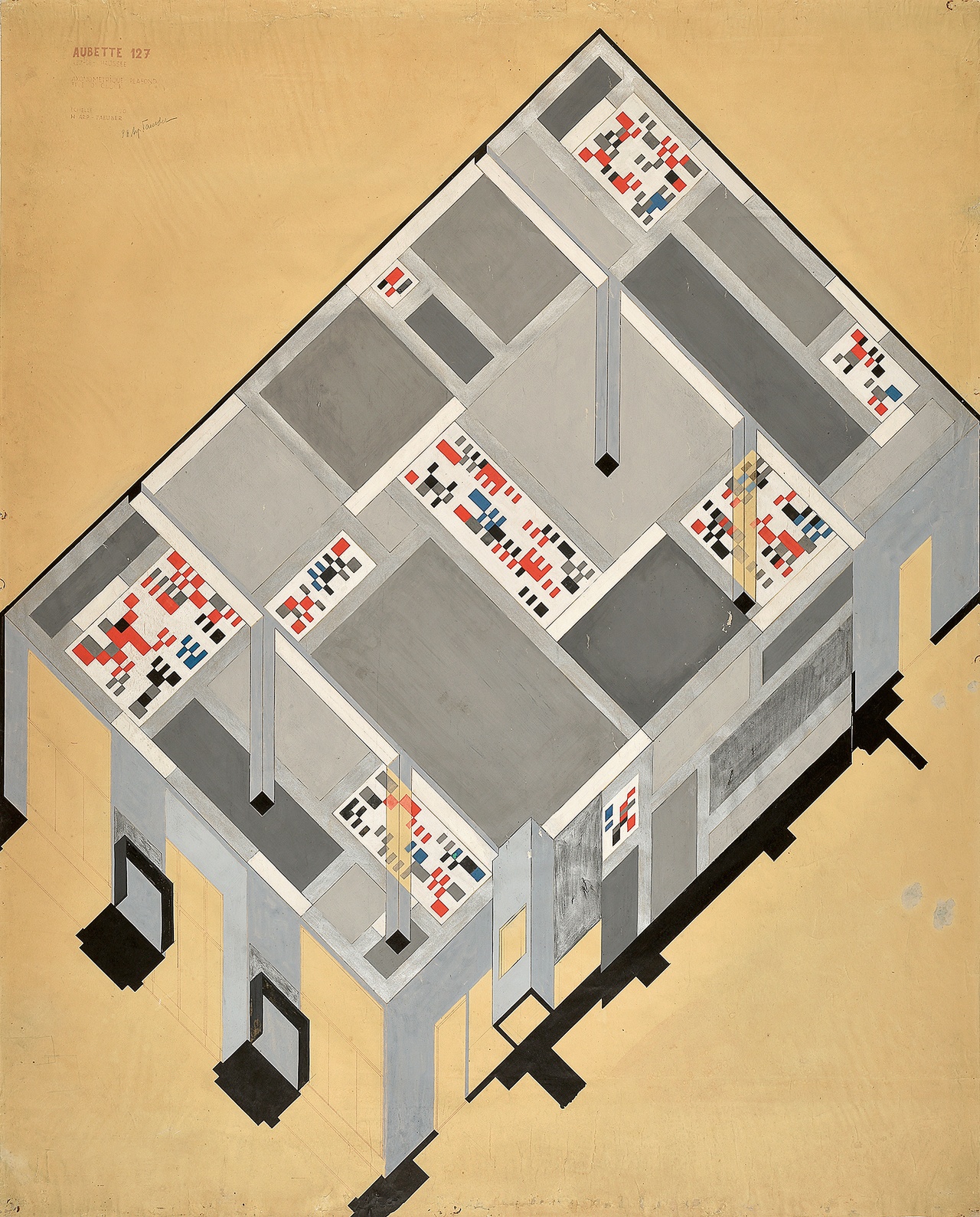 "Sophie Taeuber-Arp: Living Abstraction" changes how we see Taeuber-Arp as an individual and as a pivotal player within networks of artistic exchange. By presenting Taeuber-Arp in such an evocative way, the exhibition places her within a vaunted group of great modern artists, a history of modern art that MoMA has been influential in writing. Taeuber-Arp is also now an important part of MoMA's permanent collections, and these curatorial gestures will certainly have an influence on future generations of thinkers across disciplines, from artists and scholars to designers and architects. In addition to shedding greater light on Taeuber-Arp's innovative body of work across media, the retrospective demonstrates how we can arrive at new histories of art by placing women artists at the center of curatorial narratives.
Bringing artists who have often been excluded and marginalized within art historical narratives – whether for reasons of gender, sexuality, race, or ethnicity – to the forefront through retrospectives and permanent collection displays offers a powerful means to expand our understanding of art to one that is richer, fuller, and more accurate. Although shifts of this kind can never fully undo generations of oversight, this type of exhibition goes a long way toward envisioning a more equitable future for museums. And when the subject is as dazzling as Taeuber-Arp's art, it is also an absolute delight.
"Sophie Taeuber-Arp: Living Abstraction," Museum of Modern Art, New York, November 21, 2021–March 12, 2022. (Also exhibited at Kunstmuseum Basel, March 20–June 20, 2021, and Tate Modern, July 15–October 17, 2021.)
Talia Kwartler is a curator and art historian based in London and Berlin. She just completed her doctoral thesis, "Suzanne Duchamp Does More Intelligent Things Than Paint," at University College London.
Image credit: 1+2. Courtesy of The Museum of Modern Art, New York, photos: Jonathan Muzikar; 3. Courtesy of Musée d'Art Moderne et Contemporain de Strasbourg, photo: M. Bertola
Notes
| | |
| --- | --- |
| [1] | Sophie Taeuber-Arp, quoted in Anne Umland and ­Walburga Krupp, "Sophie Taeuber-Arp: An Introduction," in Sophie Taeuber-Arp: Living Abstraction, eds. Anne Umland and Walburga Krupp with Charlotte Healy (New York: Museum of Modern Art, 2021), 19. |
| | |
| --- | --- |
| [2] | See Umland and Krupp, "Sophie Taeuber-Arp," 19–20, 27n2, 27n4; and Georg Schmidt, ed., Sophie Taeuber-Arp (Basel: Holbein, 1948). |
| | |
| --- | --- |
| [3] | Medea Hoch, "Interplay of the Arts on Stage: The King Stag Marionettes and Stage Sets," in Umland and Krupp with Healy, Sophie Taeuber-Arp, 95. |
| | |
| --- | --- |
| [5] | Gabrielle Buffet-Picabia, "Sophie Taeuber-Arp" [1948], in Rencontres avec Picabia, Apollinaire, Cravan, Duchamp, Arp, Calder (Paris: Pierre Belfond, 1977), 128–29 (my translation). |