178
SOON YOU'LL GET BETTER
Domenick Ammirati on Josephine Pryde at Reena Spaulings Fine Art, New York
In her seventh studio album, Lover, Taylor Swift addresses – alongside her emotional aches resulting from love, lust, and liaisons – her mother's severe illness, prolonged medical treatment, and the hope for physical recovery. Swift's stirring songs, or rather, the recollection thereof, provided comfort and distraction for a gastrointestinally sickened Josephine Pryde as well – and thus constituted the ontological starting point for the artist's bronze casts, which were recently presented at Reena Spaulings alongside an equally new group of photographs. Domenick Ammirati, discussing these two series of works in relation to both the index and Miss Americana herself, considers how fragments of auditory (and visual) memory materialize and find their external, distorted actualization through Pryde's mysterious artworks.
At Josephine Pryde's quietly mortal recent exhibition at Reena Spaulings Fine Art, a suite of sixteen puzzlingly blank, puzzlingly repetitive photographs traced a minimal line, bluish like woodsmoke, down the length of one wall. Seen up close, they depicted segments of a glass bathroom shelf installed against white tile, with the whole grouping simulating the unit's full length frame by frame. Meanwhile, on modest folding tables, in twos and threes, sat small bronze sculptures, vaguely organic, some thin and some thick, each topped with a copper-green sort of bud or bead. Lastly, projected onto another wall, fading in and out at a slow pulse, was a smudgy, gray, typewriter-font list of a dozen phrases: "London Boy," "Daylight," "Lover," "I Forgot That You Existed." These were the sculptures' titles but also the titles of tracks from Taylor Swift's Lover album. Culled from perhaps Swift's most quickly evanesced record, one that seemed to vanish into a lukewarm shower of critical response and then lockdown, the ethereal checklist was most likely as mysterious to viewers as the photos and sculptures themselves.
The press release, deftly authored by the artist (and helpfully available in the traditional print format), explained the whole thing. Sort of. The photos recapitulated a wrenching bout of stomach flu, during which Pryde found herself incessantly dashing to the toilet. The sculptures, it turns out, emerged from a mysterious reverie that took place as the artist lay supine on her floor chewing gum: "I chewed at a pace and a rhythm that corresponded to songs by Taylor Swift from her 2019 album, 'Lover,' songs of which I had recall in my mind," Pryde explains with a conspicuous elocution. [1] When the song in her head was finished, she stuck the gum wad onto an item from her collection of beach rocks and driftwood, then moved on to the next song and next stick. Thereafter she had the resulting forms cast in bronze.
Thus, "Taylor Swift's 'Lover' & the Gastric Flu" was rendered crystal clear while remaining gorgeously oblique. It's a juxtaposition that's been characteristic of Pryde's work for some two decades. Her oeuvre often hovers around the body, particularly the female body, from angles odd like those of a drone cam – zooming in, perching at odd vantages, and ultimately displacing its subject into an array that's simultaneously fragmented and compressed. With a gnomic intensity that makes her a cousin of Trisha Donnelly and with a strange sense of humor that recalls that of her slightly junior photographic peer, Michele Abeles, a laminate confusion sometimes ensues between the camera and the subject itself. In Pryde's Knickers (2014) series, for example, the most intimate of garments and those intimate parts they conceal are broken into abstract, mirroring geometries; in other works, guinea pigs, a calf's liver, or disembodied hands with painted fingernails are granted a kind of holism that makes them stand in for a human being.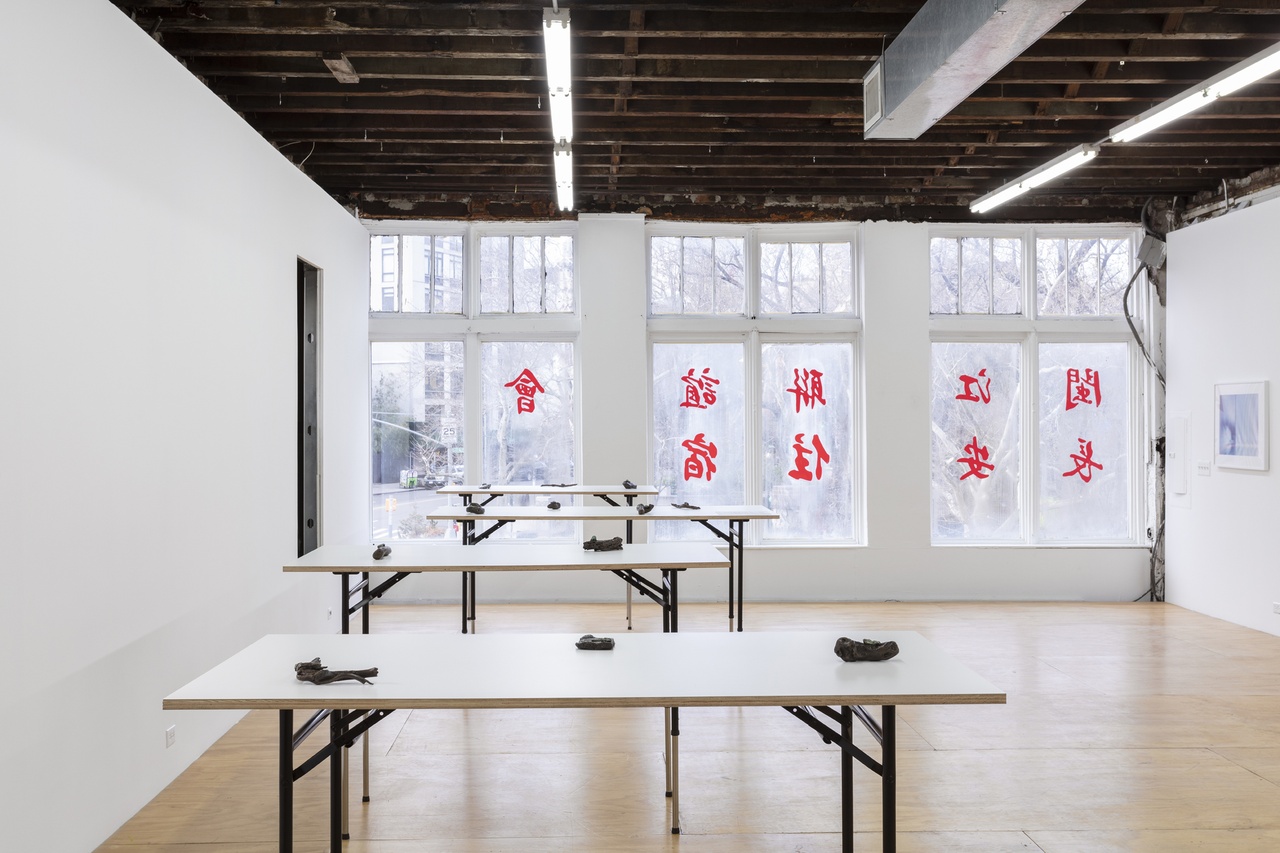 At Reena Spaulings Fine Art, the stubby, strange sculptures achieved a similar effect, not quite brown or shapely enough to signify shit but close enough to achieve a kind of corporeality. By contrast, in the plain yet otherworldly images of the bathroom shelf, the human form feels evacuated – fittingly so, for a set of works about one's body purging its contents over and over. A clear plastic container contains the accoutrements of a feminine toilette: a razor, tweezers, mascara brushes, some eye-shadow pencils, cuticle scissors, and so on, along with one uncannily beautiful thin blue candle. This allusion to the outlines of gender, its performance, and its lack of essence meets a sort of dialectical partner in a small glass that holds a few stones submerged in water like germinating potatoes – something compressed and a kind of symbol for immanence. Pryde's choice to eschew the Muybridgean and divide the shelf erratically, with glitchy overlaps and gaps, disrupts not only the physical representation but also the flow of time. With the shelf and its contents blown up larger than life, the most critical elements captured are the most insubstantial: the subtleties of light, its glossy reflections, its blue ripples and shadows.
As Pryde notes in her exhibition text, she photographed not her actual bathroom shelf but a replica that she made in her studio. (Learning this made me feel a little less shamed by its spotless appearance in comparison to the state of my own medicine cabinet.) This replica step is key, emphasizing the cricks and concatenations of memory that inform both sets of work. The sculptures, after all, are also attempts to turn experience into tokens of communication: "The gum assumed a form I may call analogous to the compressed resolution of a song, transferred via the jaw from tracks held in the memory." [2] In Pryde's world, the resulting bronzes are no different from a photograph; both groups of work are as indexical as a fingerprint. Or perhaps it's better to say that, under the pressure Pryde exerts – under the pressure of our historical-technological moment, whose conditions Pryde so elegantly exposes – the index loses meaning, despite the fervent reinscriptions of both essence and presence to which so many of us, all of us, cling. Who knows how long Pryde's bathroom shelf is? Does she know? Like identities, our memories are inventions: each time they are called up, they are created anew.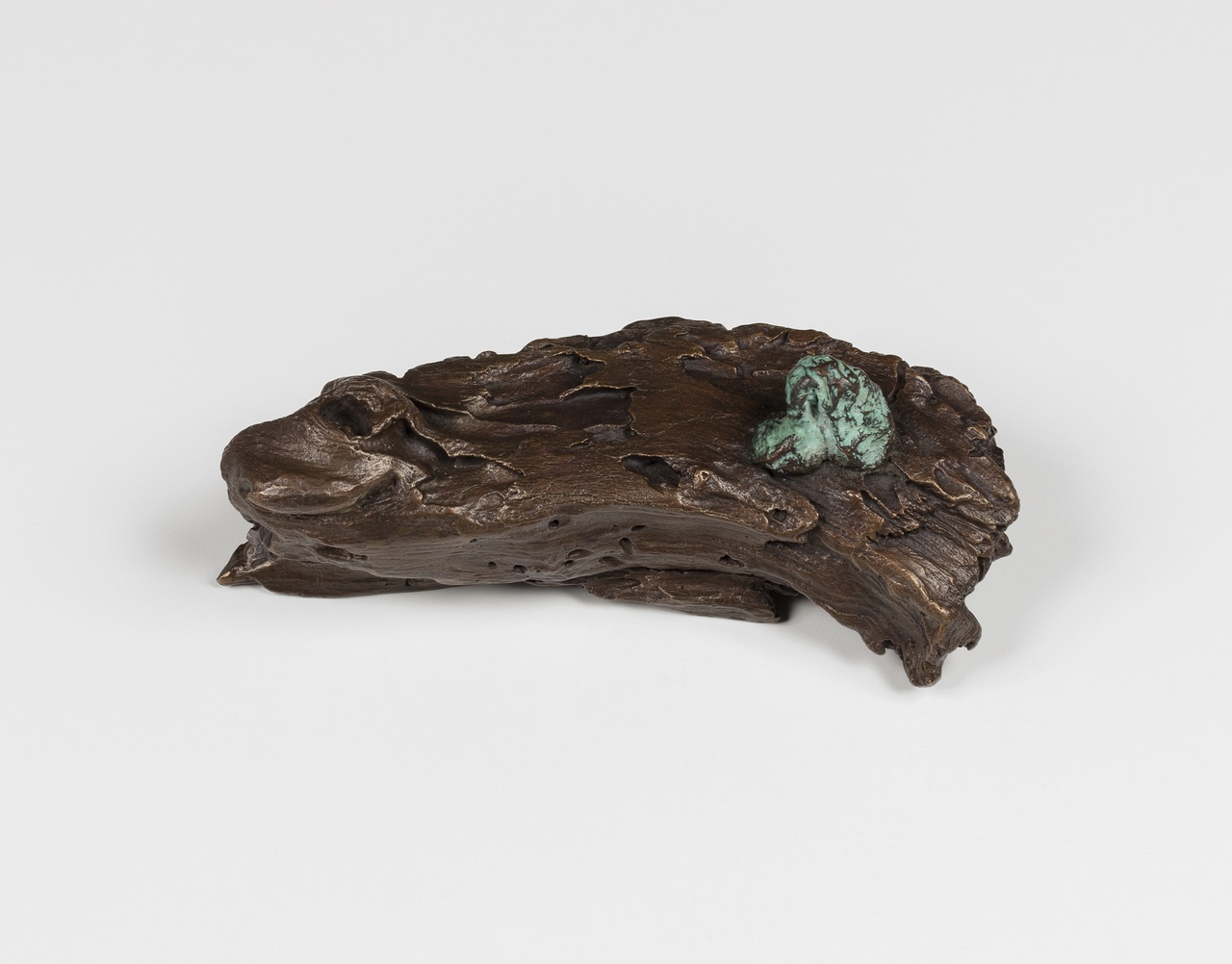 And what of Swift's unexpected role in this project? In one sense, she represents a fanciful introduction of the arbitrary, the bestower of constraints for Pryde to deal with, of the sort that can be so useful in art making. If Pryde is Chris Burden, roughly speaking, Lover is the locker she stuffs herself into. And yet Taylor looms thematically. Why of all albums, of all Taylor Swift albums, does Pryde find the songs on Lover stuck in her head? Unexpectedly for an artist who eschews any shred of romanticism, in a show that alternately teases apart the subject into ineffably thin layers and condenses it in clunky doppelgängers, the scenario she invokes turns out to be laden with emotion: "The songs are songs of love, and hurt me wildly," she reveals. [3] Does Pryde have any specific associations with the album? Or was it simply that the tracks on Lover are, like all Swift's music, precisely penned and flawlessly produced pop songs whose job is to embed themselves in your memory as if they had accompanied you through the most tumultuous moments of your life?
To me, Swift embodies tensions that Pryde's exhibition leverages into consideration: the relationship between the emotional and the technical, the potency of empathy versus the power of craft, the structure of an artwork and the sensations it evokes. Are the feelings that a song like "The Archer" conjures in you real, or are they just the result of some sonic cues activating a certain well-habituated pattern of firing synapses? It seems Pryde may be prey to similar contradictions in her feelings toward Miss Americana – so I adjudge from her enigmatic tribute in copper and tin and from the way she describes her response to Swift's songs and their relation to memory. She calls them "little polished patinas, caught in the crux of the brain, squat in a fold of gray matter." [4] It can be hard not to feel manipulated by a great pop song, but the mist it brings to your eyes is real. You've absorbed it into your physiology, against all odds.
"Josephine Pryde: Taylor Swift's 'Lover' & The Gastric Flu," Reena Spaulings Fine Art, New York, April 3–May 8, 2022.
Domenick Ammirati is a writer and editor based in New York. He is a regular contributor to Artforum, and his criticism has appeared in a variety of other publications, including 4Columns, Frieze, Mousse, Dis, and the Los Angeles Review of Books, as well as in exhibition catalogues for artists including Josh Kline and Frances Stark. He is a former editor for documenta 14 and the Guggenheim Museum and is a writing instructor for the School of Visual Arts graduate curatorial studies program.
Image credit: Courtesy of the artist and Reena Spaulings Fine Art LA/NY, photos Joerg Lohse