175
We salute you gentle Rousseau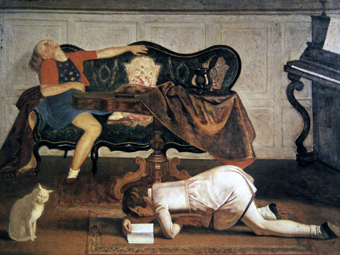 Balthus, "Living Room", 1942
The recent popularity of "artists' artists" is usually met with questions as to its current causes – and consequently, like elsewhere in this issue, with an exploration of the market's desire for seemingly resistant practices.
By taking a different point of view, however, the focus of the debate may be shifted towards the historical prerequisites and effects of this increased demand. Against the background of cyclical rediscoveries one may then ask whether the use-value of the obscure and the eccentric would have to be exhausted by the new visibility of (former) "artists' artists" or whether the merry game of artistic recognition has always been involving instrumentalization and deformation. Is there a reason to celebrate, after all?
We salute you

Gentle Rousseau you can hear us

Delaunay his wife Monsieur Queval and myself

Let our luggage pass duty free through the gates of heaven

We will bring you brushes paints and canvas

That you may spend your sacred leisure in the light of truth

Painting as you once did my portrait

Facing the stars

—Guillaume Apollinaire, epitaph for Henri Rousseau's tombstone, 1910
We live in a time of revival and rediscovery. Arising with modernism's exhaustion in the late 1960s, this harvest began before much of the art currently being culled had even been made. The situation marks a dawdling end to a century of movements. With modernism's demise came summation and recycling — twenty years of neo-isms. Now this is over, more or less. Our current state is one of shrewd recapitulations, reminiscence subsumed within invention.
The priority given obscure historical work distinguishes our present, but our present is not unique. Artists (and curators and critics) have long recognized the value that lay in the little known, the many individual and collective uses to which a novel œuvre can be put. Duchamp championed Louis Eilshemius whose work he discovered in the same 1917 Independents exhibition to which he contributed his "Fountain". Duchamp's embrace was an affront to taste, not dissimilar to that urinal's display. Eilshemius thus became the "American Rousseau", an "artists' artist". With Duchamp's imprimatur others followed: Katherine Drier, Milton Avery, David Burliuk, Louise Bourgeois, Peter Schuyff, the Museum of Modern Art, the critic Henry McBride, collectors Duncan Phillips, Joseph Hirschhorn and Roy Neuberger, dealers Valentine Dudensing, Paul Durand-Ruel and Sidney Janis. Eilshemius directly influenced Balthus, who saw his 1917 painting "The Prodigy" in the Paris collection of Duchamp's friend, Henri-Pierre Roche. Great art often stands on lesser shoulders. To this day Louis Eilshemius continues to be rediscovered; serial discovery is the artists' artist's plight. [1] Think of Forest Bess, Paul Thek, Ray Johnson, Francis Picabia, Bob Thompson, etc. [2] Oddballs all, a significant quality for an artists' artist.
Duchamp is, in turn, an artists' artist, as are Picasso and Matisse, Pollock and DeKooning, Richard Prince and Paul McCarthy. So obvious is the significance of these artists that we don't think of them as such; an artists' artist should be obscure. Obscurity and a prolonged lack of recog­nition are important. Together they make large and diverse bodies of work available all at once, ready to be selectively shaped to fit the needs and understandings of their new champions. Obscurity also raises the specter of connoisseurship and establishes insider knowledge. Our times confuse information with novel ideas thereby giving new information the adventitious appearance of innovation. Since innovation is the product otherwise expected of an artist, these circumstances ratchet production up a notch. Artists may assume the role of curators (elevating their fascinations) and curators become theoreticians. This works nicely and maintains productivity. The artist/curator can do exhibitions and make new work designed to fit those predetermined contexts while the curator/theoretician can oversee the odd biennale and, when need be, enlist the services of the artist/curator. The strategy also allows "influence" to come into its own, stepping out from behind the backstage curtain: "X was an influence on Andy Warhol." "Mike Kelley was really into Y." "Z was an associate of Kippenberger" etc.
Above all the artists' artist is a political construct with collective value — Deleuze and Guattari's notion of the minor. [3] This situation is problematic because it obviates judgments related to quality. It is the use-value of the work in destabilizing hierarchies and received histories rather than the quality of the work itself that is paramount. As soon as the uniquely compromised status of an artists' artist is shorn up however, their use-value sublimes. Thus Lee Lozano or Yayoi Kusama granted market acceptance and museum exposure disappear into plain sight. This is why Picasso and Matisse are useless (though the quality and originality of their work assures that it continues to be of artistic use). Ironically, with a little overexposure a rediscovery like Bas Jan Ader runs the serious risk of wearing out its resurfacing, sinking back into invisibility. Then again, ubiquity and public acceptance themselves can become useable qualities, running as they do counter to knowing expectations. Since insider interest disappears in the light of public acceptance, in circles inside circles an enormously popular artist like Takashi Murakami is potentially vacated enough to appeal as an artists' artist.
The artists' artists who arise at any given moment reflect the interests of that moment. Thus Forest Bess resurfaces first in the 1970s in response to crises in the meaning of abstraction, then again more recently when the abstruse modesty of his work seems attuned to a current (false) modesty (where any explicit statement of conviction seems beyond the pale). Francis Picabia was reintroduced in the 1980s when his combination of figurative palimpsest and retro-kitsch all of a sudden appeared prescient, Lee Lozano's work reflects contemporary interest in extremes of transgression, Martin Barré's paintings echo the piquant and fey conceptual graphics currently finding favor in the work of younger artists, and so on.
Rather than asking who is an artists' artist it may be more interesting to ask who is not. With a show at the Museum für Moderne Kunst in Frankfurt, recent appearances in high profile shows curated by Alison Gingeras, an ennobling portrait-engraving in the New York Times and uncontestable minor value, Bernard Buffet has all the potential trappings of an artists' artist. But Buffet is a joke, and a very good one. Given that Buffet's joke value is so apparent his use-value as an artists' artist seems destined to remain compromised and it is exactly this compromise that, in the long run, will ensure his longevity.
Certainly Georges Mathieu has the requisite lack of respect. His monarchist politics are unsavory and his flamboyance is an affront. He offends on formal grounds (figure and ground laid out in classically anti-Greenbergian terms) and gives Leroy Neiman a run for his money in the sell-out department. These qualities alone make him of interest. But Mathieu's place in history is secure — the first to show Pollock in Europe, an inspiration to Japan's Gutai. Add to this his work's ravishingly platitudinous graphic qualities and its topographic similarities to Barré and Stephen Prina among others, or to Jean Degottex — an artists' artist to be — and the allure is undeniable.
Now we are in treacherous territory: artists' artists who are fatally compromised — useful but not fully acceptable. These artists, while not necessarily wallowing in the slough of questionable taste, can continue to present challenges (to taste and politics) and resist acceptance. Trafficking in this strange netherworld, putting this work to work, is in truth an easy hurtle which can be jumped over without much discomfort. The issue then becomes traction upon landing. In itself, there's nothing particularly valuable in provoking an argument by championing an oddball. But what happens when there are powerful social and economic frameworks in the background poised to act? Opportunities for emergence and heterogeneity are inherently imbedded in the particular socio-economic lay of the land at any given moment. The mechanisms that create awareness and generate consensus are often organizational and in turn work in reverse to propagate culture. The casualness of conversation, suggestion and exhibition-making goes a long way in obscuring this structural back-end, especially since the art world has unusually powerful resources, particularly for such a solipsistic sphere, one increasingly distanced from the culture at large. Ultimately, we may come to view the present as a rare luxurious moment of widespread experimentation and indulgence in art exhibiting — crucially reflecting the result of the last decade of ongoing cultural exhaustion, business restructuring, transaction habits and market particularities. [4]
Artworks have always been in the position of being emblems and interesting revivals are emblematic mischief immune to historical judgment. In 1929 Michel Leiris published an analysis of an obscure 1566 French Renaissance painting, "The Massacres of the Triumvirate" by Antoine Caron, in Georges Bataille's Surrealist journal Documents. [5] As Deleuze would surely recognize, the purposes of pulling this particular rabbit out were political. In his tract, Leiris first recounts his own childhood obsession with blood, dismemberment and death before commencing a highly charged speculation on Caron's painterly motivations. Foregoing a more measured reading of the work as it was made in its own time and place, Leiris wrenches the admittedly gruesome canvas wholly into his and Bataille's worldview, claiming it to be a catalyst from another time here to jolt their sense of the "present". Particularly of use is a scene in the painting's foreground of a soldier crouching over a decapitated body — one hand plunged in its gaping chest cavity while the other firmly grasps the corpse's cock. Leiris' critical spell casts Caron as a profound sado-masochist and a conjurer of black magic. Undeniably this painting becomes, for Leiris, an incantation, a dark omen for the coming worldwide epoch, which he in turn circulates back to childhood's terror fascination. The depicted violence has a profound effect on Bataille, his ecstatic fantasies of barbarism projected into and back from the painting. The historian Neil Cox recognized Bataille's intent to publish "hitherto unclassified" works of "the most troubling kind", with Leiris's essay being "just one example of the appropriation and deformation of heritage in Documents".
This "deformation" is indeed a wild ride for a painting and an immoderate manifestation of value invented. Our present enthusiasms, though pervasive, lack the capacity for this sort of extreme. For then as now, redirection encounters little resistance when the redirected has been safely consigned to the beyond — you invent what you need from what's left behind. Here it's the nostalgia part that gets the creepiest (imbedded as it is in misunderstandings of the past perceived to be solutions in the present). Nostalgia is the black sheep of revivalism. It is best if an artists' artist belongs to a distant generation so that the work refers only to itself and not to the memory of its audience. Distance is key.
But what's to fret about salvation delayed? For a living artist for whom a new audience emerges, or for the friends and colleagues of a dead artist whose work is coming back to life, there's a simplicity to all the "how and whys" of belated acknowledgment and acceptance; Who is harmed by a deepened awareness of the past as it becomes present? [6] Still, revision fails to capture the gaps, the time lost while out-of-favor or waiting in the wings or consigned to the everyday world of obscurity. If "use" is a mess, "disuse" is a blacker hole still. Ironically, this dichotomy between visibility and absence most clearly outlines not the object of rediscovery, but the shape of the all-powerful lens behind the deepening vision — "rediscovered" implicates an "us" passively waiting for something to cross our register, whether coming into focus or disappearing. It is this viewing frame, factionally defined within the artworld, which is bolstered while the initial impulse in putting forward an artists' artist may somehow incrementally dissolve. Artists and their art are in truth always "there" so their newfound celebration, and even the criticism of that celebration, is nonetheless a backhanded salute to the powerful promotional mechanisms at work. Yet despite the anxiety engendered by consensus, art's bulky, immaterial, "there-ness" is its strength, opposing those forces that might consign it to the political realms of collective fantasy.
Notes
| | |
| --- | --- |
| [1] | Karen Wilkin, "Eilshemius rediscovered again", in: New Criterion, November 2001. |
| | |
| --- | --- |
| [2] | Peter Schjeldhal, The Seven Days Art Columns 1988–1990, 1991. |
| | |
| --- | --- |
| [3] | Gilles Deleuze and Félix Guattari, Kafka; For a Minor Literature, Minnesota, 1986 (orig: Kafka, Pour une littérature mineuve, Paris 1975). |
| | |
| --- | --- |
| [4] | Peter Tschmuck, Creativity and Innovation in the Music Industry, Heidelberg 2006. |
| | |
| --- | --- |
| [5] | Neil Cox, "A Painting by Antoine Caron", in: Papers of Surrealism, Issue 7, 2007. |
| | |
| --- | --- |
| [6] | Diedrich Diederichsen, et al. (Ed.), Golden Years: Dokumente und Materialien zur queeren Subkultur 1959–1974, Graz 2006. |