175
Questionable Images
On "The Image in Question: War-Media-Art" at Carpenter Center for the Visual Arts, Harvard University, Cambridge by Andrew Stefan Weiner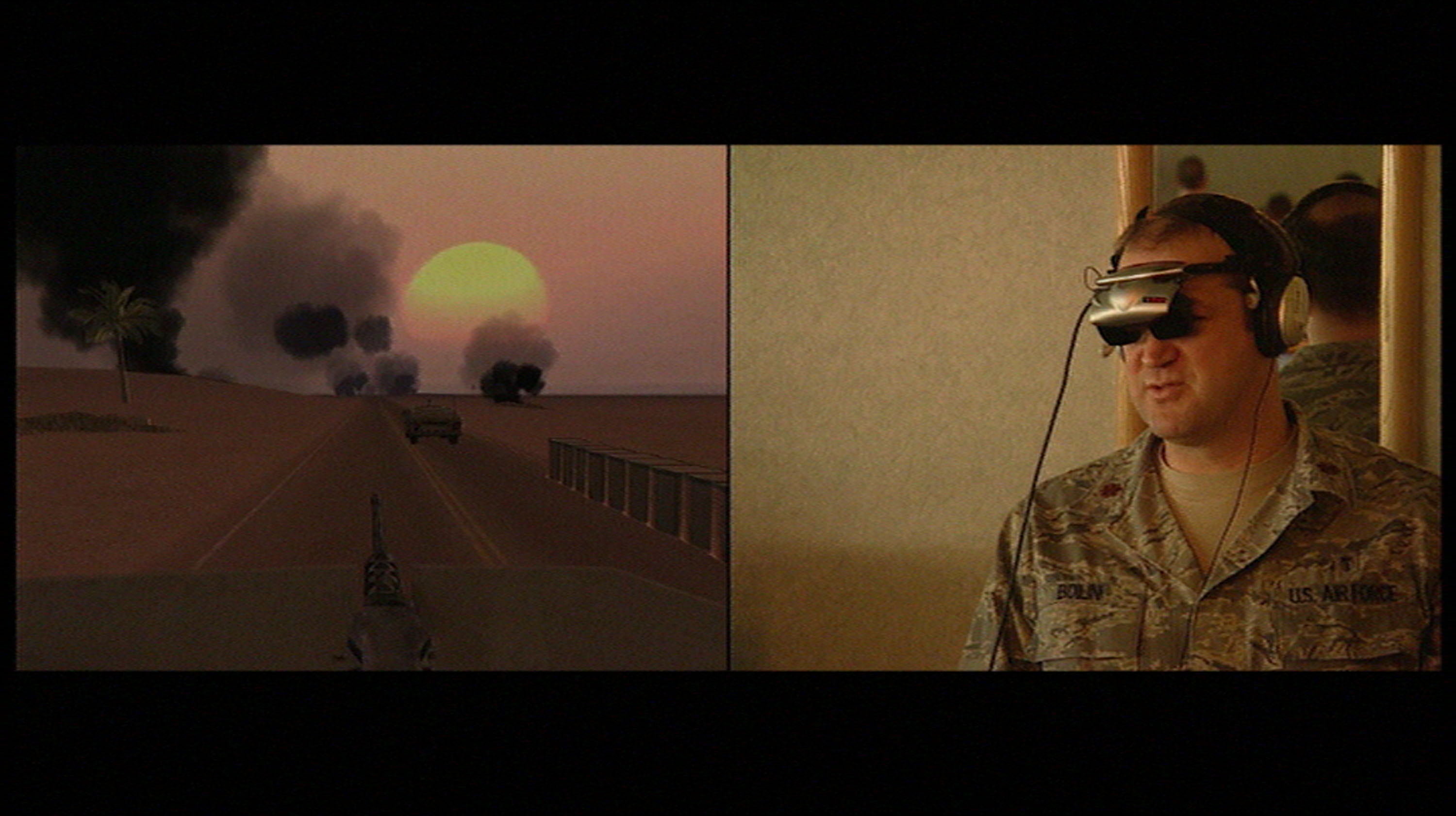 Harun Farocki, "Serious Games 1/Watson is down", 2010, Videostill
With numerous retrospectives fueling a long-deserved upsurge of interest in the work of Harun Farocki, many now celebrate the prescience of his œuvre. No one could dispute this, seeing as films like "How to Live in the German Federal Republic" (1990) anticipated recent debates about performative capitalism by decades. Yet it is less often noted that Farocki's analyses of images through images tend to temper their typically strident argumentation by insisting on their own immanence and provisionality. Given Farocki's new renown within the museum, along with his ongoing activities as a curator, one might expect him to apply this characteristic skepticism to his new institutional sponsors and to issues of curatorship. Such hopes were only partially gratified by the exhibition "The Image in Question: War – Media – Art", co-curated by Farocki and author, curator and video artist Antje Ehmann. Positing everyday life as a continuation of war by other means, as Farocki has himself done in works like the "Eye/Machine" series (2001–03), the show tracked the migration of established power relations across emergent image formats, questioning how artists should best represent "the wars of the present". [1]
Such aspirations to timeliness were awkwardly undone by the fact that nearly half of the exhibition's works were produced before 9/11. Pieces like Allan Sekula's "War Without Bodies" (1991/1996) suggested a relation between militarism and repressed desire that seemed closer to the fantasies mobilized during the Cold War than to the sort of casually violent desublimation pictured in the photographs of prisoner abuse at Abu Ghraib. More problematically, the show presented itself as a response to a uniform condition, when in fact contemporary warfare is pervaded by asymmetries and discrepancies. One thinks here of the many contradictions of US military neoliberalism, which celebrates entrepreneurial mercenaries with humanitarian rhetoric while using advanced technologies to pursue primitive accumulation of petroleum reserves. The more recent case of the US-Israeli Stuxnet attacks on Iranian nuclear facilities indicates how emergent cyber-sabotage technologies can be exploited to overcome the accepted protections of national sovereignty by helping to blur distinctions between containment, pre-emption and outright warfare. [2] Unfortunately, the exhibition's overreach and underexecution kept it from functioning as a concerted inquiry into such conditions. These shortcomings were amplified by the exhibition's design, a conventional grouping of isolated viewing spaces that did relatively little to generate new connections between works. With this said, the show did succeed in a more limited fashion by showing how intermedia practices could mobilize the ambivalences of the image alongside its technical capacities, in keeping with Farocki's gnomic claim that "one shows a picture as proof of something which it cannot prove". [3]
This longstanding circumspection predates the oft-discussed shift in Farocki's more recent work, which has generally abandoned the agitational tactics of early films like "Inextinguishable Fire" (1969) in favor of the technique he calls "soft montage", in which viewers are presented with images on multiple screens and thus granted more freedom to determine their relationship to each other. [4] While this reorientation does not constitute a retrenchment, its relation to Farocki's move into the gallery remains unclear, especially since he has yet to subject art institutions to the same scrutiny he applied to his former patrons in West German public television. Does this turn from militancy mark an adjustment of his ethical stance, or perhaps an accomodation of the perceived constraints of a different audience? The two Farocki installations on view suggested divergent responses to this question. "Immersion" (2009) depicted the use of virtual-reality software to treat traumatized American Iraq War veterans, using an unexpected revelation to overturn viewers' assumptions about their own relation to the events displayed. The piece thus not only described but enacted a breakdown of the distinctions between technologies of warfare, therapy and entertainment, including new media art. In contrast, "Watson is Down" (2010) aimed to trace a similar circuit with footage of a computer lab used to train US Marines, but failed to deliver anything more than bland documentation, making even a major studio film like Kathryn Bigelow's "The Hurt Locker" (2008) seem critical by comparison.
Somewhat unexpectedly, the piece that dealt most effectively with the generative ambiguity of the image was the one with the least aesthetic intervention, Lamia Joreige's "Objects of War" (2003–06), which registers the effects of the Lebanese Civil War through largely unedited interviews in which participants describe a meaningful personal belonging from that time; the objects chosen range from photographs and teddy bears to a broken radio and the foil from a cigarette packet. [5] Ultimately a deeply disarming pathos emerged from the contrast between these mute, often banal possessions and their absent counterparts outside the frame. The uncanny presence of these other, lost objects (in the psychoanalytic sense of the term) was all the more moving given the frequency with which Lebanese non-combatants were abducted and murdered, their bodies often denied proper burial, having been mutilated or simply never returned. [6] When one participant described her chosen object as a "substitute" only to quickly correct herself – "not a substitute" – one sensed how the dumb persistence of the material object can promise consolation by opposing the flickering uncertainties of the memory-image.
Another provocative piece, William E. Jones' film "Killed" (2009), developed a more abstract analysis of image-mediation from the thousands of negatives initially shot by US photographers, most famously Dorothea Lange and Walker Evans, in the New Deal-era Works Progress Administration but later ordered cancelled by the program's director, Roy Stryker. As in his previous film "Tearoom" (2007), assembled from early 1960s police surveillance footage of clandestine gay sex, Jones made social exclusion into the material condition of his work. However, Jones found that Stryker's decisions didn't amount to simple homophobic censorship, but rather a more capricious petty sovereignty by which mid-level bureaucrats determine the sensate conditions of public life. By reordering the original punched negatives in a rapidly disjunctive succession, the film contrasted the material fragility of the photograph with the violent forces that traverse it, even in such ostensibly innocuous projects as liberal documentary. Yet despite its trenchancy, the film's link to the exhibition's theme was somewhat tenuous, inasmuch as it lacked an explicit perspective on more contemporary conditions of exclusion. A similar problem arose with Kota Ezawa's "The History of Photography Remix" (2004–06), a slide show composed of cartoonish renderings of mostly canonical photographs. Despite a reference to Colin Powell's infamous 2003 UN presentation, the piece had little to say about recent warfare, lacking the more topical incision of Thomas Demand's work. But while both Ezawa and Demand respond to image-saturation with de-informationalized, remediated forms, Ezawa's less conspicuously labor-intensive process poses more compelling questions regarding public memory and recognizability. When lo-res images seem more iconic than their "original" referents, we are reminded that straight photography remains perhaps the most powerful form of abstraction, insofar as it can instantly grant generic status to its object. The critical traction of Ezawa's piece was lessened by its gimmicky, market-friendly elements, such as the tendency of his distinctive but unchanging style to function as a sort of brand identity. However, several works on view registered commercial pressures even more symptomatically. The use of rotoscope animation in Wael Shawky's "Larvae Channel 2" (2009) felt extrinsic to the film's interviews with Palestinian refugees, less a rejoinder to the animated Israeli film "Waltz With Bashir" (2008) than a strange remake of it. In subjecting the video game "Tomb Raider" to a clumsy appropriation, Peggy Ahwesh's "She Puppet" (2001) managed the dubious feat of looking both faddish and dated at once, a forced marriage between new media and 1970s feminist film theory. Other pieces erred in the opposite direction, flirting with neoclassicism. This tendency was apparent in Fazal Sheikh's "The Victor Weeps" (1997), which recalled Brazilian photojournalist Sebastião Salgado's high-gloss humanitarianism, but most evident in Jean-Luc Godard's "Je vous salue, Sarajevo" (1993), which used the city's siege as an occasion to deliver a grandiloqent requiem for the lost Europe of "Flaubert […] Mozart […] and Vermeer".
While Farocki and Ehmann's exhibition can't be charged with the same Eurocentrism, it nevertheless restricted its scope predictably, privileging already well-known artists and neglecting work from Latin America, Africa or East Asia. It is not that a broader approach would necessarily be more progressive, but rather that these omissions hampered the show's analytical aims. Even after decades of jeremiads about spectacle, images continue to unpredictably colonize further aspects of social life. Yet these changes are of course distributed far from evenly, their effects skewed along any number of lines. Lacking a more differentiated model of these developments, "The Image in Question" could only gesture toward a crucial consideration: given the ever-increasing proliferation of images across formats, discourses and populations, can we speak anymore of "the image" as a singular entity? Although the exhibition didn't itself manage to reply, it did ultimately succeed in suggesting that the most effective responses to such questions of the image will take the form of further questions and further images. .. class:: exhibition-info
"The Image in Question: War – Media – Art", Carpenter Center for the Visual Arts, Harvard University, Cambridge, 21. Oktober bis 23. Dezember 2010.
Notes
| | |
| --- | --- |
| [1] | Harun Farocki/Antje Ehmann, The Image in Question: War – Media – Art, Cambridge, Mass.: Harvard University Carpenter Center for the Visual Arts, 2010, exhibition brochure. |
| | |
| --- | --- |
| [3] | This phrase is spoken in the film "Before Your Eyes – Vietnam" (1982), and is cited by Thomas Elsaesser in his essay "Harun Farocki: Film-maker, Artist, Media Theorist", in: Afterall, 11, Spring/Summer 2005. |
| | |
| --- | --- |
| [4] | For description of this technique see Harun Farocki, "Cross Influence/Soft Montage", in: the same, Against What? Against Whom?, ed. by Antje Ehmann/Kodwo Eshun, London: Koenig Books, 2009, pp. 69–74. |
| | |
| --- | --- |
| [5] | A dossier containing representative selections from the project can be found in Art Journal, Summer 2007, pp. 23–33. |
| | |
| --- | --- |
| [6] | For further discussion of the relation between Joreige's practice and the history of the Lebanese war, see Kaelen Wilson-Goldie, "Contemporary Art Practice in Lebanon", in: Out of Beirut, ed. by Suzanne Cotter, Oxford, UK: JRP-Ringier, 2007, pp. 82–84. |