132
The Surplus of the Global
A conversation between Marion von Osten und Sarat Maharaj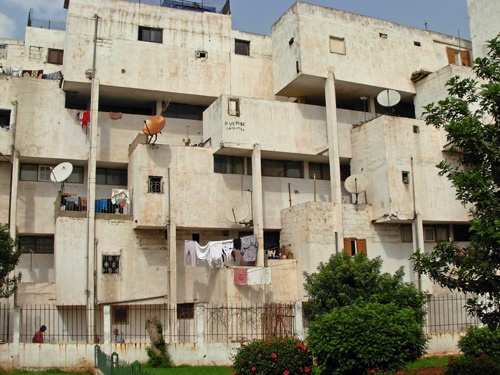 We were deeply saddened to receive the news of the death of Marion von Osten on November 14, 2020. In her memory, we are publishing here a conversation that Marion and Sarat Maharaj had in 2013 for the "Globalization" issue of "Texte zur Kunst." It explores the work of artists and scholars who have identified courses of action made possible by globalization that allow for the generation of resistant energies. As in the past, the experiences of decolonization and migration prove to be important sources of inspiration for these positions. A paradigmatic example is the art journal "Souffles", published in Algeria from the late 1960s on, in which the visual languages of the "Informel" art took on a very different meaning than in European postwar art. Focusing the discussion on interactions between persons requires a different historiography, a different methodology, and perspective on economies than the view of the global art business from an ostensible outside position. Only on their basis can we sketch a world map of art.
Sarat Maharaj: In thinking about the global, one major shift has to be acknowledged compared to the discussions ten years ago, which takes me to Documenta11, when I was working with Okwui Enwezor and wrote an essay called "Xeno-epistemics – "on thinking the other and other ways of thinking". Maybe we are at the moment, at which this appears again as a question, since art history is getting interested in the global take of the subject. Until 2000, the preoccupations dealt with other modernisms – "Die Andere Moderne", et cetera. But today that model on the "Other" is not acceptable in a sense, because it's so contradicted by the realities of the world. The Other is no longer on the edge of the Empire, and something that we can comment on, that we can scrutinize, that we could speak of, as developing a kind of secondhand copied modernity. We cannot. The Other is here in our midst, entangled with us, and therefore, a totally different story has to be written.
Marion von Osten: And this is not only true for today but also for examples in the era of decolonization – the third phase of globalization – as Stuart Hall has put it, in which ideas, images, and texts were circulating before the background of the constitution of a whole new world order.
Maharaj: This is why there are debates on the world system in economic history and in historiographical thinking; the rise of the West, for example from 1960, right up to the debates on the notion of the world system with Immanuel Wallerstein who contributed to Documenta11, Platform 11 (Vienna). Or André Gunder Frank, who is most interesting and challenging in asserting that the world system, the global process doesn't emerge with capitalism. He says it's not 500 years old, it is 5,000 years old. That's the title of his work (The Five Thousend Year World System, 1993) and it's a major challenge to the way we conceptualize how economical systems have developed or fed into each other, to produce what we think is modernity, capitalism, and the enlightenment. So, it seems to me, that unless art history is going to get engaged with that historiography, this can only return to a kind of "area studies" in which we just make more room for other cultures that were left out in the past. We will have – as perhaps is already happening with a journal like Third Text – a Third Text Europe, Third Text Asia, Third Text South America, and Third Text Africa. But we will have to understand, not simply taking on board all parts of the world and comparing them, or seeing how they interact, that this interaction produces an excess or a surplus that we call "The Global". "The Global" is not simply the connectedness of the world; it is what is secreted out of that connectedness. And that the surplus that it generated has to be pressed out.
von Osten: This is a very promising understanding of the global as well as an analytic category, which demands a focus on the surplus that transnational lives, economies as well as transcultural encounters are generating. It is this very surplus that I am highly interested in. In the past ten years I focused on the postcolonial condition of art and architecture practices inside and outside Europe in my projects. The exhibition "In the Desert of Modernity. Colonial Planning and After" in Berlin and Casablanca, looked at the crisis of high modernism in the 1950s and 1960s that caused a breakup of an entire epistemological framework from modernist planning to participation, for example. With a follow-up project at Laboratoires d'Aubervielliers in Paris, I investigated the radicalization of aesthetic practices in the late 1950s and early 1960s and how this might be entangled with the decline of the French colonial empire. The first sources were conversations with the son of Chaibia Talal, as she was an in-official member of the COBRA group; likewise Ernesto and Sylvia Enkoba (South Africa/Denmark), or the African-American painter Herbert Gentry (United States/Sweden). There were also Asian and North African artists quite known as important actors in non-figuration and Tachism, thus the second school of Paris. Abstract Expressionism and non-figuration have the taste of being a conservative belonging to the Greenbergian cosmos. But by looking closer to practices by North African artists like Ahmed Cherkaoui, Mohammed Khadda, and Mohammed Melehi it gets obvious, that they were arguing against the apolitical European artist's subjectivity. Searching for a new radical postcolonial aesthetic meant dealing with the colonial heritage and the European avantgarde. Thus, they acted not only in their new national environments but in exchange with other translocal and radical practices. They were not only crossing European metropoles, they were actually forming them as well in their own countries, at the same time. There was no belatedness. But by referencing them, I'm not intending a new historical narrative that includes "the missing artists" into the Western canon, but to question the epistemological frame of the concept of a contemporary art after World War II as a Western or European Art. What does it mean to be contemporary, to be part of a movement as a coeval in the very moment of its constitution, before it gets canonized as a national or white male European or American avant-garde?
Maharaj: Yes, of course. What you describe is a perfect example of the fact that art practice has always emerged in thinking through the situations in which it finds itself. The same goes for curating. In the 1980s, when I think about the first generation of black, Asian, Caribbean, and African students, in just the college where I had arrived as a young lecturer myself, starting my PhD, this group of students was suddenly doing all these things that nobody could understand, and for a long while this practice was just not taken seriously by the more established art world. Its not about the creation of large theoretical systems, its not about projections of utopia. These are perhaps self-sealing drives of some European cultural practices, that have also led to disaster. When black students began doing these things, we suddenly had a third element to the whole story, because they began to look at other traditions in other ways; ways in which "the marginalized or excluded" comes to function. That meant the opening up of all sorts of debates around gender, sexuality, color, and so on. Our demand to be seen as contemporary people in the world and not as exoticized, textualized subjects from archaic civilizations, and kind of brought out of the archive, and forever understood in terms of references to religious texts like the Qur'an, or simply read in terms of what ethnography has said about Indians of the nineteenth century. It was about the question of how could you be seen as part of the present-day, contemporary society, but also as an emerging force which is reshaping and redefining the interactions of that world.
von Osten: The question of globalization in my social realm resulted from political struggles in a very different field. It became mainly an issue with urban restructuring and sudden gentrification processes in European cities. Processes of economic globalization changed Berlin drastically as Potsdamer Platz was sold to global enterprises, for example. This caused a kind of shock in a city that related to dissident cultures in the East and the West but also formed resistance and new forms of movements like the InnenstadtAktionen, as network acting in different cities. Other drastic events were the first pogroms in Rostock, Mölln, and Dessau after 1989. These new forms of unacceptable brutal and violent racism also created new forms of solidarity between cultural producers, migrant self-organizations and political activism. These events and actions also helped to revise the concept of the nation and created new forms of action. Impulses that also informed the exhibition "Projekt Migration" in 2006, addressing migration as a multiplicity of individual projects that can be looked at as a social movement that radically challenges the European Union's border politics. So, instead of neglecting or looking at it as the alternate Other, we were trying to mark how globalization looks like on your doorstep, including all the obstacles that it has to face.
Maharaj: This area of activity and involvement and engagement that you speak of are part of a larger social world. And it doesn't seem to be the sort of material that art history at the time was interested in. The origins of art historical thoughts lie within the traditions of thinking and the logic of the discipline. But you are involved with the world and it seems immediately that has a resonance for me, when I think back of London of the 1970s and 1980s. By the 1970s, some really dramatic violations and violence against people with migrant background took place in London. The question of race was suddenly very dramatically posed. We were stumbling into fields that are taking us out the neat borders of art, subject disciplines. When I think back with art history, it took us about seven years, from 1980 to 1987, before we could actually have the debate in the UK Association of Art Historians conference: Picturing Other systems of Art: Art History and on Eurocentricity (1989).
von Osten: Categorizations of "race and culture" are the heritage of colonial knowledge production as well, as is the concept of assimilation or the discourse on "development". One of the most interesting journals to re-read in this respect is Souffle (1966–72), a magazine edited by writers, poets, and visual artist in Rabat who were connected to Tricontinentalism and the Pan-African festivals, in which all these political and aesthetic urgencies are expressed. The introduction to the special issue on the visual arts by Abdellatif Laabi, editor of Souffles, is highly informative as it reflects the post-independence generation of painters in Morocco who were in search of a postcolonial aesthetic mainly experimenting with non-figuration and signaletics. Laabi addresses the central problem that the study of the history of arts and culture by western scientists caused after independence. As the only existing texts were the ones by European archaeologists, anthropologists, sociologists, geographers, and art historians, these studies were transporting specific preassumptions on underdevelopment as well as racial categorizations including normative ideas on local culture forms and expression. This form of knowledge production didn't start with colonialism, but much earlier. And it is still going on, we can add, untill today. According to Laabi, one of the most harmful categorizations for post-independence intellectuals was the construction of the hierarchy between high and the low culture. The challenge for the new generation in the 1960s was to work against this divide; against the folkloric reading of local culture production as naïve or premodern. The art historian Toni Mariani articulates in the same issue, that this burden also included the Oriental studies of ornament and the decorative arts in North Africa. A painter like Mohamed Melehi addresses this by re-evaluating the spatial usage of the ornament as a popular sign system. Addressing the cultural tradition as visual communication that can lead to modern popular art forms. Melehi was also co-editor of Souffles and his multiple roles are also important for other artists of that time. Souffles artists and poets rejected the languages of Orientalism and other colonial style schools that informed the bourgeois tastes, meanwhile – as expressed in Souffles – the Bauhausian synthesis of arts and crafts was taken as a possible road, a way out. All this is highly interesting and informing. But what does it mean to work with this historical materials and to create exhibitions and texts with it?
Maharaj: There is of course no ready-made methodology for the situation you face.
von Osten: Methodologically this creates a lot of problems – as with writing about or exhibiting these insights, the danger appears that you position yourself as having the overview of this moment, practice, and regions. But you don't and you can't, because of everything we have already mentioned. And I think that's a main problem of curating today – it is often pretending to have the overview of a subject. I don't want to let my epistemological helicopter run over the material and just create the "better" historical conclusion. To enter the field means having an affinity to this practice of the multiple roles taken, of a political positioning, art making, publishing and so on. Another way of entering would be to have a much more concrete relation with the actual object. To create a miniature or an episode out of this encounter and not a general overview or another world map.
Maharaj: Ulrich Beck used to speak about the search for a cosmopolitan methodology, because he essentially wanted some way of escaping what he called the "national container", and how we could step out of methodologies shaped by the notion of territories and territorial thinking. Nowadays, we legally deport people to where they come from. I find that really quite bizarre. Because in the world we're in today, the idea of deporting somebody to where he or she came from, seems mad, because the world is so intertwined that you're just shifting them. It doesn't make sense to think in terms of this national frame, where there is an outside to which you can exclude someone. The interactions in the contemporary, whether produced by globalization or by the pressure of 5,000 years of history, has produced a surplus. This global consciousness is what we have to address, which flows over all the borders and boundaries that we might want to draw and demarcate. And that leads to the search for this cosmopolitan methodology. In discussions with Beck I've also felt as though one is looking for a transcendental standpoint. Whereas it might be much more a methodology of drifting, partly a methodology of collaging, partly a methodology of finding the epiphanic – a Benjamin ("Arcades"), James Joyce ("Ulysses") or Humphrey Jennings ("Pandemonium") kind of unravelling of an intense moment. It would be this constant use of what is at hand to account for, or give us an understanding, of that particular situation.
von Osten: The particular and singular would lead again to different concept of the global.
Maharaj: Yes, the "global" might simply be seen as what global capitalism has produced over the past 20 years, some people think that this is what is globalization. Others, think it is since the origins of industrial capitalism; 500 years, if you push it to the Renaissance, and the break with the Old World. Others think that no, China was still the major superpower of the world right up until 1750. Up to 1750 on the level of textile production, India was the leading force, and in terms of knowledge of medicine and so on, everything was in the East, generally. Of course the Islamic world, too, but they were largely syntheses, extensions, bridges, and new voicings, and they drew on older civilizations that had now Islamicized or they had formed a presence in. Thinking globally is there from the minute we begin to think of who we are, and it's not a phenomenon of just the past 20 years. It is in this sense that we would have to begin to look for a methodology that is about this piecing together of tools. This promiscuity of the methodology is, for me, the interesting thing today. And we have been brought here by practitioners, rather than by historians and theoreticians.
von Osten: You worked on this in the Guangzhou Triennial in 2008, "Farewell to Postcolonialism … Towards a Post-Western Modernity". That position also claims that not only social and economic processes triggered by Western capitalism need to be considered, but also those incited by very different forms of trades, encounters, and travels.
Maharaj: From the 1920s on, unfortunately what were passing remarks in Marx about the Asiatic mode of production became a huge systematic failure in which all the cultures outside Europe and America are classified under this Asiatic mode of production; one either of backwardness, or in terms of the fact that they had yet to catch up with the West. This idea of "catching up" becomes the main narrative right through to art, that the art schools … I think Habermas's, is it "nachholende"?
von Osten: Yes, "nachholende".
Maharaj: Habermas touches on this and speaks, without irony, on the fact that Eastern Europe, once the wall comes down, will "catch up with us." So you see this motif appears again and again …
von Osten: … how to become the modern subject. This notion of "catching up" also matches another concern I have with the term re-appropriation or appropriation. It proposes that there was something before, an original and that was appropriated, used so often in postcolonial and transcultural studies. I feel more and more uncomfortable with this notion, as it suggests a secondary step after the first.
Maharaj: I think that we have to see that things emerged, and emerged as the first voicing of something.
von Osten: It is always the first voicing!
Maharaj: It is always the first voicing, however much it may appear to be echoing elements or to have borrowed elements. What has been produced, what has been generated, what has been spawned, is the first voicing, because it makes sense for that world, as the way that world is experienced and visualized. And therefore, for me, this idea that "now we'll go to the museums, and what had been seen to belong to someone else, we will, as it were, disappropriate it and reappropriate in other terms for ourselves" seems to me too much a kind of reactive aesthetics, or a reactive mentality, that you can only be when you are antagonistically pitted against some pre-given thing. Of course there are power relations, and we're not ignoring notions of dominance that came with colonialism. But even the slave standing there on the West African coast, now stripped of tribal identity, stripped of name, stripped of family, of everything, and recreated, now potentially, simply as a bio-tool: to be sent across the Atlantic to work on a plantation, only as a tool in this protocapitalist system that's emerging. Even under those conditions, even this slave has thoughts and feelings, and does all kinds of things that you don't expect a tool to be doing. So the idea that they are nothing is part of colonial dominance, and the fact that something is always brewing, that something is always emerging, is a kind of non-reactive model of thinking.
von Osten: I was just reading Édouard Glissant's writings on Faulkner. He is not discussing his novels in terms of implicit racist connotations, but describes the post-slave, black worker in the plantations as a figure. A figure that signifies inequality; a figure that constantly causes problems and cannot be fully governed by the majority society. Glissant sees this as a form of disobedience, to be and to become an opaque figure. And I think that's against specific sociological, ethnographical, artistic, or activist practices that try to get as near as possible to the Other, to understand, to be on his / her side. Glissant sees this as the much more dangerous attempt.
Maharaj: Exactly, because we have imagined what the Other is, and we simply want to get closer to it. I tried to show, using the concept of the untranslatable, that the untranslatable is about the refusal of this assumptive image. And that's not because, somehow, the Other is some mysterious, untranslatable enigma, but because the Other has its own emergence you have yet to learn and yet to learn to listen to.
von Osten: And coming back at that point to specific forms of production that have not been acknowledged as forms of modernization, historically these have been considered in the Arts and Crafts movements, as well as in the Weimar phase of the Bauhaus. These are actually concepts that are echoing in the writings in Souffles. Thus, popular culture, handicraft, and manufacturing suddenly cross the peak of modernization, Fordism.
Maharaj: Yes, and this industrious revolution is an interesting challenge to the idea that there was only one journey humankind has made into the future, and that is through industrial revolution. We're not talking about the "evils" of capitalism, and so on, though we of course recognize what follows; degradation, exploitation. We're talking about whether there was such a multiplicity of modes of production and creation. I have tended to define capitalism as the production of underdevelopment, not as the production of development, which is the mainstream story. Seen from the other side, it is about how parts of the world – normally seen as the periphery or margins of the West – had to be underdeveloped in order for development to take place in the West. I feel there are two modifications to the story now: The first is, in contemporary globalization, those who are underdeveloped must make their journey right into the heart of the so-called developed world, in order to sustain the developed world. The second is that these parties must sustain themselves. So the circuits of communication are changing. There is no longer the exploited worker who is the colonial subject out there, and we never see him or her, but they have come here, now, in many, many ways. And as work has moved across borders, and across East/West, North/South divisions, areas of industrial underdevelopment are increasingly taking place here in the heart of the development. So capitalism can also lead to reverse movements within its own developed zones. And then we see what de-industrialization means. And it's not only that people have lost out because of Thatcherism and so on, but also because of this other story, of the belief shared by the left and oddly by the right, that high-end, higher technological achievements will lead to greater and greater development.
von Osten: Capitalism also creates a blindness toward other forms of production. It cannot even consider them as valid. But artists in the post-colonies like Tagore and the examples I have mentioned before started to acknowledge them. And here is also where the criticism of the left by feminist economists in the 1970s and 1980s lay. Today, with some of the writings on commoning, post-capitalism or what has been called prefigurative practices, the string of other forms of production is taken on again.
Maharaj: Yes. That also expresses in Gandhi's way of thinking that we would end up in self-organizing communities that would be anarchist, essentially; and by anarchists, he simply meant self-organizing, which would be based on the creativity of people. In many ways we see the vague emergence of such possibilities, which are described in our times as small enterprises, or rather an "entrepreneurial" creativity of people, that people are constantly entrepreneurs. I wouldn't put it as strongly as the return of the South, though that's an arresting expression, because that over-valorises the South. That's why I've been referring to Gandhi's train journey across the South African mountain range – the Drakensberg, with one of the world's largest archives of Paleolithic rock art – when we see him reading Ruskin's "Unto This Last"' – unlikely reading material at first look! On arrival in Durban, he begins a translation of the text into Gujerati – Sarvodaya – a key text for thinking through the journey to liberated life beyond colonialism. In this "process of transport" we cannot see the global South as something simply pitted against the North. Rather the circulation of ideas "from the North", refashioned and tooled with new input "in the South" – in the shadow of the Paleolithic –, a carrying across and revoicing. We glimpse the idea of not 500 years but 5,000 years of global processes.
Marion von Osten (1963–2020) was a curator, researcher and writer. She assumed the position of curator and artistic director of bauhaus imaginista (2018–2019) in 2014. Between 2006 and 2012, she was Professor for Art and Communication at the Academy of Fine Arts, Vienna, and from 1999 to 2006 Professor of Artistic Practice at the Institute for the Theory of Art and Design (ith ZHDK), Zürich. Prior to that she was curator at Shedhalle Zürich (1996–1999). She was a founding member of the Center for Post-colonial Knowledge and Culture (CPKC, Berlin).
Sarat Maharaj is a writer, researcher, curator, and Professor of Visual Art and Knowledge Systems at Lund University and Malmö Art Academy, Sweden.
Image credit: Marion von Osten