216
THIS IS NOT AN ORANGE
Daniel Horn on Lindsay Lawson at Gillmeier Rech, Berlin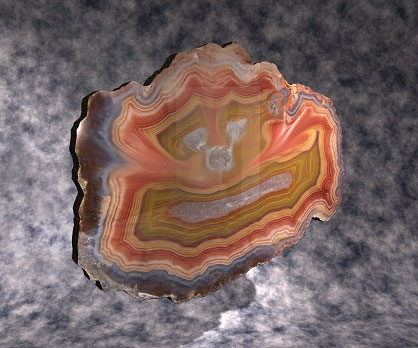 Lindsay Lawson, "Quartzi is checking you out right now", 2013
With fatigue creeping up from the past year's overflow with what I will ignorantly subsume as "Post-Internet" exhibits, Lindsay Lawson's Berlin gallery solo debut last December just may have seen off that recent past with last season's probably most doom-knell title of a show. The contents of the artist's purported "Sad Hetero World" made for a showroom of curiosities that literally reinscribed the aforementioned discourse's fixations and predicaments into their antediluvian basics: Communication networks, precarious subjectification furthering alluring (self-)objectification, along with the (neo-materialist) desires and ensuing investments this favors. Lawson's retooling of the ossifying offline/online vocabulary consisted of hybrid furniture-sculptural-(photo)graphic elements. These were quite simplistic in construction, interlocked through their produced quirkiness and rickety fraudulence, for the most part swathed in the pasty palette of adhesive foils simulating agate and marble finishes onto which were transferred vectorized and thus largely unintelligible fragments of various screenscapes; a bonier neo-Artschwagerian primitive art befitting our late woolly digitalism. The performative-vandalistic scrawl, running around several of the gallery's still fresh, extra-white walls, strung the works on a reticulating thread that referenced the daft über-comparison "Sichererererer" – the signature of a PayPal advertising campaign, familiar from recently having branded select U-Bahn stations. Here, its hand-painted iteration "Sichererererer" (2013) was executed in a variegated tricolor scheme formerly known as the Bauhaus primaries, which have since become global currency by way of their incorporation into eBay's trademark.
Lawson situated this eBay-PayPal bastard tag as an artery perfusing her works dealing with the expanding businesses of online dating sites and the 24-hour curio trade at the world's greatest bazaar (leaving aside PayPal's alchemical yet flawed promise at turning a relative abstraction like security into a robust excuse to blithely shop the virtual mall, considering that government agencies like the NSA – contending with an avant-garde of tech-savvy teenagers – routinely override standard SSL encryption). Lawson accentuates the polymorphous desires and wants – desultory, banal, idiosyncratic, and exotic as these may come – to nevertheless all be fully streamlined toward generating the precious resources sought by biopolitical data-mining industries. As a feature in The New Yorker on online dating asserts "[…] in no other milieu do so many people, from such a broad demographic swath, willingly answer so many intimate questions", turning sites like OKCupid into "a gold mine for social scientists", with that company selling some of its "raw data" to research powerhouses like Stanford [1] (given the "intimate" ties that exist between such universities and Silicon Valley venture capitalism, any scientistic endeavor not only seems bound up with but ultimately dependent upon concrete commercial agendas). In Lawson's show, an artifact of this symbiosis came by way of a stack of questionnaires, the corporate probing efforts omitted; although the subjects and penchants broached in the answers – "gravity", "Seinfeld", and "sushi" among other ostensibly personal trivia – suggested the prospecting for qualitatively "intimate" and profitable data to be a frustrating enterprise.
Lindsay Lawson, "Sad Hetero World", Gillmeier Rech, Berlin, 2013/14, installation view
The nonchalantly paranoid-schizoid installation came full circle through the artist's hypothesis for said online courting-cum-self-exposure to stem from actual eBay sellers of an anthropomorphic smiley-faced agate (at a whopping one million dollars) [2] , and by extension, of two oranges, one exhibiting attributes of a vagina (unsold at $7,000), the other a penis (complimentary when purchasing the former) [3] . The photographic suite of 3D-rendered smiley agates' selfies suggesting potential dates, bearing titles such as "Quartzi is checking you out right now" (2013), not only put a farcical spin on recent animist object-subject debates. More significantly, it entirely degraded – or is that upgraded? – elaborate Surrealist reveries of the kind Roger Caillois once projected onto the surfaces of his treasured agate collection: "[…] Wings, or fins of sea-bats, of rays. I'm not even including all the things a playful or delirious imagination believes to distinguish in those shadows, onto which it projects an entire people of simulacra: Towers, gods, monsters, caravans passing underneath the palm trees of oases." [4]
Lawson may have laid out a current cross-section of what Jean Baudrillard suspected to be late capitalism's "reification of the unconscious" [5] . The concepts she employed betray a Dadaist sensibility, handling current tropes of what Benjamin characterized as the avant-garde's "waste products of language" – $PAM – to unfold the giddily insensible surrender to mass illiteracy; the consumption of sprawling cognitarian detritus; systemic impoverishment freely enthralled by libidinal economy. "This is a rock that smiles It's a goold apple diamond box shape 4 gift its sexy x cool". [6]
Lindsay Lawson, "Sad Hetero World", Gillmeier Rech, Berlin, December 6, 2013–January 17, 2014.
Notes
| | |
| --- | --- |
| [4] | Roger Caillois. "Agate I", in: Œuvres, Paris 2008, p. 1052 [1966] (translation by the author). A selection of his agates were displayed in the exhibition "The Encyclopedic Palace" during last year's Venice Biennale, curated by Massimiliano Gioni. |
| | |
| --- | --- |
| [5] | Jean Baudrillard, Symbolic Exchange and Death, transl. by Iain Hamilton Grant, London 2007, p. 118 [Paris 1976]. |