88
Statement on the exhibition- and collection politics of the Berlin National Gallery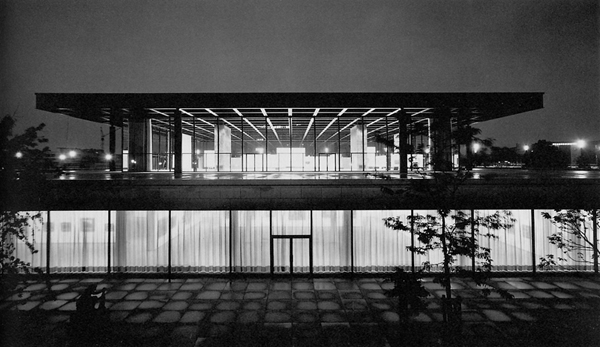 Neue Nationalgalerie (New National Gallery), Berlin
Inexplicable programming choices, impermeability, and virtually no interaction with major local and international artistic approaches and discourses: These are accusations that are often leveled against Berlin's museums. But what are the structural difficulties that give rise to these problems?
Susanne von Falkenhausen's statement focuses on the Nationalgalerie institutions, especially the Neue Nationalgalerie and the Hamburger Bahnhof, to analyze the palpable lack of resolve that has hampered the exhibition and collection policies of these museums in recent years. What remains of a museum's role when it disregards contemporary discourses, the history of its own collection, and its public mandate? Simplistic curatorial projects that are designed to draw attention but turn out to have little substance reveal failings that, due to the mechanisms of canonization that remain in force, have long-lasting consequences.
Since the fall of the Berlin Wall, the state of the collections of the Nationalgalerie (henceforth: National Gallery) has not developed for the better. With the Hamburger Bahnhof, Museum Berggruen, Sammlung Scharf-Gerstenberg, Friedrichswerdersche Kirche, and the Alte and Neue Nationalgalerie (Old and New National Galleries), the National Gallery collections are dispersed across six institutions – a structural decision that stems from financial necessity (although it alludes to a "synergistic effect" as business administrators like to call austerity measures). Due to this structure, Udo Kittelmann, the institutions' meta-director, must attend to not only the art of the twentieth and twenty-first centuries, but also that of the nineteenth. None of these institutions is therefore led with the competence that could be derived from an intimate familiarity with its respective individual role and position. Instead, perhaps due to insufficient funding or personnel, there is an unfortunate ambivalence between centralization and fragmentation. This has had an effect on recent years' programming in that many exhibitions have been quite small, whereas all the larger ones have been shows on loan. Since the fall of the Wall, the consistent presentation of the collections has been neglected; a hectic, idiosyncratic, and aimless exhibition program has dominated in its stead.
The impression of fragmentation partially stems from the structures of the collections themselves. The New National Gallery in what was then West Berlin only seriously began collecting twentieth-century art under the direction of Werner Haftmann in 1967. The budget was not large, and the collection had many gaps. Under the leadership of Dieter Honisch, the institution oriented itself somewhat toward High Modernism and the neo-avantgarde of the 1960s and 1970s. However, this by no means airtight collection was thrown into complete disarray after 1989, when the holdings of the East and West had to be merged. The first exhibitions that afforded a confrontation between the art of the East and West took place only in the early 1990s.
Overall, it seems to me that the city's collection of twentieth-century art can no longer be seen consistently in the way it was still possible in the case of the New National Gallery in West Berlin. As a result, the collection has lost the close relationship to its viewers – the citizens – that it previously enjoyed, when visitors could visit time and time again to see their favorite paintings. The State Museums now understand their task of exhibition not in the consistent presentation of the collection, but in the consistent bombardment of various exhibition formats that relate to the private collections in the Hamburger Bahnhof – especially the Flick Collection. What consequently emerges is not an institutional profile with any recognition value, but a fragmentary, unclear sequence of "exhibition events" devoid of any apparent overarching concept. Effective eye-catching advertisements lure visitors – an example is the exhibitions' sensationalist titles that neither communicate to city residents that the National Gallery is theirs nor explain to tourists what to expect in a visit. With both modern and contemporary art in the National Gallery system, there is neither sustained attention being paid to the collections, nor is there a consistent exhibition practice. Consequently, the filtering, curating, and exhibiting necessary for canonization – critical tasks of such a major art institution – have not developed. There is the sense that the National Gallery is currently satisfied with merely having material that it can use for exhibitions with catchy titles and a few big names. With this material, however, it could also mount well-researched shows exploring complex themes, artistic currents, or movements. Up to now, such work results mostly in small exhibitions that only appear in the Hamburger Bahnhof's side galleries. This gives the impression that the National Gallery wants to seem younger and thereby compete with Berlin's commercial galleries by emulating their exhibition formats. Despite all this, there have been highlights, such as the tiny Tomas Schmit exhibition (why not a large one?) or Nina Canell and Rolf Julius's exhibition "Lautlos"; but they have been small-scale shows and nothing more. Ulrike Grossart's "1, 2, 3, 4, 5 – Umgebung" (2000) and Heinz Emigholz's "Die Basis des Make-up" (2007/2008) were bolder. Both were great as monographic exhibitions, but they had nothing to do with the collections. [1]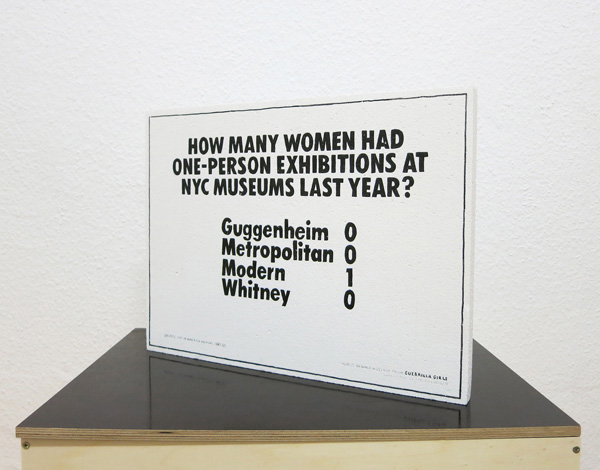 Megan Francis Sullivan, "GG#1 (How many)", 2014
The fact that these institutions constantly get bogged down in details and lack sufficient energy to engage in substantial examinations is partially due to the fact that they have always been understaffed. None of these institutions can afford to keep researchers who spend years working with a small team on a certain theme. However, that is the prerequisite for professional exhibitions with fantastic catalogues that actually say something and that we have come to expect from other large institutions like MoMA and the Centre Pompidou. Large individual or thematically organized exhibitions that showcase the strengths of the collections (without necessarily having to rely exclusively on their holdings) have been absent. What has been clear since the 1980s is that the major contributions of important female artists would not be presented at the National Gallery – for example, in the 1990s, a Louise Bourgeois exhibition could have been organized. Hilma af Klint does not help as a consolation, a very early modern position whose monographic exhibition was on view in summer 2013; also an exhibition that was a loan. This suggests a certain provincialism that weighs heavily on the State Museums despite all their claims on the modern and contemporary.
I have the impression that the National Gallery with its no-concept minor exhibitions, has long lost the patience and courage for the canonization that turns an exhibition space into a museum. For example, now that the Marzona collection, which focuses on Conceptual Art, a field that has been traditionally neglected in Berlin, is finally shown as a gift to the museum and not just on private loan (a rare event), it was not introduced with a large, thematic exhibition, but hacked to pieces and presented as a series of small individual shows within small rooms over a long period. Who honestly would repeatedly visit the museum in order to grasp what is actually in the Marzona collection? The National Gallery simply lacked the courage to actually use this opportunity to fulfill multiple critical tasks: The "enlightenment" of the public (an antiquated word, but "information" falls far too short) to an artistic current of essential importance to the twentieth century; the establishment of the collection as internationally important in the minds of the public (which technically owns the collection); and the presentation of the results of a particular art-historical filter, which is frowned upon as canonization.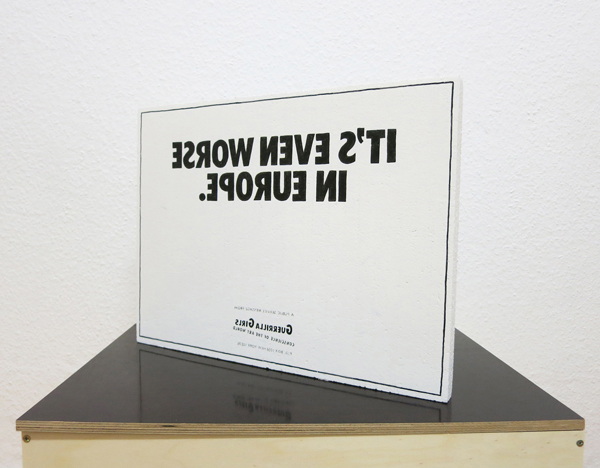 Megan Francis Sullivan, "GG#2 (It's even worse)", 2014
One could argue that such an imagination of the function of the museum is old-fashioned and my personal standpoint conservative. Canonization has long been a bête noire (and simultaneously a secret dream, as far as one's own work is concerned) for a rebellious, anti-bourgeois art scene and art history. That remains true. But a museum, let alone a National Gallery, is an institution at the end point of canonization. If we did not want a museum to be this, we must abolish it; everything else would simply be hypocrisy. Thus, we would have to confront ourselves with the dissatisfaction with what happens in this institution: Why are we not satisfied? Could it be because of the National Gallery's denial of the museum's most basic function? Of course, canonization entails fossilization; however, without it, societal memory – with its perpetual fluidity and changes – would be impossible. Canonization is a process that we cannot escape – it has long applied to more than just the upper bourgeois, elitist history of art hits. After all, canonization occurs to other things as well, such as philosophy, discourse, and political aims. I would no longer count the National Gallery's collections as a factor in constructing a national disposition. Historically, they belong to a process of nation building, but, as in the case of the large Kunstverein collections in Bremen or Hamburg, they have also existed for the sake of the citizens, and, as such, they should stay visible. Here is where I place the task of the museum. The collections require a certain continuity, focus, and thematically oriented work, but the National Gallery clearly lacks the courage to supply this, because that would require making decisions about its selections and orientation. This is evident in Kittelmann's curatorial undertakings, in which exhibitions serve as lighthouses that shine beyond the borders of Berlin – whether a light falls within the city is not so important. But this view outward does not entail any references to exterior artistic discourse outside of perhaps shows on loan, such as Hilma af Klint. What is missing is more than a mere occasional link to current discourse. In this project-based curating which does not connect to a collection, we can diagnose a transformation of the museum towards a Kunsthalle. However, curators in Kunst­hallen must make these connections to external discourses to legitimize their existences, since they do not have and therefore cannot work with permanent collections. Thus, we find ourselves in a paradox: The National Gallery neither behaves correspondingly to its status as a museum nor can it legitimate itself through the Kunsthalle process of working through discourse. It sits in between these two institutional roles.
Symptoms of this uncertainty of roles are evident in curatorial idiosyncrasies that neither fit in one category nor another: For example, the three exhibitions that have showcased the New National Gallery's twentieth-century collection since 2010 (each exhibition is shown for one-and-a-half years). The somewhat gimmicky subheadings within "Der geteilte Himmel – Die Sammlung 1945–1968" suggest a seemingly strained, pseudo-popular account; they cram the works into a homogenized narrative, which is incidentally the worst form of canonization. This emphasis on sensationalism and narrative did not do the works justice; it actually shows that the National Gallery has little trust in either the capacity of the visitor or the quality of the artworks shown.
Criticism is always easier to provide than an alternative. Many of the National Gallery's problems stem from a lack of funding: Money needed for curatorial work, money needed for individual productions. Today, the structure of museum sponsorship, which was already intensely criticized in the 1980s, can only produce what is supported privately or through corporate means. The public consequently has no basis for negotiation, or forza contrattuale, as Italian unions describe it. The public is powerless in the face of private money. While in the United States, something like a MoMA Board of Trustees exists, wherein the negotiation between individual private donors occurs, in Berlin, only a few people administer the form and content of canonization in all the National Gallery's collections. All in all, this leads to the undoing of the museum as a public entity.
Translation: Kristie La
Note
| | |
| --- | --- |
| [1] | Of course the architecture of the New National Gallery and Hamburger Bahnhof are challenges to the organization of exhibitions. Due to Josef Paul Kleihues's design, the Hamburger Bahnhof possesses a gigantic central hall, which either auratizes or extinguishes whatever is shown within it, as well as the wings on either side, which also serve to suffocate the works on view. To use the hall correctly, one must employ colossal dimensions, like Tomás Saraceno's "Cloud Cities" (2011/2012). The hall in the New National Gallery, built by Mies van der Rohe, is just as challenging to employ. One cannot simply conquer it with large-scale works. The 1960s building has proportions well-suited for twentieth-century art. Its hall is an optimal space for high-modernist sculpture (but not paintings). In contrast, something like figurative sculpture is completely lost when displayed in the large hall of the Hamburger Bahnhof – for example, the exhibition "Body Pressure", which was on view there from May 2013 to January 2014. |