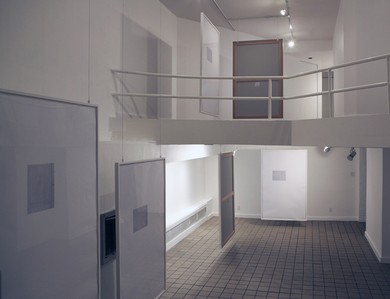 Tobias Kaspar, "Why Sex Now?", Installation View, Alex Zachary
The scene is set, interior, Alex Zachary's narrow first floor/cellar duplex-cum-gallery in the posh Upper East Side section of Manhattan. This former townhouse, remolded in 1979, and covered in parts with grey wall-to-wall carpet decries a recently erased memory of a time and style of the not-so-far-past. Although a bit quirky, the gallery finds charm with its tiled double-height atria that leads out to a garden and with its chromed in-wall fireplace that sits at about picture window level. With the blend of low ceilings and a large bathroom, the first time visitor might ask not, if this is an alternative to the white cube, but may rather weigh the pros and the cons of if it was/is a good apartment or not. And while walking though the various rooms, trying to figure how to position the furniture, a question that becomes a little unclear is where to put the bed. Possibly to alight this mystery of lost lives lived with greater voyeuristic splendor, artist Tobias Kaspar installed, "Why Sex Now", a collection of four linked photographs printed in two additions and one proof, all on view.
Tobias Kaspar, "In bed, afert the party", 2010
The pictures themselves are rather nondescript as they feature faint black & white copy stand snaps of an anorak culled from the artist's own closet. Somewhat catalog like in appearance, these four images present tightly cropped details, a pocket, a button hole, a zipper, a pull cord and the like, floating on an oversized white background resembling a magazine format. Adding to this lightness of touch, the flat lit and low contrast images are framed in white and hung from the ceiling so as to avoid contact with the wall or the ground. To do as such, each was hung with airplane cables and hooks, which followed the house track lighting as a coordinate grid. With this move, these large, somewhat vague objects, seductively dance through the apartment in a kind of fragmentary waltz. Since each is hung free of the wall, the recto and verso can be seen as visitors create their own choreography of ducking and weaving between each plane. Here another system, like the edited shots and their regimented display can be detected, as the rear mounted labels are plain to see.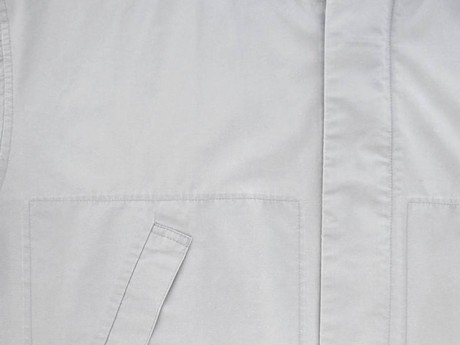 Tobias Kaspar, "Nina coloring her hair", 2010
Each of the four works appears to have their own diarist captions as titles, respectfully, Nina coloring her hair; Berlin, Wed June 1 (kitchen); In bed, after the party; A normal day in the city: coffee. Although discontinuous, these snippets do amount to a loose if not quotidian itinerary. In so doing, we have returned to a kind of domestic tourism as the reader of these titles is apparently being let into the personal life of the titular or implied subject. Yet, unlike descriptive handwritten notes on the back of old pictures, there is very little correspondence between image and text as here, "Nina coloring her hair" features a c-print of an obscured breast pocket. Eschewing the idea that these captions only function as non sequitur, they do, like the logics of the photo content and their hanging, appear to follow some kind of specific, categorical system. And although none of these topics match, each in their own way follows a similar spirit of discontinuity and submission to order. As such, in total, these pairings may point to the larger question implied by the exhibition's title, Why Sex Now? [sic].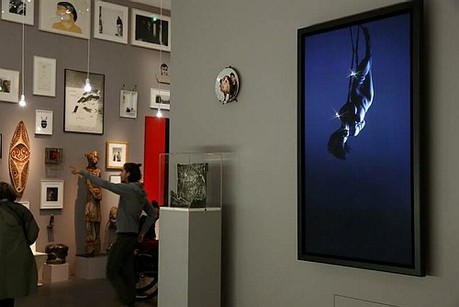 Tobias Kaspar, "Why Sex Now?", Installation View, Alex Zachary
To answer such a query it would be necessary to develop some sense of context. For one, the works inhabit a ghost like living space and features, almost intimately, a set of personal accounts through the titles. Likewise, the photographs themselves surrender a personal item of clothing, which in a most suggestive way, focuses on pockets and zippers and other Freudian innuendos. Taking these slightly eroticized, yet highly regulated vignettes together, one can only think of the rite of consummation, or some other related beseech to justify intercourse. In such a fashion, the exhibition asks, not should we have sex now, but inquires if we are ready, if are we complete. This idea of fulfillment could take many forms, such as asking if the audience, or the artist, or both, are satisfied with the work, or, as the pseudo-documentary commentary suggests, we are offered here a meditation on photography's ability, or lack there of, to embrace with the inner lives of its subjects. Within this void of unknowing, a contingent question arises, what if "why sex now" was not asked when it needed to be, hence the disjunction between caption and image. Now begging the question why sex then, any stance by the flirting initiates, the visitors, the gallerists, the collectors and curators, and so on, becomes colored by the conceit of being potentially premature and a tease. Tempered by these lose flirtations and hazy bonds, the long walk home from the exhibition mirrors an internal reflection spurred upon returning home from a one-night stand. With this newfound hindsight, a sensibility replete with emptiness and disunion roosts.
Tobias Kaspar, "Why Sex Now?" at Alex Zachary, New York. 2011 January 21 - February 19