Annie Ochmanek on Christie's "Bound to Fail"
Hammer Time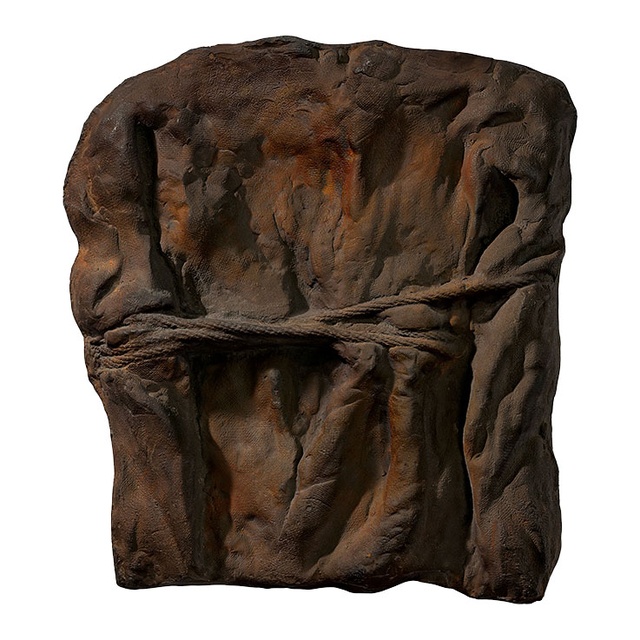 [1]
This May, failure is selling at auction. Christie's Swiss-born Deputy Chairman Loïc Gouzer has organized a New York Post-War and Contemporary capsule sale titled "Bound to Fail," inspired by this year's market dip and by Bruce Nauman's 1967–70 sculpture "Henry Moore Bound to Fail (Back View)." The auction will include 39 objects in total. Initially presented, in the New York Times, as focusing on such "brain power" artists as Martin Kippenberger, Sigmar Polke, Mike Kelley, and Robert Gober, the sale has expanded to include works that pose the physically impossible (such as Jeff Koons's suspended basketball) and other things ostensibly difficult to sell (such as Cindy Sherman's vomit photograph).
Gouzer's title is meant to serve not only as a thematic rubric, but as a wink to the supposedly daring nature of the auction itself. This refers to its relatively modest price points; with the exception of the Nauman, Maurizio Cattelan's Hitler mannequin and Koons's Equilibrium, the offerings are all under $5 million, many under 1 million. Only one Warhol is here. The choice in title also attempts to suggest a conceptual curatorial style on the part of Gouzer, or an experimental irreverence toward his function at the auction house – an approach gleaned, we can imagine, as a winning stance from some of the artistic careers listed above.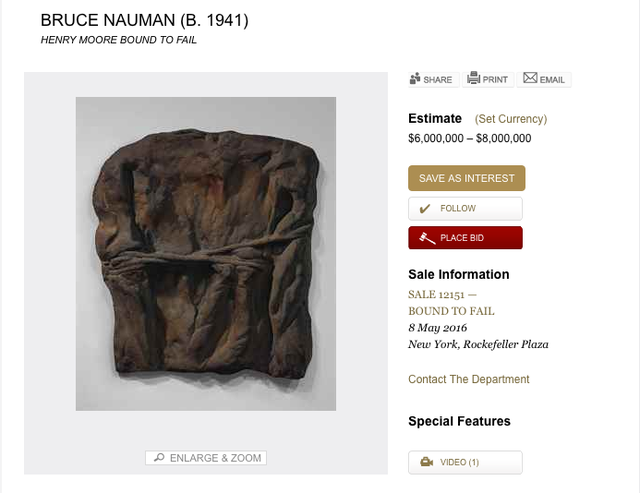 Unacknowledged in the premise of the sale is its un-ironic role in perpetuating concerns occupying many artists and much art discourse after modernism: the defeat of the avant-garde, or the immanent recuperation of artistic movements, as they fold into culture industry or are appropriated, for example, as a sale's headline. Also unacknowledged are the implications of "Bound to Fail" when applied to artists included here who address histories of societal inequity (Glenn Ligon) or who personally met a tragic end (Ana Mendieta).
But of course, this auction is primed for success, as are any of this department's shows: Many lots are guaranteed with high minimums, often pre-arranged with third parties, while the artists (almost all, in this case, knighted with recent or immanent museum retrospectives) are represented by galleries powerful enough to ensure their prices don't tank. Further, Gouzer's track record can leave no doubt – his 2014 "If I Live I'll See you Tuesday," coming in over estimate, netted $134.63 million, and his 2015 sale "Looking Forward to the Past" achieved the highest number ever paid for an artwork at auction. Not to mention that the .001% population bidding up the prices here are, as a class, shielded from fallout while a wealth gap widens beneath them.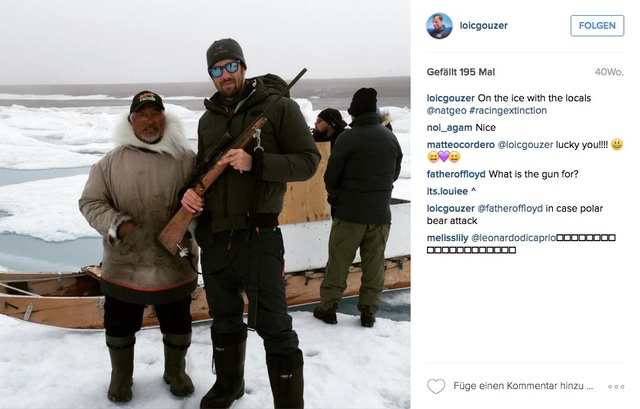 There is another contemporary valence to the title as well, one that might help explain this campaign's appeal to a target audience of potential collectors and their advisors. Take as a kind of alter ego to the bad-faith artist: the celebrated maverick investor, like the stars of "The Big Short," who take advantage of the system by betting on its breakdown. Combine this image of reckless brilliance with an art market becoming an extended field of risk management, the auction house being a prime site for fast-paced flipping. In this context, "Bound to Fail" carries with it the frisson of gambling, almost as if intending to apply a whiff of the danger-appeal of toxic assets, like bundled bad loans, to the artworks assembled here.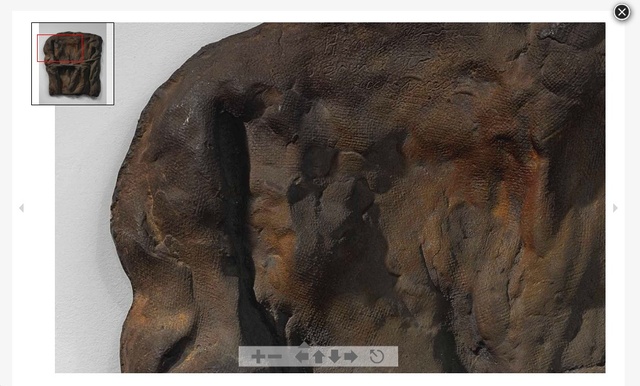 The title of Nauman's piece, itself a cropped representation of the artist's arms tied behind his back, plays on a deadpan joke of literal interpretation while referencing the domino effect as new generations of artists (sculptors emerging in the 1960s, in this case) take precedence over their elders (the titular Henry Moore). As Christie's centerpiece, the sculpture now witnesses the flattening of prior "can't go on, must go on" artistic practices with a newfound embrace of an accelerated market. Take as corollaries two artists frequently cited as hitting global records in Gouzer's afore-mentioned "If I Live…": Kippenberger, the postwar cynic-alcoholic, and Alex Israel, whose massive sunglassed profile vacantly celebrates a speculative environment more flush and inflated than even the one Warhol knew. Taking cues from the artists, Gouzer presumes a sense of humor; but isn't an office joke spoiled when the boss tries to tell it?
"Bound to Fail," Christie's, New York, May 8, 2016.
Notes
| | |
| --- | --- |
| [1] | Bruce Nauman, "Henry Moore Bound to Fail (back view)," conceived in 1967 and executed in 1970. |