REVEALING STRUCTURAL CONSCIOUSNESS
Isabel Casso on Kay Sekimachi at the Berkeley Art Museum and Pacific Film Archive (BAMPFA)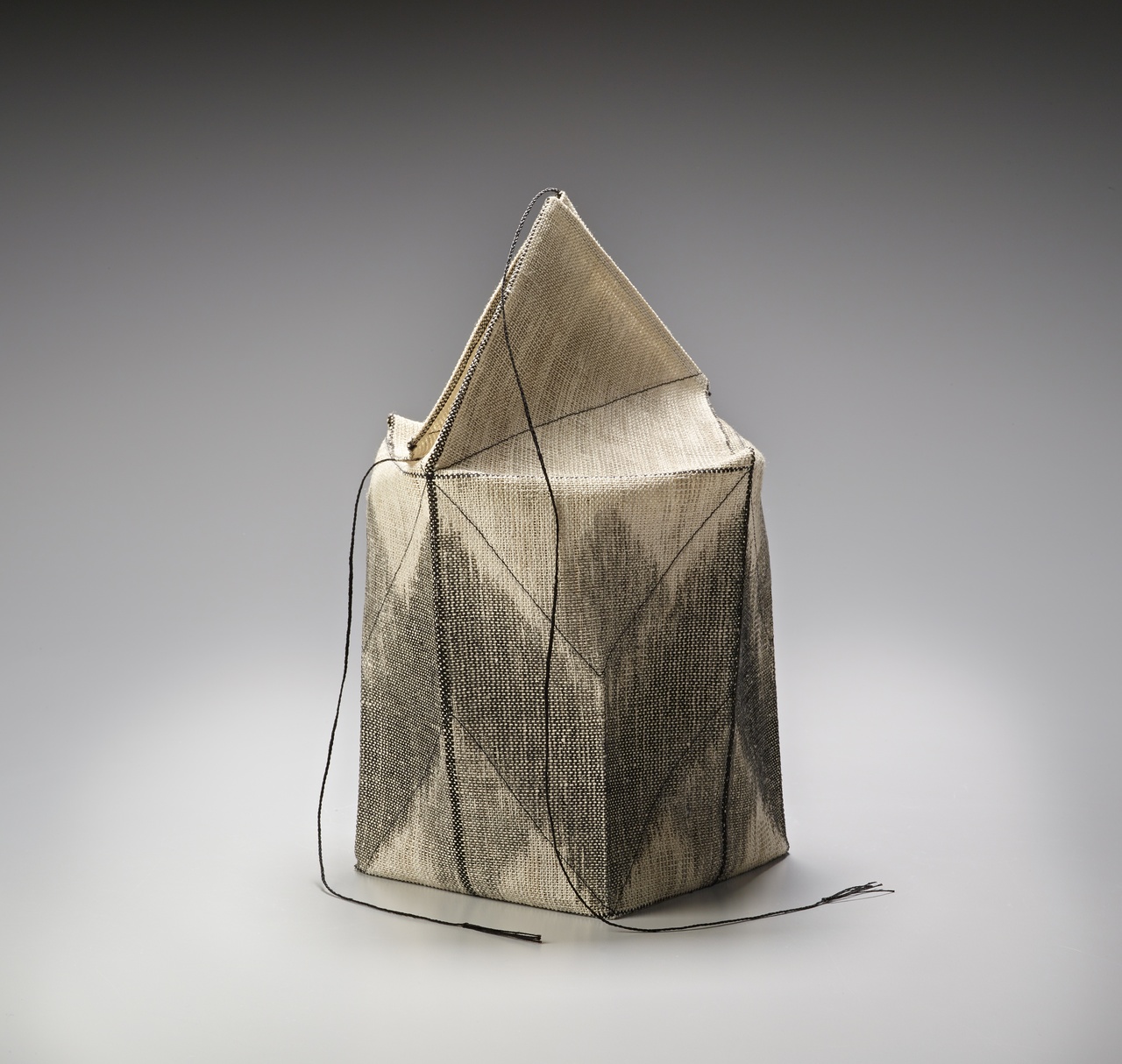 Northern California has a rich history and tradition of fiber arts that, in the contemporary art world, is represented most prominently by Ruth Asawa. The current exhibition at the Berkeley Art Museum and Pacific Film Archive spotlights Kay Sekimachi, a contemporary of Asawa with a wide-ranging body of woven work. From suspended monofilament sculptures and woven linen books to experimental boxes, scrolls, and vessels, the artist engages techniques that open limitless possibilities. As art historian and curator Isabel Casso writes here, resistance is embedded within Sekimachi's folds and threads.
The long-awaited exhibition of the Bay Area weaver Kay Sekimachi, "Kay Sekimachi: Geometries," gathers over fifty works from the artist's 70-year oeuvre in a single gallery at the Berkeley Art Museum and Pacific Film Archive (BAMPFA). Guest curator Jenelle Porter and curatorial assistant Claire Frost highlight fiber art's capacity to operate and contradict in multiple modes by beginning the exhibition with Sekimachi's suspended monofilament sculptures of the 1960s and building chronologically with the artist's experimental practice of washi vessels, ikat boxes, scrolls, and loom wall works.
Sekimachi's textile education began with the start of Northern California's fiber arts movement in the 1950s and '60s. At first weaving in the company of friends, Sekimachi later studied with German weaver Trude Guermonprez, herself a former student of Anni Albers at Black Mountain College. This Bauhaus pedagogy placed an importance on the artistry of textiles and stressed the significance of structure, color, and composition in weaving. Sekimachi's textile relationship to her Japanese heritage formed later in life and career, after visiting her parent's hometown and learning of her grandmother's weaving. This influence is clear in both her formal choices and her titling, the latter also suggesting a strong affinity with nature: Nagare I (flow), Katsura (a Japanese tree species), gawa (river). Moving between curves and hard edges, hand and machine, warp and weft, Sekimachi's practice follows Albers's keen observation that "the fundamental form of weaving operates on the principle of opposites." [1]_And it is within this process and materiality that "Geometries" is curated.
The exhibition begins with an offering of Sekimachi's works, from the 1960s to the '70s, made from nylon monofilament. After receiving a spool of the nylon thread from a friend, Sekimachi initiated her foray into synthetic sculptures and off-wall weaving. A community of undulating black and white threads composes these sinuous sculptures. Suspended above a jagged platform, the separated double weave swells at moments and contracts at others, entangling and echoing in unison to form porous bodies. In their translucence, these works are ineffable and slippery not only to the eye but also the tongue – finding appropriate descriptors for Sekimachi's weavings demands the same attentiveness as her process, which yields only a single woven inch for every hour of labor. These works elide the two-dimensional boundaries of loom-produced textiles, engaging with a new spatiality brought forth by the monofilament material, thereby opening the artist to limitless possibilities.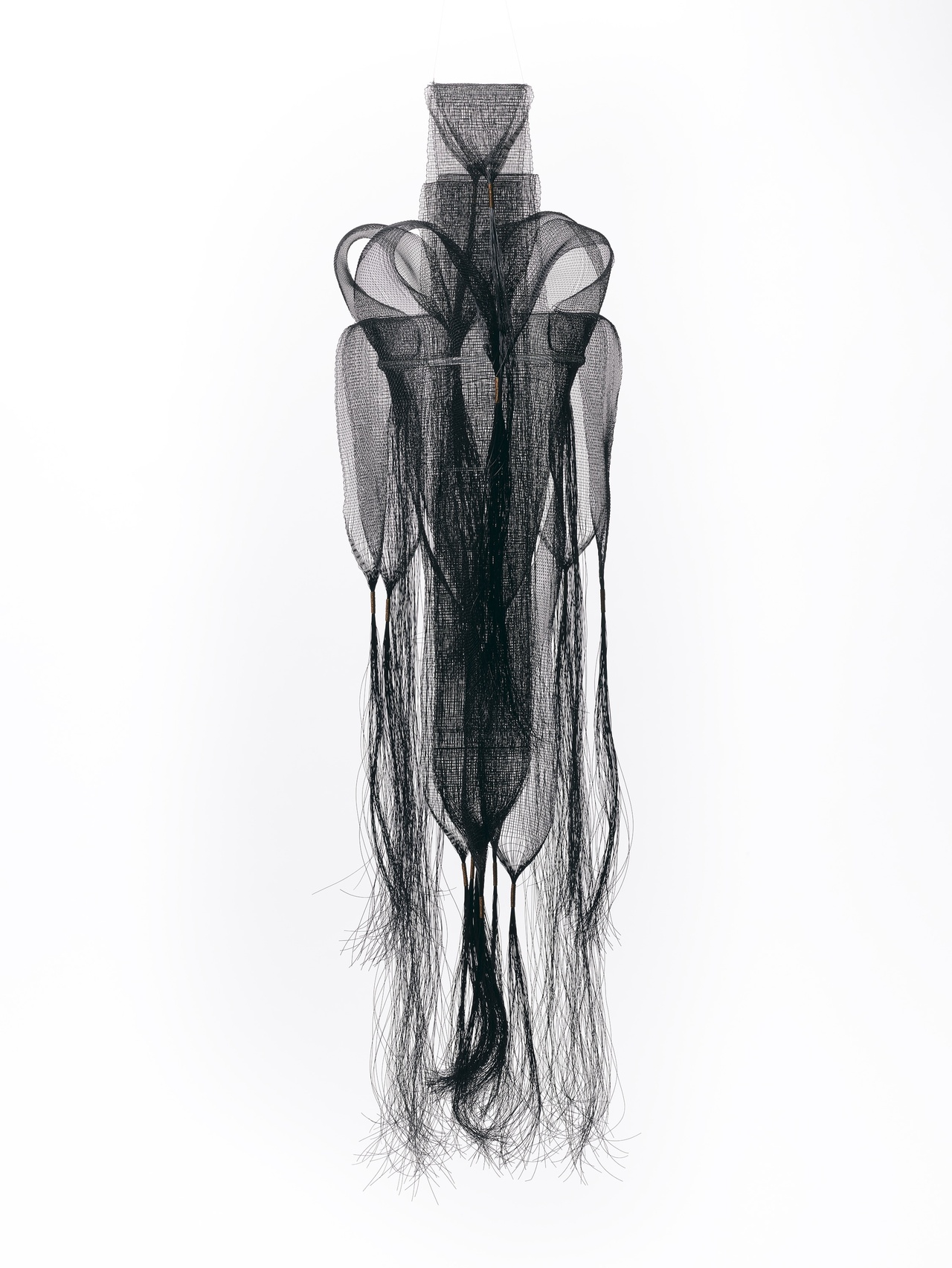 Beginning with these formative synthetic works, the show follows a chronological progression that continues with a suspended linen series titled Marugawa (1976–78). Energetic patterns of extended lines and muted hues construct these tubular weaves—a shape achieved through card weaving technique. Relating similarly to the viewer in both size and bodily presence, the spherical form and quiet palette of Marugawa call attention to its structure. Here, Sekimachi's attentiveness to chromatics reveals a structural consciousness – the warp and weft holding equal importance – a technique that can be traced throughout her practice.
Sekimachi's acute sensitivity to the inscription and delimitation of space in her sculptures translates to a more intimate scale as she turned her attention to the box as an agentive geometric form. At first, these various box works are woven; they then transform into folded and intricately stitched paper. Sekimachi eventually moved on to kiri wood boxes, pieces whose graceful wooden folds pronounce an uncharacteristically supple tension of material. Neatly arranged in vitrines spanning the length of two gallery walls, the boxes are laden with the familiar haptics of textiles and paper, repeatedly engaging their audience in novel ways. The vitrine's refined and rhythmic organization emphasizes the generative result of seriality and artistic repetition. These formal iterations, simultaneously recording and blurring time, tether these works to a historical and personal past: irrevocably unique and of the moment.
The vitrine continues with Sekimachi's woven linen books from the 1980s, drawing an elegant visual connection to the artist's boxes. The accordion-style fascicles carry motifs of landscapes familiar to the Bay Area, such as Point Reyes, and to those far away but equally close to the artist's heart, such as Mount Fuji. Printed through a heated transference of paint to warp threads, this series – like those which predate it – calls attention to the haptic tension necessary to its materialization. Produced on the heels of Sekimachi receiving a grant to travel to Japan, these intimate books speak to a growing reflection of her cultural heritage. Sekimachi also notes this form was inspired by a book on woodblock printing she cherished while interned as a person of Japanese ancestry in Tanforan, California, and in Topaz, Utah, during World War II. Thinking of the various locations of inspiration called on to accomplish these pieces, it's clear that in addition to the arching narrative of planes and shapes in "Geometries," the exhibition also encodes Sekimachi's multiple reference points and communities.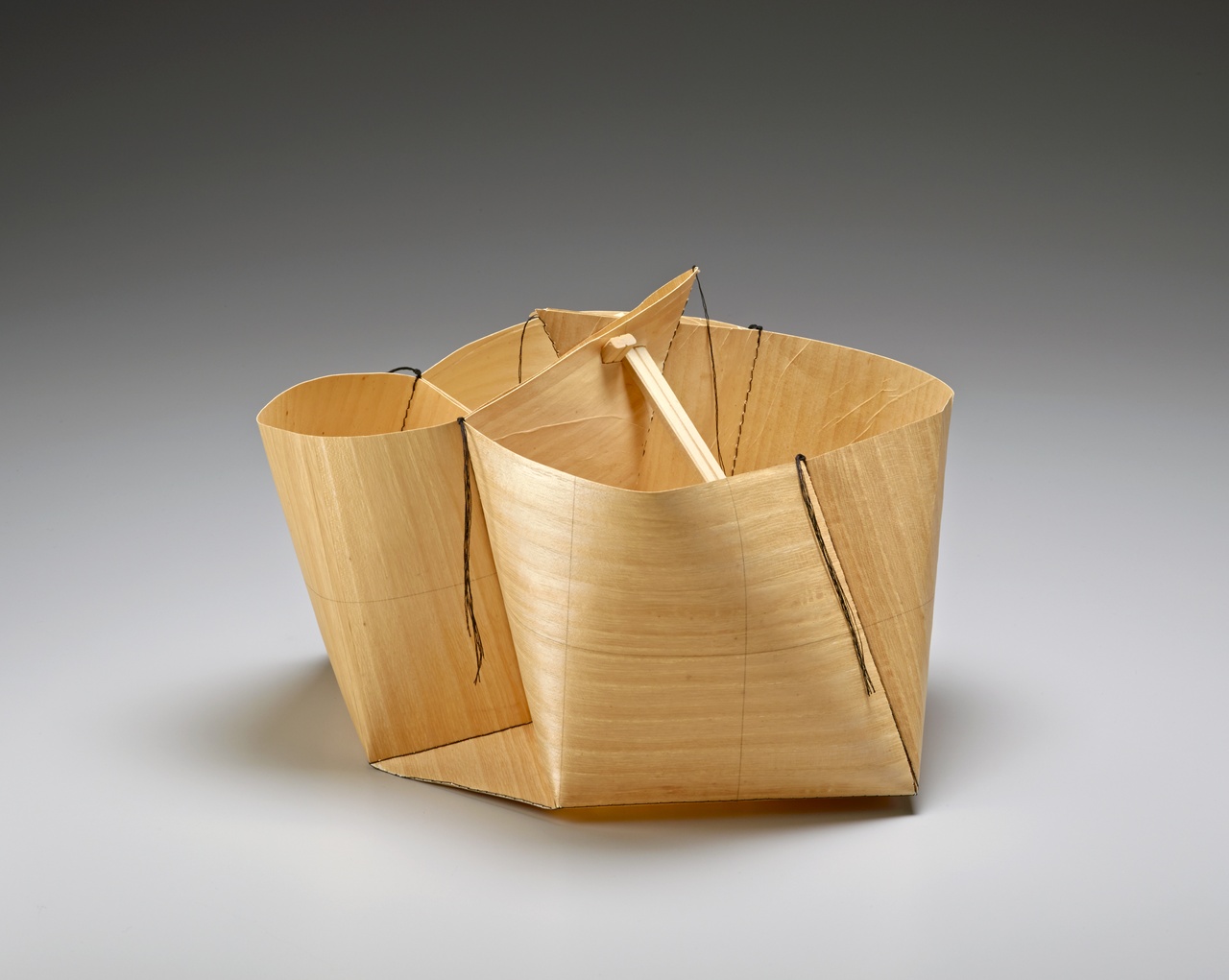 "Geometries" culminates with the artist's most recent series of works from 2010 through 2015. Following Albers's observation of weaving's oppositional fundamentals, Sekimachi returns to the loom and essentials of weaving with a mastery of warp and weft. Across the gallery's back wall hang ten modest square weaves. Roughly twelve by twelve inches, each box contains muted hues of natural linen and black that pay homage to two of Sekimachi's artistic influences – Paul Klee and Agnes Martin. While neither Klee nor Martin wove with thread, they did so with painted colors, and it is in this chromatic spirit that Sekimachi weaves her admiration. The active dialogue between the three artists is one of a commitment to grids, the economy of line, and the patience of production. More than in any other work in the exhibition, Sekimachi's deft use of thread in these ten homages elicits reverence and quietude.
It is telling of the weaver's outlook that Sekimachi, in her artistic maturity, opts to reflect and pay homage to her influences. This strong network of influences materialized when I visited "Geometries." The lone meditation I anticipated was immediately interrupted upon arrival to a gallery teeming with viewers. The show's audience was not the average art-goer, but members of San Francisco's established weaving guild, Loom & Shuttle, to which Sekimachi has close ties. Their technical conversations and personal anecdotes animated the exhibition and its contents, with Sekimachi's suspended sculptures swaying in their exuberant gestures and breath. As a fellow visitor, this coincidental encounter bore a new and more rewarding communal intimacy – one that acknowledges the community that teaches, supports, and now learns from Sekimachi's weaving mastery.
There has been a renewed interest in craft and fiber artists in the past two decades. "Geometries" is a notable example of a rigorous and sustained study of an under-recognized artist. It is complemented by BAMPFA's "Rosie Lee Tompkins: A Retrospective," which holds space just above Sekimachi's exhibition. The resonances between these two shows on women fiber artists of color emphasize that the histories of textiles and crafts are sites of resistance for those marginalized that cannot be overlooked. While it may not be explicit, there is resistance within Sekimachi's folds and threads, both literal and metaphorical. A persistent, taut axis of contradiction and dualism is at play within Sekimachi's oeuvre. A restless innovation coupled with unfettered reverence for her artistic lineage is clear.
"Kay Sekimachi: Geometries," the Berkeley Art Museum and Pacific Film Archive (BAMPFA), May 28–October 24, 2021.
Isabel Casso is an art historian and curator based in California.
Image credit: 1. and 3. Collection of Forrest L. Merrill, photos: Lee Fatheree; 2. Fine Arts Museums of San Francisco, Foundation purchase, George and Dorothy Saxe Endowment Fund.
Note
| | |
| --- | --- |
| [1] | See Anni Albers, On Weaving (Middletown, Conn.: Wesleyan University Press, 1965). |