ON THINGIFICATION, AMONG OTHER THINGS
Jazmina Figueroa on the 15th Triennial of Small Sculpture Fellbach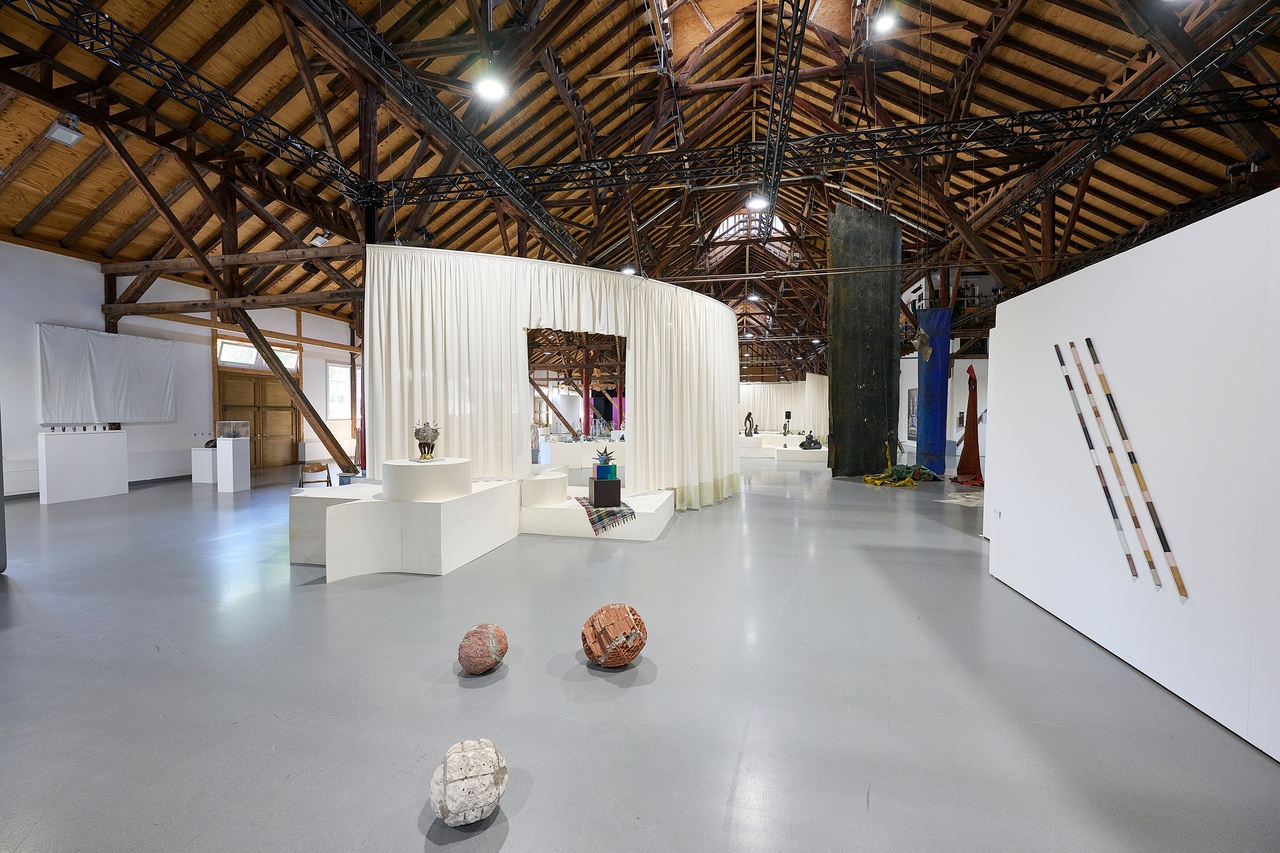 Through the highly contested debates around restitution, the Western understanding of the items in its collections continues to be challenged. No longer merely prized possessions, objects are increasingly perceived as agents in history. Adding to this current discourse, the last iteration of the Fellbach Triennial introduced contemporary small sculpture as active matter, thereby probing conceptions of ownership and responsibility. Examining Western institutional approaches to decolonial projects from a critical distance, writer Jazmina Figueroa reviews the artistic positions, taking up Aimé Césair's concept of thingification, which makes visible the colonial violence of denying subjecthood.
Make words and shapes

Intervene in tumultuous homes

At those moments

Violent clanking of metal objects

Reverberate to the point of waking

-- Hervé Yamguen, "On sunny mornings"

[1]
The curatorial premise of the 15th Triennial of Small Sculpture Fellbach was focused on the resonant aesthetics around the sculptural object. "The Vibration of Things" vivified the object in order for audiences to contemplate what lingers beyond surfaces and to uncover the complex histories that an object embodies. The exhibition engaged with sculpture by means of subjective plurality, going beyond material qualities, anthropological or ethnographic classifications, and straightforward visuality. Invited curator Elke aus dem Moore evoked various kinds of microcosms grown out of the turn toward decolonialism since the mid-20th century – in other words, the immaterial resonances shaped by very real material history. Concerned with postcolonial and anti-imperial positions, this iteration was conceived with additional curatorial input from artists, historians, and researchers: Memory Biwa from Windhoek, Antje Majewski, a Berlin-based curator who conceived the Sculpture Forest Sanctuary, and Gabriel Rossell-Santillán, who lives and works in Mexico City and Berlin.
Questions of postcoloniality, restitution, institutional ownership, and accountability served as the theoretical underpinning that bridged the curatorial team's collaborative approach and individual perspectives on objecthood. Pervading the exhibition was the notion of certain devices enacted by the artist as an agent for reflection and narrative construction beyond the tangible status of the object. Aimé Césaire, in "Discourse on Colonialism," describes colonization as being equivalent to what he terms thingification: the colonized subject being reduced to a thing, objectified along with the land and resources, and used as a commodity. [2] In the context of, "The Vibration of Things," the rhetorical decolonial question is then: What resistance is carried forward by this legacy of Césaire's thingification? Across Germany this year, well-known institutionalized artistic undertakings brought to light the ongoing challenge of complicity with regard to European colonial legacies when presenting positions around, against, and growing out of such legacies (i.e., the extensive discourse around "documenta fifteen") – resulting in a general feeling of un-interconnectedness with the Western centricity perpetuated in postcolonial introspection that occurs in institutional spaces. As it stands, this deliberation is still very much fractured.
Postcoloniality, as it is absorbed by Western institutions, is subsequent to coloniality, coming after the dissolution of the colonial/ized state. However, institutions often echo these violent colonial histories both in their relationship with the artist and in their attempts to conduct more lateral approaches by working with a decolonial awareness. Prevalent in the decolonial rhetorical project is that the desired intention of decolonizing spaces is simultaneously subject to the limitations of the borders in which the "decolonial project" takes place.
Hito Steyerl, in response to the German- and Euro-centric critique of "documenta fifteen," outlines this sort of limitation in her essay "Context is Everything," which states that "the German public preferred to exoticize postcolonial theory and consume it as a pure theory import." [3] Steyerl chose to withdraw from participating in the 2022 Documenta while the Eurocentric critique of certain artist collectives' works shaped what Steyerl described as a "world exhibition" format. Frantz Fanon defines this sort of exoticization as a paradoxical form of colonialism: what he calls colonial intellectualism. [4] Building on his theoretical groundwork against the French state during the Algerian revolution, Fanon describes a national consciousness that moves away from a culture defined through a purely historical and ethnographic Eurocentric point of view and instead moves toward one that is realized by a liberated people through their self-determination and material resistance. [5] Set on the international stage, such values can only then influence a universal solidarity against the imperial state – and not the other way around. The project of decolonization is not simply one of the top-down theoretical examinations of objecthood but emphasizes the importance of resisting thingification as it is a prevailing form of colonialism.
This 15th edition of the Fellbach Triennale was put together after the neighboring city of Stuttgart in 2019 returned to Namibia personal artifacts that had belonged to the Nama freedom fighter Hendrik Witbooi, which had been stolen during the Herero and Nama genocide committed by the German colonial military between 1904 and 1908. Addressing Germany's colonial history, artist and cocurator Biwa conceptualized the project "Sonorous Bodies" as part of the Triennale. This portion of the exhibition recasts colonial histories through a spirited meeting of contemporary artists working from previously colonized locales and in Europe. Individual perspectives are set out by the works of Stephané Conradie, Thania Petersen, Elisia Nghidishange, Philisa Zibi, and Vitjitua Ndjiharine. Biwa also notes that Stuttgart's Linden Museum still has the largest ethnography collection in Germany and acknowledges that the museum's project of restitution remains vague: another figment of colonial power in that "numerous objects of Namibia [...] continue to draw audiences to the institution." [6] Vitjitua Ndjiharine's collage work Presence in Absence (2022) confronts the memory and the problematics of ownership embedded into the archive by draping its canvas with archival materials and textiles resembling precolonial clothing worn by Herero women, together with her diligently painted color-coordinated paper pieces. Ndjiharine depicts an embodied relationship to the museum collection of objects acquired in the late 1880s by Hans Schinz from her ancestor, Chief Ndjiharine of Omburo. Currently, its items sit in the Schinz Collection in the Völkerkundemuseum Zürich. [7]
Halfway through the exhibition hall, the show's centerpieces of alloyed clays and metal by Lithuanian-born Nijolė Šivickas are presented on a podium. Nearby, Douala-based artist and poet Hervé Yamguen's 2022 series of bronze sculptures Danser avec le vivant (Dancing with the living) entered into a dialog with Šivickas's work. Both artists' lively small-scale forms make apparent their particular enthusiasm and emotional ability carried out in the details. Yamguen's leafy figures impart a robust and expressive portrayal of ecstatic joy. This work is levied against the predicted misery depicted in Šivickas's branding iron titled MUJER (WOMAN) (1983). On a spectrum from pain to joy, these works reveal situated yet expansive relations to true-to-life but also more temporal components of the object. From the audience's perspective, upon approaching these sculptures we sense what the late artist Šivickas has described concerning her working process: "I'm not in front of the material. The material is next to me. I look at it and it watches me." [8]
The material histories of colonial violence toward Indigenous communities, as well as the erasure of non-Western relationships to objects, are entangled in documentation-oriented works by Nadia Myre and Gabriel Rossell-Santillán. Myre, a member of the Kitigan Zibi Anishinaabeg, an Algonquin First Nation, depicts inverted images of moccasins stored the Smithsonian National Museum of Natural History's database in Washington, DC. Using the formalized scientific aesthetic register of X-rays to capture these objects, she recalls the atrocities Indigenous people throughout the Americas have faced, of the onslaught against their sovereignty from the first stages of colonial expansion until today. The discarded shoes are haunting images that conjure up recent coverage in news outlets of the unmarked mass graves holding the bodies of missing Indigenous children who died at the hands of the state-funded and church-run institutions in Canada's so-called residential schools, which were in operation until the late 20th century. Today, in natural history museums, we see materials such as moccasins reduced to artifacts, belonging to record and memoir. Gabriel Rossell-Santillán's video installation Die Besteigung des Quemado (2012) shows, from an embodied position rather than ethnographic categorization, how the Matehuala and Wirikuta regions in Mexico are devastated through extractive practices like museum acquisition and industrial mining. One part of the work is a video documentation of a Mara'akate procession in which the Indigenous communities seek out guidance from ancestors regarding a Canadian company extracting gold from their sacred Quemado mountain. Part two of the video depicts Mara'akame Dionisio, a member of one of the Wixárika communities, visiting traditional ceremonial utensils kept in Berlin's ethnographical collection. Mara'akame Dionisio tells the museum workers and Rossell-Santillán that "the objects were already dead," [9] indicating an irreconcilable history of colonial violence and demonstrating that restitution cannot be the sole objective of any decolonial project.
The exhibition creates a somewhat kaleidoscopic vision of how objects' histories are retold and reorientated with hyper-specific articulations. At the time same, "The Vibration of Things" denotes a multitude of objects, illustrated by Dineo Seshee Bopape's and Chiara Bugatti's approaches to natural processes of degradation and repair, or by Nkhensani Mkhari's and Irma Hünerfauth's machine-animate works. Over time, Bugatti's compressed rectangular shapes made of diatomaceous earth and residue begins to crumble at its corners in the series Rehearsing Brutality, until it is totally destroyed (2020–2022). Alongside this, Bopape's reference to restorative healing practices from the African diaspora is staged with earth, brick, and wood, as well as a woven tapestry to signify the memory that the Earth's soil holds.
While visitors of "The Vibration of Things" encountered mediations on the object, some works superseded objecthood, such as Lamin Fofana's I'm Your Question (2019). The sound work was released as part of his Black Metamorphosis LP. Drawing from Sylvia Wynter's unpublished manuscripts, Fofana uses sonic permanence to cast the listener into the histories of forced movement over the Black Atlantic, from which Fofana draws parallels to today's migrant refugee crisis happening in the Mediterranean Sea. A voice repeats the phrase "I am here … I am here, 'cause you were there." And much like Yamguen describing how the "Violent clanking of metal objects / Reverberate to the point of waking," [10] Fofana outlines a similar awareness of corporeal existences as they are heard in his compositions. When we listen to these resonances, they adhere to a present and arrive at the front, allowing us to anchor them more precisely.
The Fellbach Triennale "The Vibration of Things" recalled a postcolonial understanding that imagines solidarity via the origin of things. The artists in the exhibition, whether they are still working or presented post-mortem, represent the ineluctable tangibility rippling out of the local stage and onto an international one. In recognizing these culminated connections maintained through the subjects of these artists' works – be it restitution and ownership or the responsibility of the institution to enact such discourse – the exhibition capitulated the postcolonial experience through paradigmatic resonances. In the Triennale, we see many objects of consequence in their own right, which are to be noticed alongside their histories or enriched with an eco-critical sentiment, amplified by anti-capitalist influences, and to echo their intergenerational, trans-local, and feminist mediations.
"The Vibration of Things," 15th Triennial of Small Sculpture Fellbach, June 4–October 3, 2022.
Jazmina Figueroa is a writer in Berlin.
Image credit: All photos © Peter D. Hartung
Notes
| | |
| --- | --- |
| [1] | Hervé Yamguen, "On sunny mornings,", Douala, June 1, 2022. As quoted in Elke aus dem Moor and Sarie Nijboer, "'The Vibration of Things' or 'On Interconnectedness,'" Akademie Schloss Solitude, October 1, 2022. English translation by Dzekashu MacViban. |
| | |
| --- | --- |
| [2] | Aimé Césaire, Discourse on Colonialism (New York: Monthly Review Press, 2000). |
| | |
| --- | --- |
| [4] | Frantz Fanon, The Wretched of the Earth, trans. Richard Philcox, with a foreword by Homi K. Bhabha and preface by Jean-Paul Sartre (New York: Grove Press, 2004). |
| | |
| --- | --- |
| [6] | Memory Biwa, "Sonorous Bodies, Part Three," in 15. Triennale Kleinplastik Fellbach: The Vibration of Things, exh. cat. (Berlin: Archive Books, 2022), 124–27. |
| | |
| --- | --- |
| [7] | Gitte Beckmann, ed., "Man muss eben Alles sammeln": Der Zürcher Botaniker und Forschungsreisende Hans Schinz und seine ethnographische Sammlung Südwestafrika (Zurich: Verlag Neue Zürcher Zeitung, 2012). |
| | |
| --- | --- |
| [8] | 15. Triennale Kleinplastik Fellbach: The Vibration of Things, 96. |