Living History
Colin Lang on Peter Brötzmann at the Neuer Berliner Kunstverein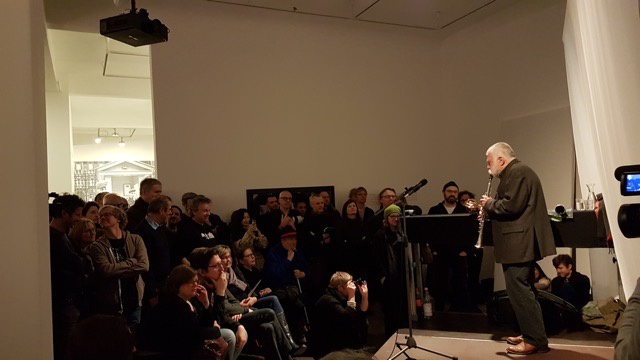 Peter Brötzmann is a living monument: both to the history of free jazz in Germany, and to the entwined histories of music and art since the 1960s more generally. As the last act of the Neuer Berliner Kunstverein's (n.b.k.) recent exhibition about the invention of the so-called neo-avant-garde, Brötzmann played alone, animating the otherwise lifeless confines of the gallery space. At almost 80, he was the only thing there that wasn't pasted to a wall.
The final act of the Neuer Berliner Kunstverein's exhibition A 370 90 89 – The Invention of the Neo-Avant-Garde – a solo concert by the German free jazz legend Peter Brötzmann – could well have been the opener. For Brötzmann's career spans the earliest days of Fluxus in West Germany and moves through countries and continents – the US and Japan especially – to the present. Brötzmann started playing music in Wuppertal and assisted with the technical upkeep of the works on display in Nam June Paik's groundbreaking 1963 show in that same city, Exposition of Music – Electronic Television. It should be noted that Paik himself began musically (Brötzmann did the inverse, he studied painting first), traveling to West Germany originally to both attend and write about the Darmstädter Ferienkurse für neue Musik. And while Paik's association with Fluxus was mostly marginal, the group's musical roots run deep. There are few significant genealogies of improvised music and free jazz in West Germany that do not run through the nexus of Fluxus and the visual arts, so Brötzmann's inclusion in the history of the parochial neo-avant garde is long overdue, but his appearance amid the exhibition's anemic images and gratuitous wall texts was nevertheless an odd site to be sure. There, standing in the middle of the exhibition on a short makeshift stage, in front of a white drape that could have been a former prop from a James Lee Byars performance, Brötzmann played for an hour, switching between his usual repertoire of tárogató (a fatter relative of the clarinet) and alto and soprano saxes. The performance offered little in the way of new material, but on this night Brötzmann's trademark bleating attacks followed by quick scale runs were punctuated by two or three distinct moments in which the usual screeching fell into the warmth of bluesy refrains, where I could have sworn the normally savage Brötzmann started to vamp.
In many ways, Brötzmann is an odd fit for the exhibition, his style of free jazz positioned since its inception squarely against the deployment of readymade structures. Would there be such a thing as the neo-avant garde, in concept and practice, without the history of the readymade? Thus my surprise at these bluesy moments, where notes were briefly organized into phrases and cycles before being drowned beneath Brötzmann's signature sea of fluttering frequencies and pitch changes. Who could say what Brötzmann was thinking in these moments, but the effect of these spirited, melodic riffs conjured a musical origin whose reach, historically speaking, went far beyond 1968/69, the exhibition's point of departure. While Brötzmann is without question an important figure in the history of the so-called neo-avant garde, it is not a history that meshes as easily, or as neatly, as his presence at the finissage (as the finissage?) for A 370 90 89 might suggest. While the current attention paid to musical histories embedded within postwar West German art is crucial to a broader understanding of the diversity of practices and voices that have helped shape our contemporary landscape, the sweeping history of inclusion on offer in Berlin nonetheless threatened to homogenize the many contradictory movements and expressions of the desire for freedom – what else was the "free" in free jazz meant to refer to for Brötzmann and others? – that now bears the epithet "'68."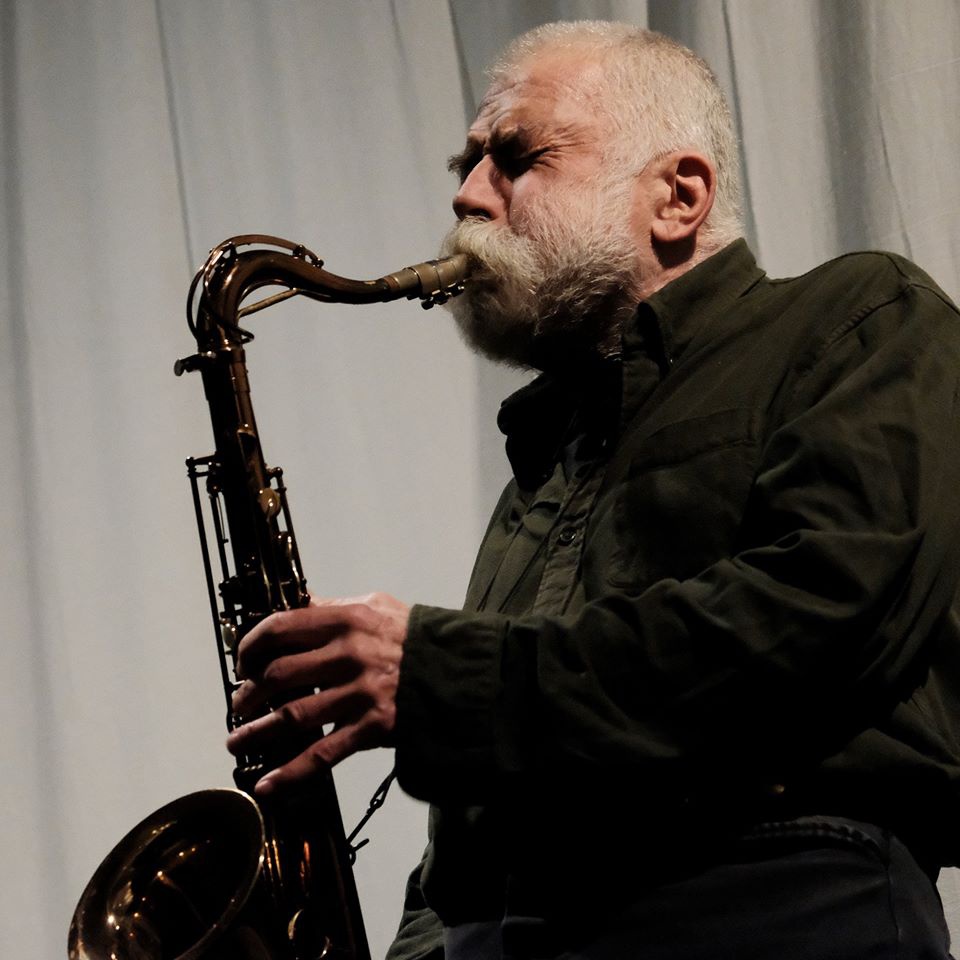 It should be remembered in this context that Brötzmann was himself frequently a target of the Left, often accused of bourgeois elitism and of merely concocting noise without any legible political content. Brötzmann frequently played at universities in Berlin in his early days, and during those fateful years of student protest many reacted violently at his concerts in West Berlin's Technical and Free Universities. Brötzmann's fleeting, understated recourse to blues scales and fragmented jazz vamps ultimately reminded listeners that for all of A 370 90 89's ham-handed efforts to bridge disciplinary divides under the rubric of the neo-avant garde, Brötzmann has always understood his own practice within a genealogy of musical precedents, first and foremost. In 1968, Brötzmann declared that the brutal mechanisms of society had provoked his brutality of musical form. That was then, but what exhibitions like this are at pains to articulate is the fact that those very same conditions, the brutality Brötzmann referred to in 1968, continue to be with us, only more so. The archive on display in A 370 90 89, as with so much in the world of exhibition-making, depends on historical distance, or closure, in order to mark the end of something that can then subsequently be memorialized within the white cube. Brötzmann's presence refuted such constructed fictions – that a moment had passed, or that the brutality of society was somehow relegated to the roiling '60s – testifying instead to the living-on of '68. Brötzmann is not known for shying away from the limelight, but on a very cold January evening in Berlin, he gestured to just how awkward it might appear for him to be singled out against the backdrop of a history interwoven with so many ongoing or forgotten struggles for freedom and equality. Brötzmann was alone on stage, but his references – something jazz is especially accomplished at producing – offered a lyrical nod to the survival of a musical tradition that was itself born of the hardships involved in finding one's way through a landscape beset by racialized violence and social oppression. Music – live music in particular – can construct such alliances in the act of performing, renewing and recalling histories while making them sentient and real in the here and now. Wasn't this part and parcel of the rhetoric of the '68ers – to abolish history understood as class struggle and make the rousing present the only temporal horizon?
2019 marks the 50th anniversary both of the space in Antwerp, A 370 90 89, for which the recently closed exhibition was named, as well as of the founding of the Neuer Berliner Kunstverein. Both institutions, so the exhibition materials reminded us, were established at the twilight of '68, and thus A 370 90 89 is also a part of the constellation of exhibitions and programs that celebrated this golden anniversary. What so many of these celebrations had in common was the desire to energize former narratives of resistance that had otherwise been relegated to the archival coffins of history. The irony was, of course, that in doing so, too many of these exhibitions themselves became archives, confining their political potential to the record books before ever setting out into the world. Live improvisational jazz is not just a document of '68 in West Germany, as recordable as another other; it represents a way of responding to brutality while also acknowledging the traditions that come before, summoning the ghosts and demons of former struggles in the very act of repeating certain notes and phrases. The respect for tradition is not an act of obedience – anyone familiar with Brötzmann knows there are few instances of genuflection in his practice, if any. No, Brötzmann's repertoire on this evening consisted of the brutality he's been committing since '68, tinged with passages alluding to the history of the musical forms he's been deploying for over 50 years. With nothing but documents, and artworks as documents, surrounding him, Brötzmann reminded us that the logic of state-sponsored terror and destruction that once informed his particular aesthetic, like the instruments and music at his disposal, have not gone anywhere.
Title Image: "Peter Brötzmann" Photo: n.b.k.