Lost in Translation. On the Venice Biennale 2009
"Biennales are never loved, and that's OK, because they are not there to be loved. They are there to be discussed."
This a rather refreshing assertion, coming from the curator of the Venice Biennale, especially considering Robert Storr's imbroglio with his detractors in 2007. In contrast, Daniel Birnbaum, the director of Frankfurt's Städelschule and its exhibition space Portikus, as well as a philosopher and contributing editor at Artforum, seems a much more measured man when it comes to both criticism and curation.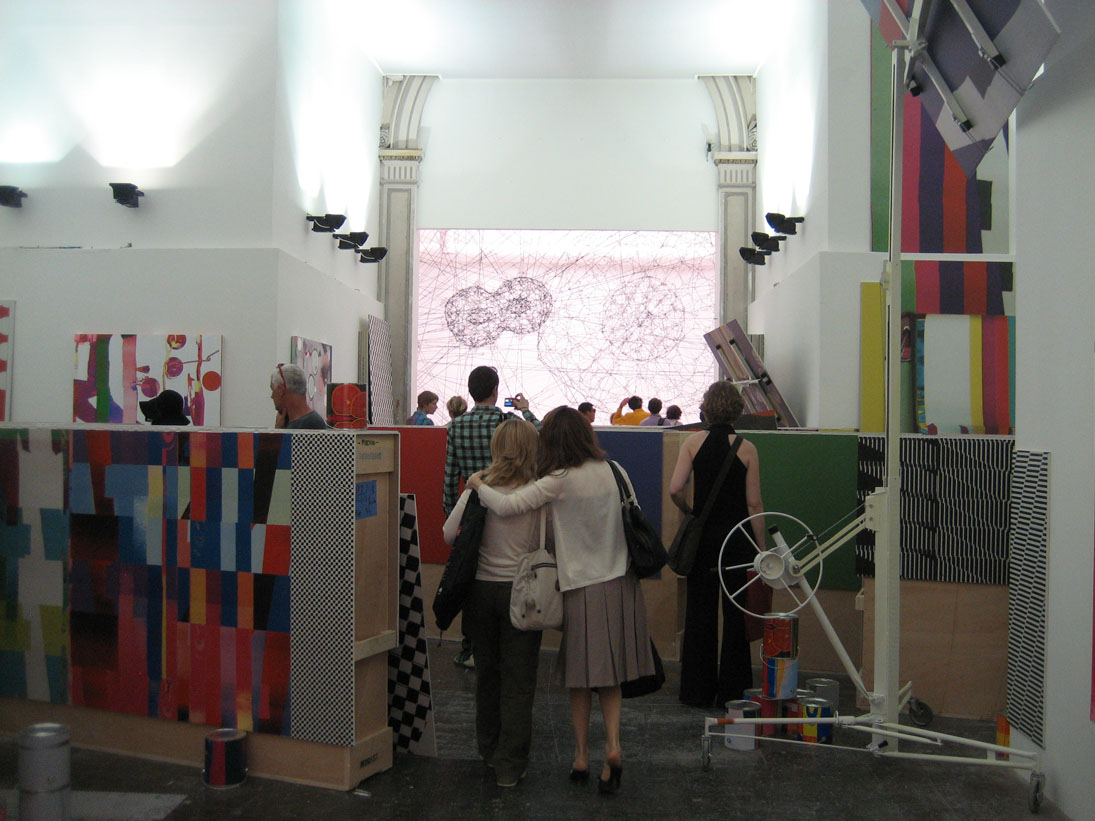 Guyton/Walker, Untitled, 2008, Installation View, Venice Biennale, 2009, © Christian Phillip Müller

Departing from Nelson Goodman's Ways of Worldmaking (1978), Birnbaum's innocuous title – Making Worlds (and the translation of this term into multiple languages) – is only fortified by the idea that the manifold versions of reality artists envision literally make the world as we know it. Exploring the biennial format as a "translation exercise," Birnbaum argues that from the plurality of languages, voices, and perspectives presented in a biennial, cultures meet and clash – a process that ideally enables new ideas and understandings to emerge. It is from this standpoint that he counters the legitimate ongoing criticism of the Biennale's nationalistic "world's fair" approach as problematic and outmoded.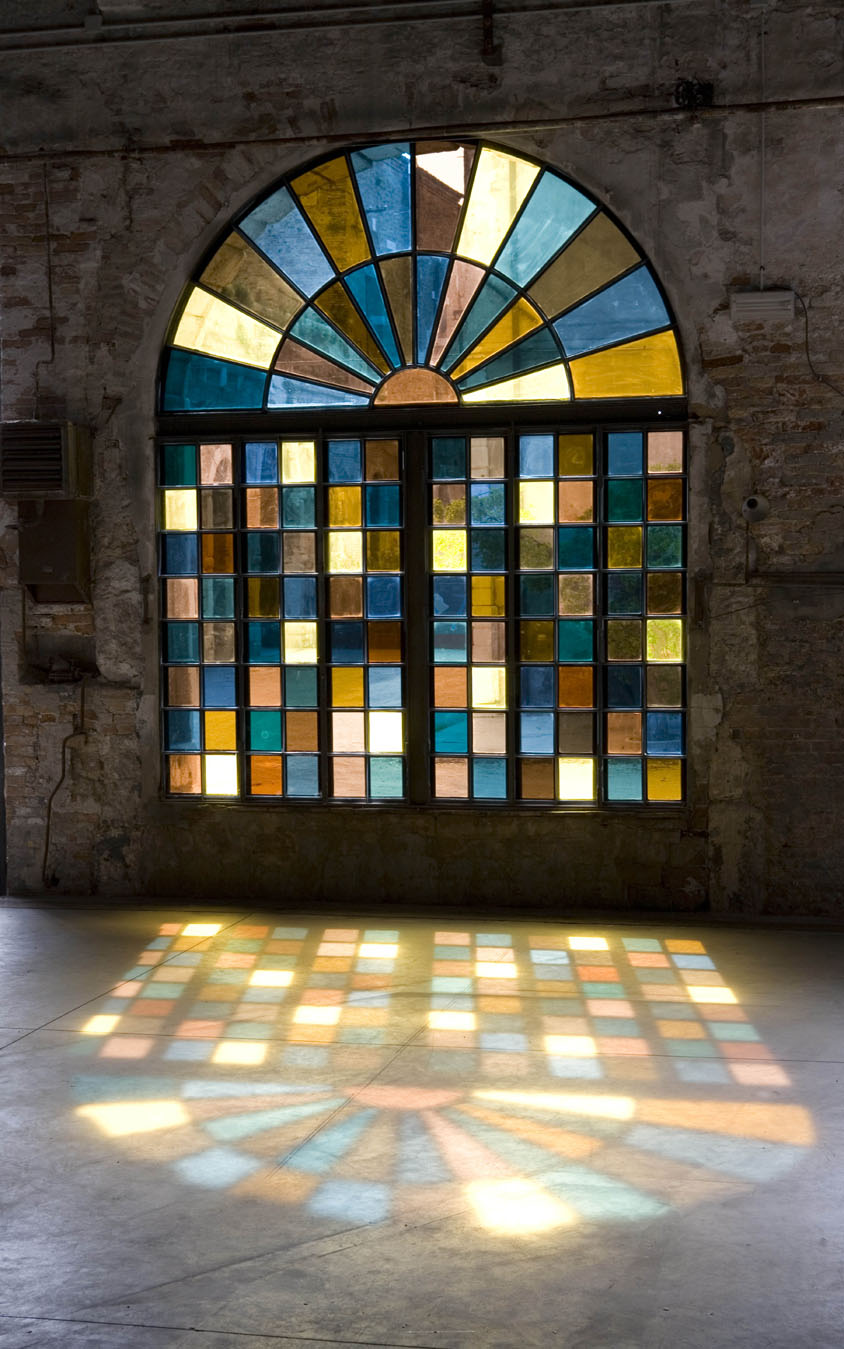 Spencer Finch, Moonlight, 2009, Installation View, Venice Biennale, 2009                                                                            © Galerie Nordenhake, Berlin

These ideas are tackled unevenly in Birnbaum's two main exhibition spaces, the Palazzo delle Esposizioni (the former Italian Pavilion), and the Arsenale. Specifically, his "artist-centric curatorial approach," in which many artists chose their own exhibition location, often leads to questionable placements and awkward juxtapositions of artworks. Take for instance, collaborative duo Guyton/Walker's unmonumental installation of fruity silkscreened Pop art canvases jumbled with crates and paint cans. While its simultaneous representation and deconstruction of the world of the painter's studio is an engaging confirmation of the "making worlds" premise, its haphazard aesthetic makes it an unconvincing "hook" piece for the Palazzo's grand entrance. It also clashes visually and conceptually with its direct neighbor: Tomas Saraceno's elegant and expansive black web of stretched elastic filaments. Similarly, Spencer Finch's discreet Arsenale window installation of colored light filters is hampered by Huang Yong Ping's cumbersome sculptures that look more like oversized squids than the Buddha's Hand citron they are intended to represent. The intended dialogue between adjacent artworks is often difficult to interpret, making the exhibition seem more like a Tower of Babel than a translation exercise.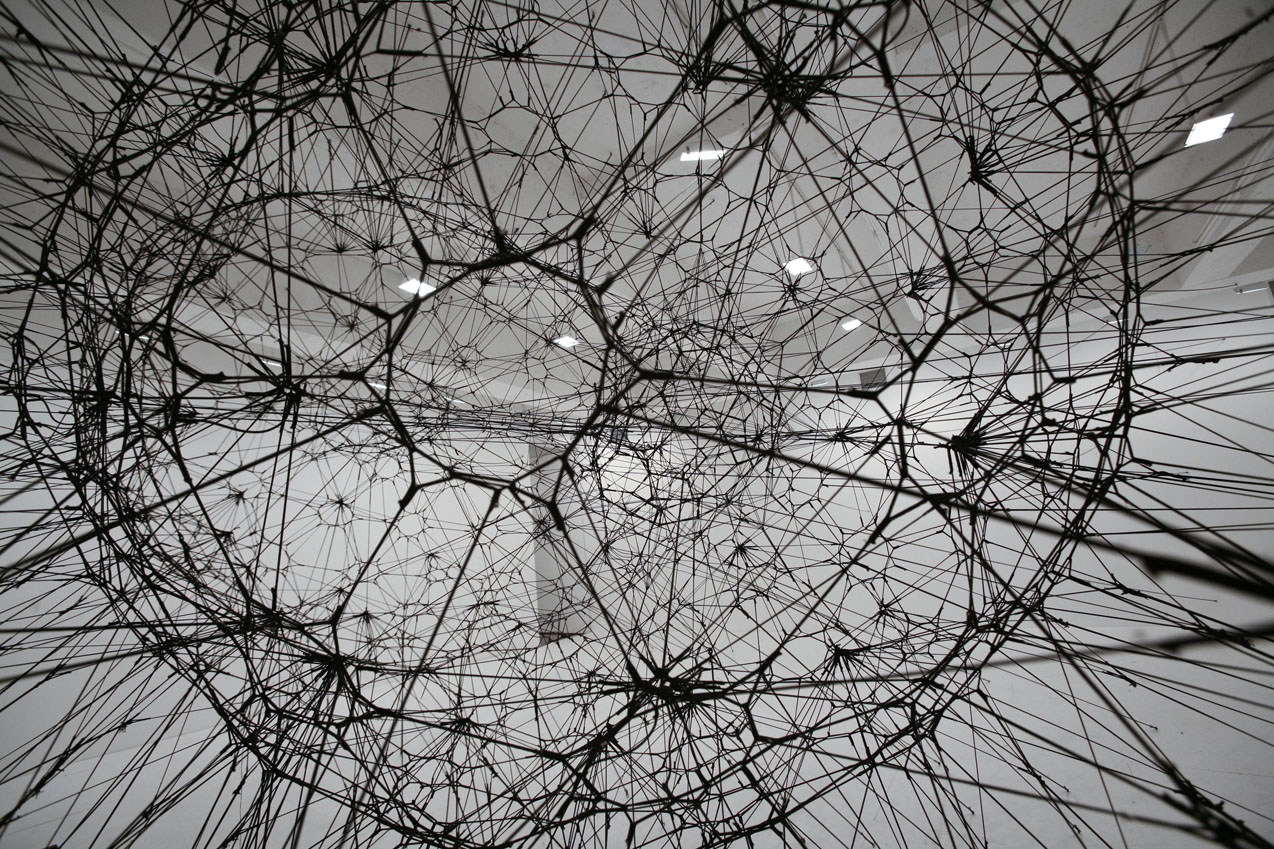 Tomas Saraceno, Galaxy forming along filaments, like droplets along the strands of a spider's web, 2008, Installation View, Venice Biennale, 2009                                                                                                                                       © Tanya Bonakdar Gallery, New York

Despite its disjointedness, Birnbaum's exhibition does have moments of cohesiveness. For instance, Tony Conrad's 1972 postminimalist Yellow Movie series, film-painting hybrids of colored rectangular "screens" that yellow as the years pass, are an effective counterpoint to John Baldessari's 1977 time-lapse video, Six Colorful Inside Jobs, in which a man re-paints the same room a different color each day for six days. Despite their divergent art practices, both sought to negotiate rifts between painting and conceptual practices, and to reconcile painting as a time-based process with film/video. While the former turns paintings into films through the extension of time, the latter turns a video into six different monochrome paintings through the contraction of time.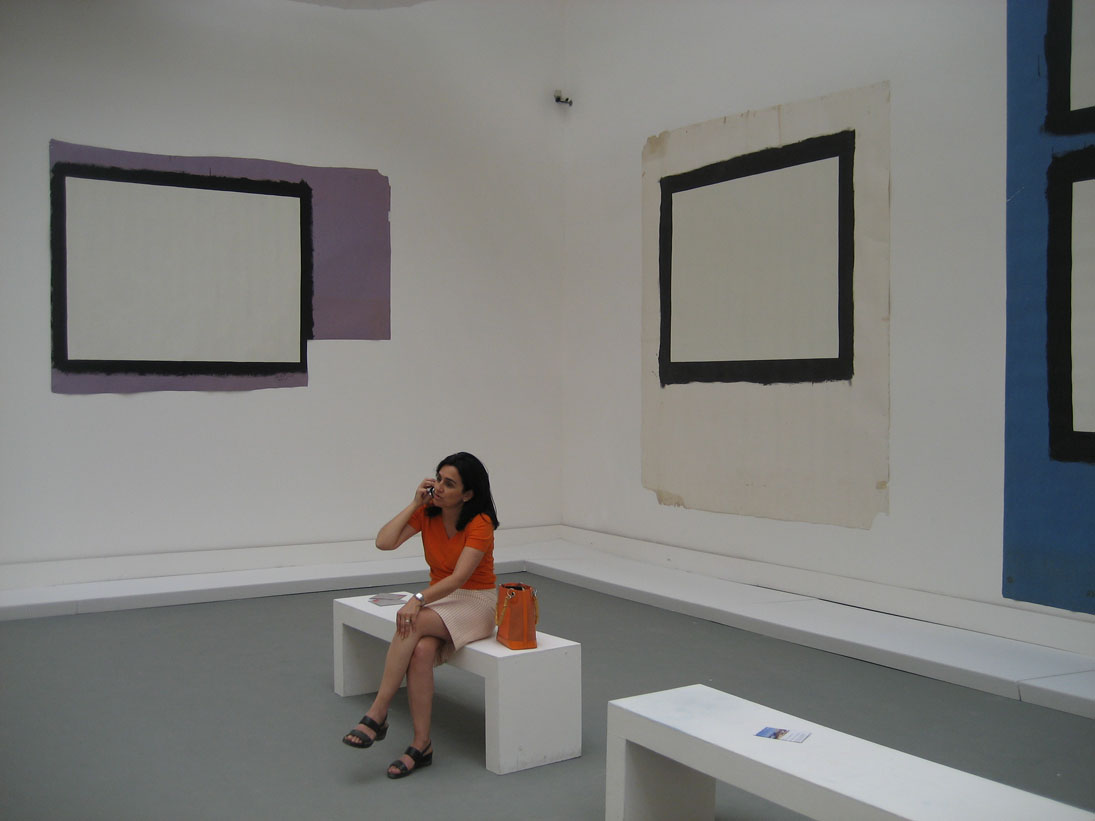 Tony Conrad, Yellow Movie, 1972, Installation View, Venice Biennnale, 2009                                                                     © Christian Phillip Müller
Though Birnbaum escapes the traps of overcrowding and infinite corridors of video, his tendency towards restraint results in an exhibition that at times feels insipid. The considerable exception to this is a charming sculpture park located in a never-before-used garden historically known as the Giardino delle Vergini, tucked away at the very end of the Arsenale (just beyond the area where "Utopia Station" took place in 2003). Here we find some of the most delightful responses to Birnbaum's edict "to make worlds," such as Lara Favaretto's slimy swamp which unexpectedly invades the manicured garden.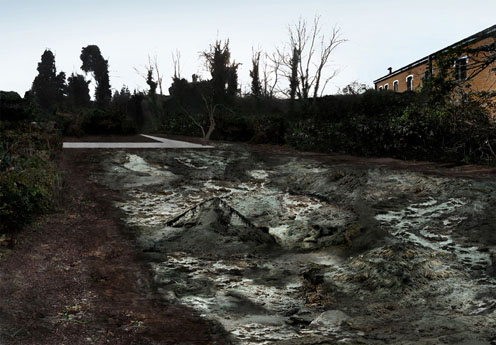 Lara Favaretto, Project for a Momentary Monument, 2009, Installation View, Venice Biennale, 2009                           © Galleria Franco Nero, Turin, and the artist

Like Favaretto, several of the national pavilion artists "make worlds" by responding to the natural environment of the Giardini itself. Roman Ondák, for instance, relocates the Giardini's native plant life, shrubbery, and trees to the interior of the Czech and Slovak Pavilion – replete with an ambulatory pebble path to traverse it. For those observant enough to take notice of this modest, yet sensitive intervention, Ondák effectively engages viewers strolling his garden trail to reconsider their perceptual and physical relationship to the Giardini site as a natural area, rather than as a cultural fair ground.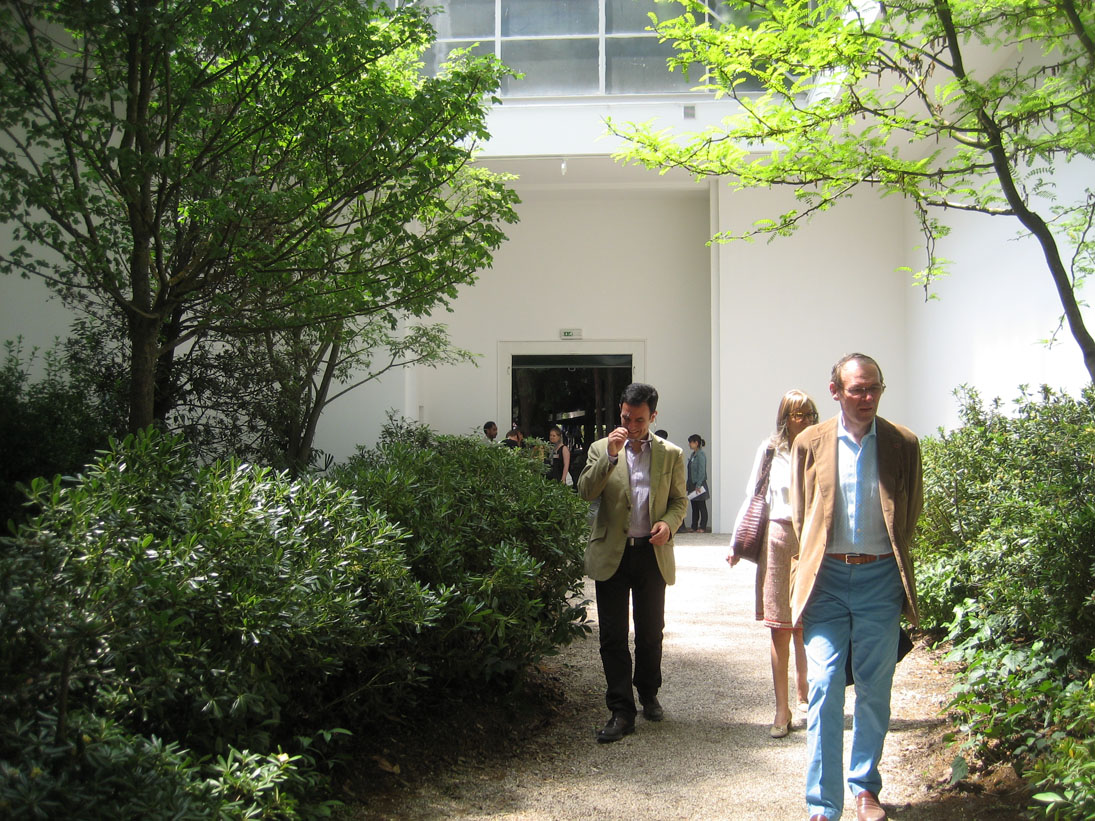 Roman Ondák, Loop, 2009, Installation View, Venice Biennale, 2009                                                                                   © Christian Phillip Müller

Steve McQueen in the British Pavilion also reframes the Giardini site through his haunting dual-screen film depicting the boarded-up pavilions, rubbish heaps, and insect inhabitants of the Giardini in the off-season. Though formally exquisite as ever, the film's hired subjects: a dislocated pack of greyhounds rummaging through garbage and silhouetted actors smoking cigarettes and cruising each other in the night, ring trite in comparison with Ondák's more subtle observations.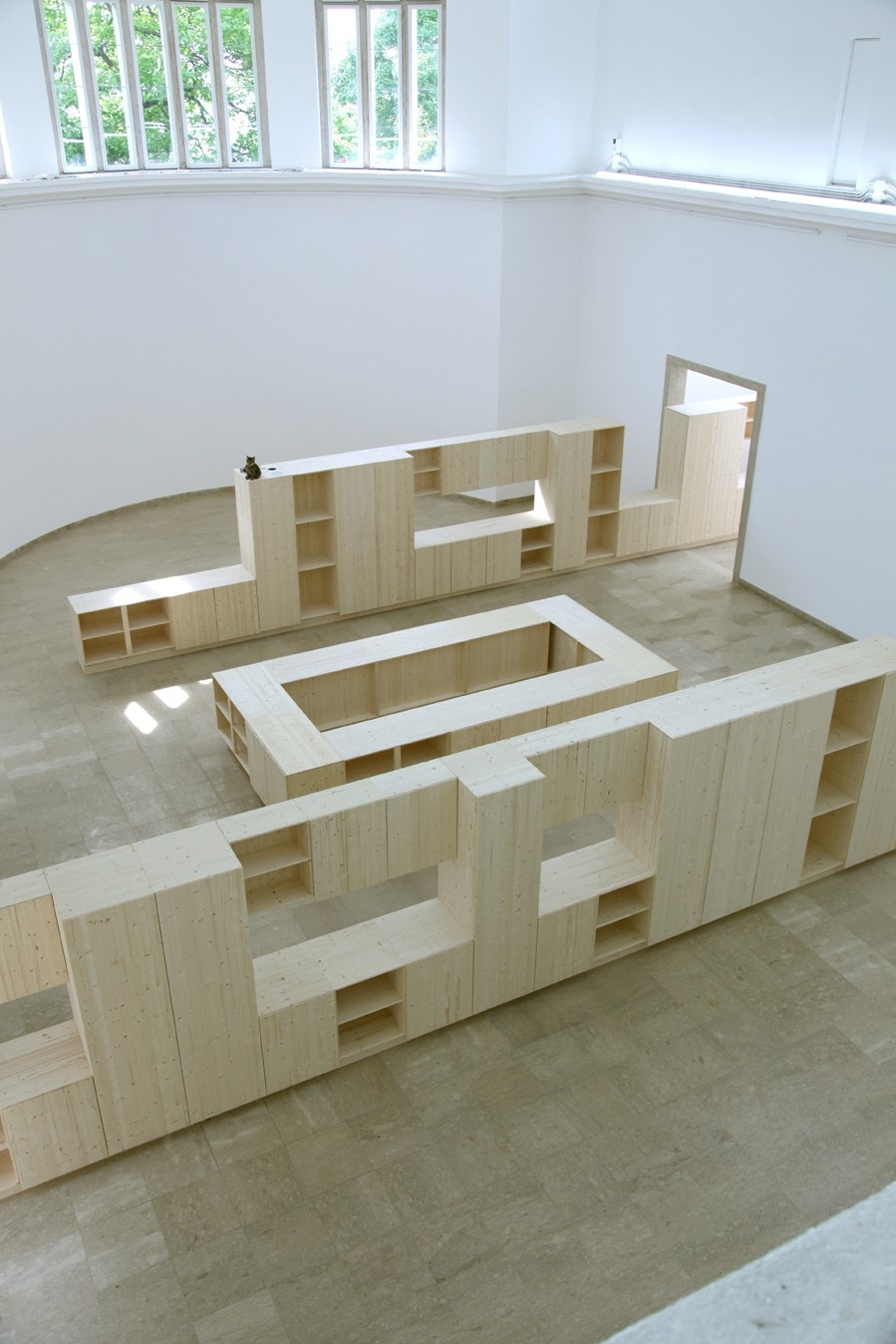 Liam Gillick, "Wie würden Sie sich verhalten? Eine Küchnekatze spricht. How are you going to behave? A kitchen cat speaks", 2009, Installation View, Venice Biennale, 2009                                                                                                  © Liam Gillick

Liam Gillick also performs an intervention at the German Pavilion, but instead of Ondák's flora, he has inserted long rows of modernist Frankfurt Kitchen-inspired pine cabinetry into the contested Nazi-era architecture. This is done, not to disrupt the architecture's ideology, as did Hans Haacke's 1993 smashing of the pavilion's floor, but to "overlay a set of concepts on top of [the] structure" to function as a provisional alternative. The entire project – including a motionless cat perched atop a cabinet mumbling an inaudible pre-recorded text – has been widely derided, yet the merit behind this pavilion does not lie so much in the work as in the choice of Gillick in the first place. As a British artist with a tenuous link to Germany ("he produced much of his work in Germany [and] was early to address emergent post-socialist systems"), it seems that curator, Nicolaus Schafhausen's primary aim in choosing Gillick was to problematize the very concept of national representation and to raise discourse around it, both of which he has accomplished.
If the measure of a biennial's success is that it's not loved, but rather is widely discussed and debated, then Birnbaum's 2009 iteration – like its recent predecessors – could be considered an achievement. The problem with that premise though, is that much like the concept of "making worlds through art," it's all too vague, even meaningless. Ultimately, the translation exercise doesn't quite translate.