ISOLATION PLAY
Margaret Ewing on Michael Krebber at Greene Naftali, New York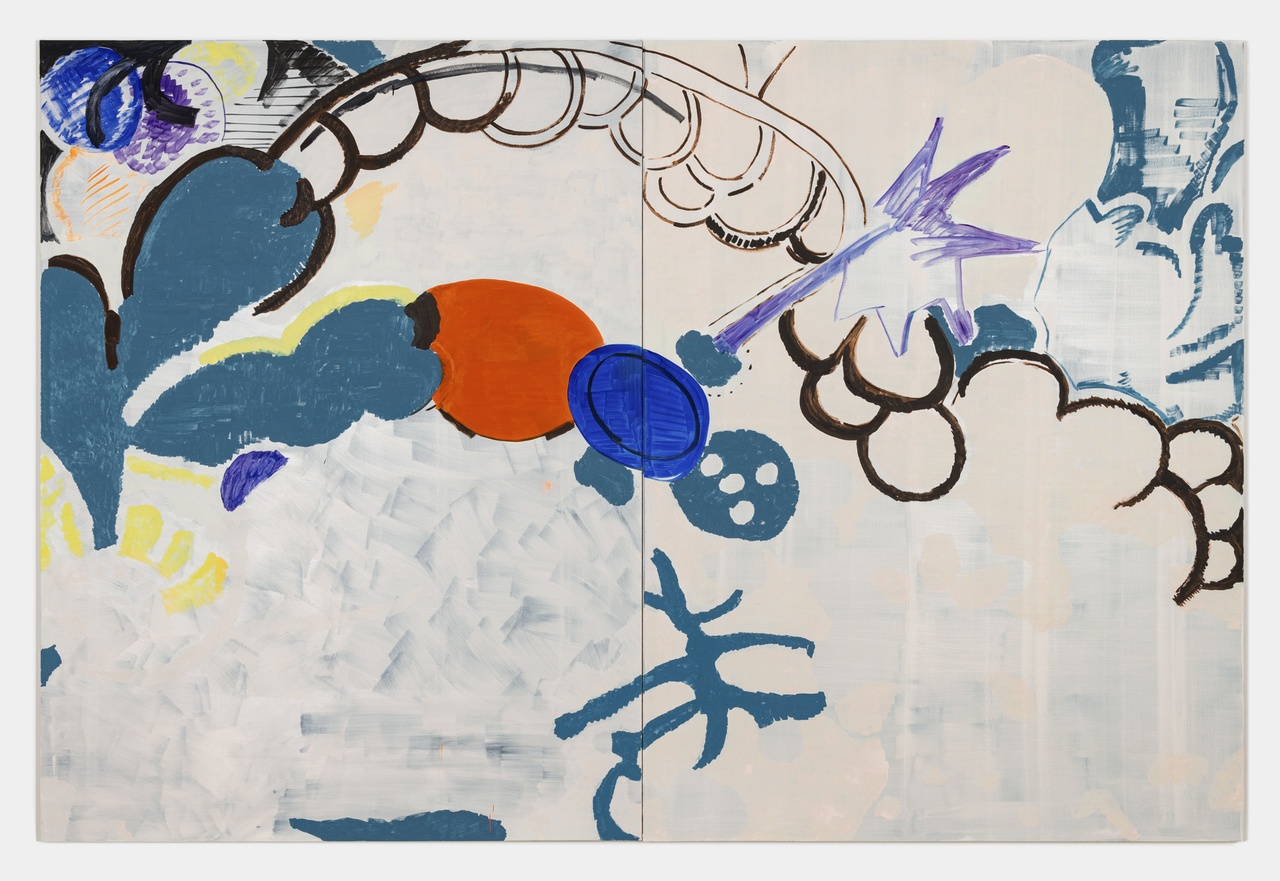 The art scene in Cologne in the 1980s and 1990s was, of course, the setting that gave birth to this publication, as well as to the careers of a generation of German artists that have come to define the country's post-reunification art history. Michael Krebber is a central figure in this history, his paintings offering comic relief in contradistinction to his predecessors' – Baselitz, Immendorff, Lüpertz, and others – canvases loaded with the weight of history. Art historian, curator, and writer Margaret Ewing visited Krebber's recent gallery show in New York and considers the painter's latest works against the backdrop of shifting values in contemporary culture.
On the eighth-floor space of Greene Naftali, the sparkling towers of Hudson Yards – New York's colossal new real estate development immediately to the north – create a striking backdrop to any work on view. In Michael Krebber's recent show, "New Work," the eight paintings, hung around the perimeter of the airy open-plan gallery, produced an atmosphere heavy with private references and associations, and presumed that viewers were game to come along for an enigmatic ride. The press release withheld all guidance and explanation, and was comprised entirely of a short poem written in 1978 in Nepal by the German ethnologist Michael Oppitz. Titled "a poem of the night," it read, "as he rose / to the highest forms of prose / a poem crossed his head / and suddenly his prose was dead." It might have framed an exhibition by an artist making a transition from the literal to the figurative, or perhaps the opening of a new visual language or sensibility. But, within the context of Krebber's four-plus decades of practice, what I found was more of the same jokey and self-deprecating attitude toward his own production, covering similar ground as before.
The paintings featured more paint – in this case, oils – than is often the case with Krebber. Two large diptychs anchored the installation: La Poupée and Doll in Pink (all works, 2021). They were based on a small whimsical painting of dolls by Francis Picabia titled Les Poupées (ca. 1911), though this information was withheld from the exhibition materials (I had to ask). Enlarging the original by nearly five times, Krebber transformed Picabia's brightly colored and whimsical scene into loosely rendered copies in which large areas of overpainting obscured all but fragments of the original. Citing painters from the past is a recurring move for Krebber, whose attitude has long been that everything interesting has already been done. While in some cases the references have been specific to his German lineage, here it pointed to a broader history of modern painting.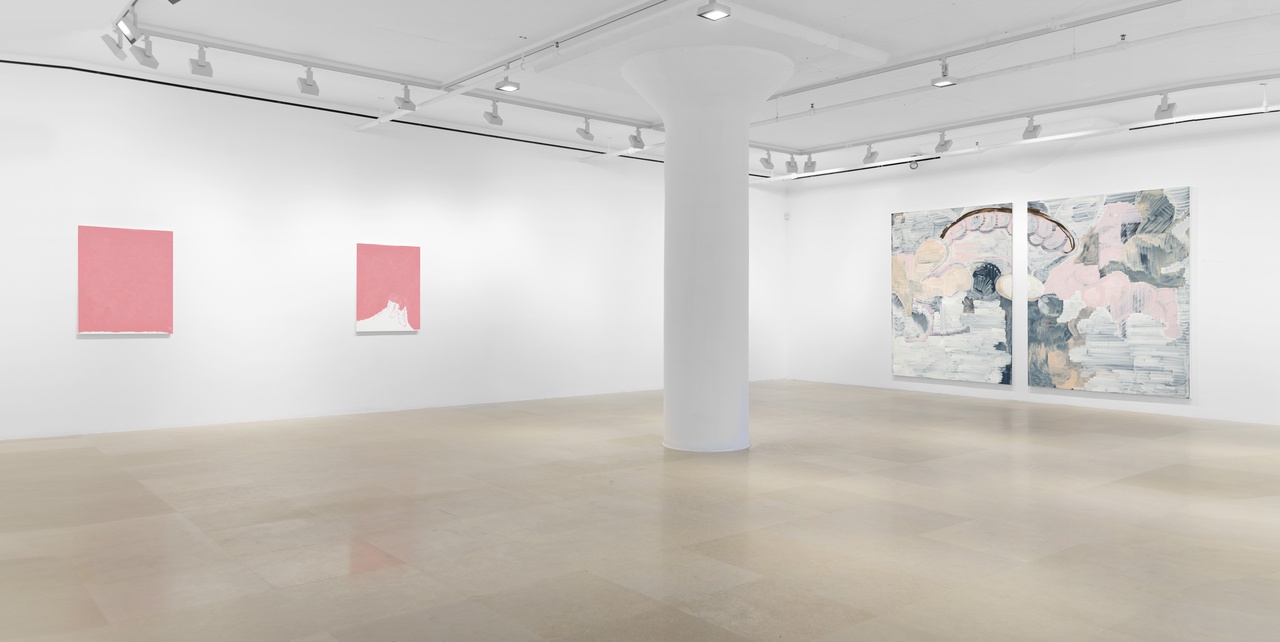 By comparison, the other works in the show were smaller and simpler. All untitled and minimally composed, they retreated into the background and a viewer was left to guess at their significance. In a pair of works that featured large swaths of Pepto-pink paint and Krebber's characteristic choppy facture, I imagined landscapes, in light of the location attribution of the Oppitz poem. Rendered in negative space, one of the forms suggested a profile of Mount Everest, and its mate – mostly monochrome with just a sliver of bare canvas at its base – read in turn as a horizon line. Tucked around a corner, the last four paintings, also small, were the opaquest of the works on view. In one, a trio of dots could have echoed the abstracted facial features in one of Picabia's dolls, or this could have been coincidence. The last works featured the least amount of paint as well as content. Highly sketchy and "unfinished" in a way that characterizes much of Krebber's output, they employed a peachy pink, as did one of the big diptychs, as well as a faint yellow.
The show seemed fully in keeping with an attitude Krebber has cultivated over decades. In the context of its origins in mid-1980s Cologne, his slacker style read in part as a generational critique of the moment's dominance of German Neo-Expressionist bombast. Krebber knew that work directly, from his time in Markus Lüpertz's class at the Kunstakademie Düsseldorf and later working in the studio of Georg Baselitz. Those artists garnered international attention for engaging with German history in ways that had been mainly avoided and unofficially verboten since the end of the Second World War by weaving impolite and provocative references into highly gestural canvases. In reaction to their reaction, Krebber mounted a practice that diluted specificity as it centered opacity. If the older generation was part of the cultural shift toward engaging with history, Krebber countered with a nihilistic attitude by which it didn't matter so much what was said, or indeed if anything was said at all, because everything was fundamentally thrown into question.
More specifically within the realm of practice, Krebber's contrariness has long taken aim at painting, and, through practices of deconstruction and mockery, targeted assumptions and beliefs about the medium as well as its primacy in an exploding market. Making paintings that pulled back from materiality, craft, pleasure, and expression, and substituting a stance of inconsequence, Krebber focused on the framing conditions of painting at the near total expense of visual reward. The underlying frame of this show traces to his earliest outings centering acts of withdrawal, like a completely empty gallery at Christoph Dürr, Munich, in 1987 and an empty vitrine (alongside framed photocopies of works by Daniel Buren and Allan McCollum) at Galerie Isabella Kacprzak, Stuttgart, in 1989. Many of his paintings from the early 1990s featured quick and dirty markings and forms like those in the current exhibition. In the course of time, the work coalesced around questions, challenges, and jokes, which were underpinned by a refusal of gravity, clarity, and specificity.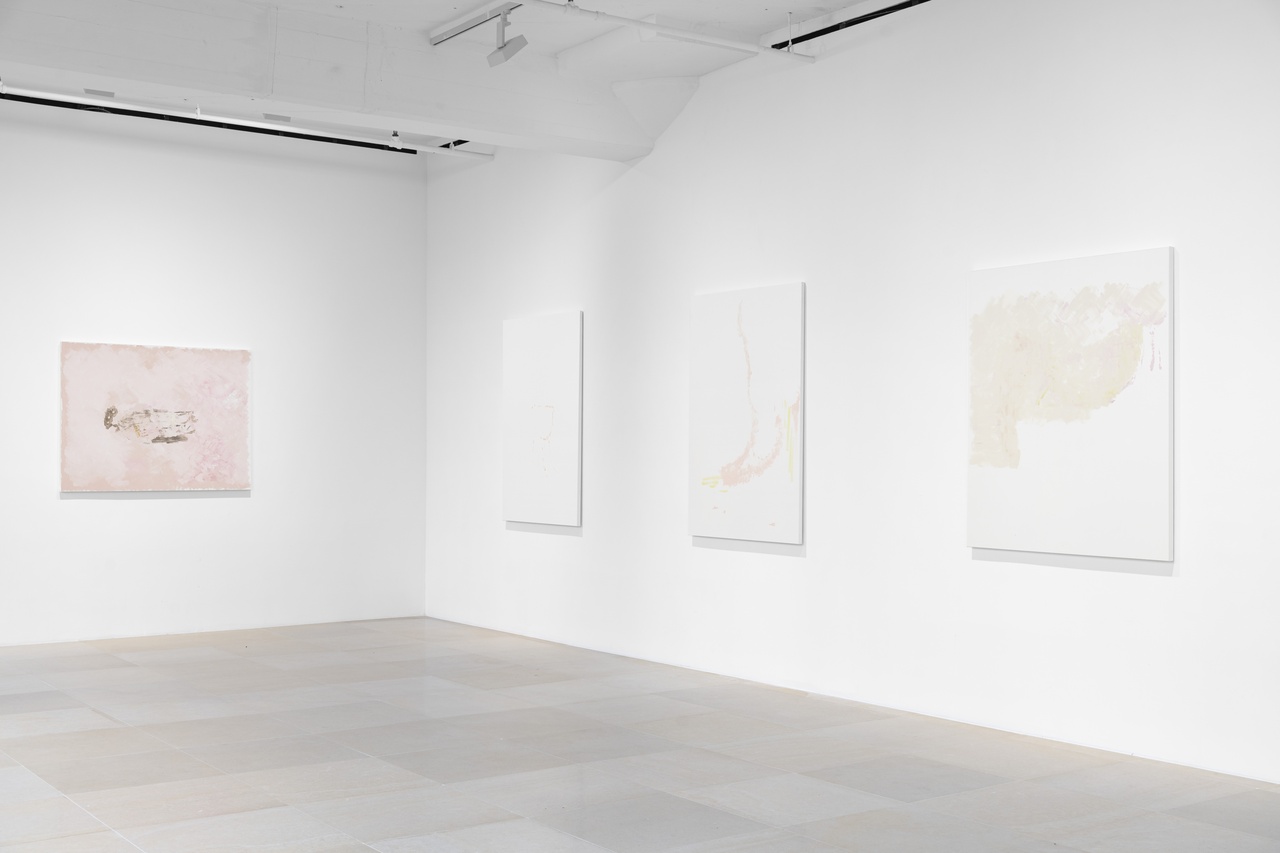 To my mind, by the third decade of the 2000s, this subject has been exhausted. While there is plenty of bad painting, and the capriciousness and often shallowness of the market is well established, it is no longer a serious rallying cry to throw it all out. Painting has been deconstructed to death, and the interesting conversations have moved elsewhere. Energy put toward these tired scripts comes at the expense of productive and constructive possibilities that open things up rather than close them down.
Running through Krebber's history is a suggestion that everything is a joke, all is bankrupt, and none of this really matters anyway. There is a refusal to commit to making a statement, and if this claim to relativism echoed wider cultural sentiments in the 1990s and even early 2000s, the stakes have been different since at least 2016. In an era of open-ended global crisis, work that trades in obfuscation, withholding, and self-reference exercises an unsettlingly isolationist position. This practice that originated in critique has retreated more and more into a self-involved cycle that pushes away more engagement with the outside world the further it goes. While once attuned to the framing conditions of exhibitions, the work has become so insular and self-focused that it now actually seems to deny its context in a geopolitical reality. Indeed, it is like the Hudson Yards development in this way, controversial for its disregard for the context into which it has inserted itself. Comprised of luxury residences, high-end retail, and office towers, it operates exclusively in relationship to itself, ignoring the needs of everyday New Yorkers.
If the questions inherent in Krebber's practice feel stale, more consequentially, they also rehearse an adolescent attitude of tearing things down without ever proffering an alternative. In the face of a political reality that feeds on a fundamental denial of facts, sincerity is no longer a bad word. For me, it is no longer enough to linger in the background cynically shooting daggers while others articulate a position. Continuing to opt out of positing what one does believe in – whether formally or politically, in the realm of art practice or in the greater world – rather than simply speaking in the negative, is to disengage from the work of moving forward.
"Michael Krebber: New Work," Greene Naftali, New York, November 16, 2021 – January 22, 2022
Margaret Ewing is an art historian, curator, and writer living in New York.
Image credit: Courtesy of the artist and Greene Naftali, New York, photos: Zeshan Ahmed