Robert Ryman (1930-2019)
An Obituary by Suzanne Hudson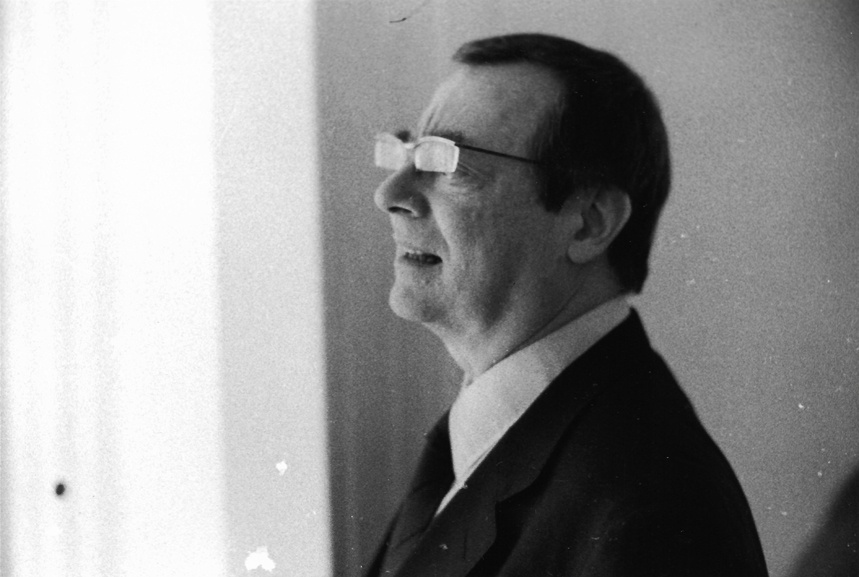 Holding back seems like a throwback today, but there is nothing old or stymied about the innocent inventiveness of Robert Ryman's painting. The loss of this important postwar figure was registered more quietly than some of us expected; but that is perhaps a fitting tribute to how Ryman lived, and painted. Beginnings were ends, and finding a point of departure appeared to be more important than hurried conclusions. In other words, painting, for Ryman, was a life's work. Suzanne Hudson, a foremost expert on Ryman, weighs in on how so little, materially speaking, says so much.
Robert Ryman died on February 8, 2019 at 88 years old. Despite having so many decades of sustained work behind him, he remained, in perpetuity, a neophyte (as in learner, but also perhaps implying a beginner). Endless curiosity about the chosen medium – its tools and conventions, institutional sites and what phenomenal conditions exceed them – characterized his long career, during which time he tested the possibilities of painting by continuing to paint. Even in what would be his last show of new work – "Robert Ryman: Recent Paintings" at Pace Gallery, New York in 2013 – Ryman surprised many who associated him with utter monochromatic reduction by exhibiting a body of stretched-cotton canvases covered with white oil paint floating off-kilter on beds of deep grey, rust, and pistachio. Building directly on his 2004 show of nominal "White Paintings" – where darkly saturated, light-absorbing grounds similarly pushed the white paint into exaggerated relief, extending his career-long engagement with the properties of pigment meeting non-neutral supports – he welcomed how much still could be done.
This conditional prospect of Ryman's work models something like a proposition – aesthetic, but I think ethical, too. Derived from a series of encounters through which actions unfold out of and against a discrete set of options and concerns, Ryman's painting is both the byproduct of an experiment and the evidence of its realization. Self-taught, Ryman capaciously made use of paints, pens, and pencils on textiles, Plexiglas, handmade paper, coffee filters, and aluminum, among so many others; he moved functional and usually concealed fasteners out from behind supports and rendered them – tape and less ephemeral brackets (clips and screws) alike – intentional compositional elements, which he exploited in concert with other traditional aspects of painting that likewise might puncture the incipient illusionism of the surface: the signature, for one, which he enlarged to comic proportions or repeated like a visual stutter, together with the unit of the stroke, which he alternately exaggerated to baroque effect or aggregated, sometimes spreading it edge to edge until the brush ran out of paint.
Ryman made his first painting in 1953, when he was freshly arrived in New York and employed as a guard at the Museum of Modern Art. Born in 1930 in Nashville, Tennessee, Ryman had studied music and come to New York after the Korean War (he enlisted in the United States Army Reserve Corps, where he performed tenor saxophone in the Army Reserve Corps Band), with the idea of playing jazz with Lennie Tristano. Yet he became a painter in the museum, where he consumed European modernism and American Abstract Expressionism while stationed within the galleries; he also took to sketching during his daily shifts. Untitled (1953), that first painting – a biomorphic eddy of red and blue on a jarring greenish ground, with paint demonstrably pulled, spread, pushed, and coaxed along the murky surface – resulted from Ryman being prompted to visit an art supply store. He bought oil paint and canvas boards and set out to "see what the paint would do, how the brushes would work." [1]_Long thereafter, the logic of material encounter persisted.
By 1958, he contributed a modest and untitled casein, graphite, and colored-pencil work on a scrap of paper in a staff show at the museum, out of which it auspiciously sold to Gertrud Mellon of the Museum's Painting and Sculpture Committee (he later renamed it in her honor). He began to participate in group shows, including two at the artist-run 10th Street Brata Gallery (in 1958 and 1959) and another in 1964 at the Kaymar Gallery, where Dan Flavin curated "Eleven Artists," placing Ryman alongside his own work and that of Jo Baer, Walter Darby Bannard, Donald Judd, Sol LeWitt, Larry Poons, and Frank Stella. But Ryman did not show regularly until the late 1960s. His inclusion in Lawrence Alloway's "Systemic Painting" at the Guggenheim Museum in 1966 was a boon in spite of the catalogue's few references to him. His first one-man exhibition occurred in April 1967 at the Paul Bianchini Gallery. 1969 proved a crux, with solo shows at the Fischbach Gallery in New York and others in three significant European venues: Konrad Fischer in Düsseldorf, Heiner Friedrich in Munich, and Yvon Lambert in Paris. He also took part in Harald Szeemann's "Live in Your Head: When Attitudes Become Form (Works-Concepts- Processes-Situations-Information)"; "Op losse schroeven: situaties en cryptostructuren" at the Stedelijk Museum, Amsterdam (it traveled to Museum Folkwang, Essen as "Verborgene Strukturen"); and "Anti-Illusion: Procedures/Materials," at the Whitney Museum of American Art, New York.
Following his involvement in Susan Tumarkin Goodman's 1970 Jewish Museum show, "Using Walls," Ryman received a Guggenheim retrospective in 1972. By exhibiting paintings from only 1965 to 1972, this first large-scale presentation of near-contemporary work annulled at minimum a decade's worth of art, much of it laden with facture – unlike those comparatively astringent exemplars selected for inclusion. (Earlier and more obviously painterly work was shown simultaneously at a smaller John Weber Gallery show, but the Guggenheim installation became the defining point of reference.) It was through his assumption of the square, iterative if not serial method, and employ of steel as a quasi-sculptural base that Ryman's connection to Minimalism was both confirmed and rejected – the latter owing to Ryman's touch registering even in the pared-down panels, squarely at odds with Minimalism's formal orthodoxy of reiterative repetition. Thus was he associated with but never explained within Abstract Expressionism (claimed early on for his maintenance of gesture, albeit stripped of its pretension to sublimity); so, too, with Minimalism and also Conceptual and Process art. Then, in the 1980s, his anti-idealism made him a deconstructionist and postmodern cipher.
I have argued elsewhere that the vocative quality of Ryman's work – its theoretical and actual openness to both the receiver and context – has meant that it has been subject to various interpretive frames, and no doubt did the opportunity to see more of his work on view over the decades of his production contribute to this shifting categorization and the language around it. Ryman's paintings are not selfsame, and in time people recognized of this fundamental aspect of his practice. Ryman's choices, whether regarding the width of brush or the nature or size of his painting's support, precipitate intellective processes about the physical consequences of his material decisions even though the results of those choices could not be predicted in advance of painting. The controlled devices beget spontaneous interactions and forms of creative experimentation, vitiating claims for ideation apart from the sensible.
For me, Ryman's project exemplifies in this a humane achievement: a kind of willingness to act without, or despite, fear of obviation. Depletion of interest was anathema. In learning of his death, I thought about him, and about all of the paintings that he would never live to make. In a 1993 interview with David Carrier, Ryman offered a sense of how he viewed the medium:
"Painting will go on. Painting is by far not finished, it will never be finished, because it's too rich. The medium is so challenging. What could be more challenging than to have endless possibilities. I think that there is much more to be done. We will see things probably in the future we wouldn't have thought. Maybe it won't be like the painting we know now." [2]
In reflecting again on this exchange, I was reminded of Jackson Pollock declaring (one cannot but feel apocryphally, although it seems to be true): "That fucking Picasso … he's done everything." For me, it is Ryman who made more of his materials than anyone else in the last century, who made painting over each time he asked, in paint, whether something counted as that thing. In doubt that was also a form of profound generosity, he further posed the consequence of painting, for others. In his legacy, as in his life, the question remains.
Suzanne Hudson is Associate Professor of Art History and Fine Arts at the University of Southern California. She is the author of Robert Ryman: Used Paint (MIT, 2009).
Notes
| | |
| --- | --- |
| [1] | Robert Ryman, cited in Nancy Grimes, "White Magic," in: Art News, vol. 85, no. 6, 1986, p. 89. |
| | |
| --- | --- |
| [2] | David Carrier/Robert Ryman, "Robert Ryman on the Origins of His Art," in: Burlington Magazine, vol. 139, no. 1134, 1997, p. 633. |