For Okwui Enwezor
by Markus Müller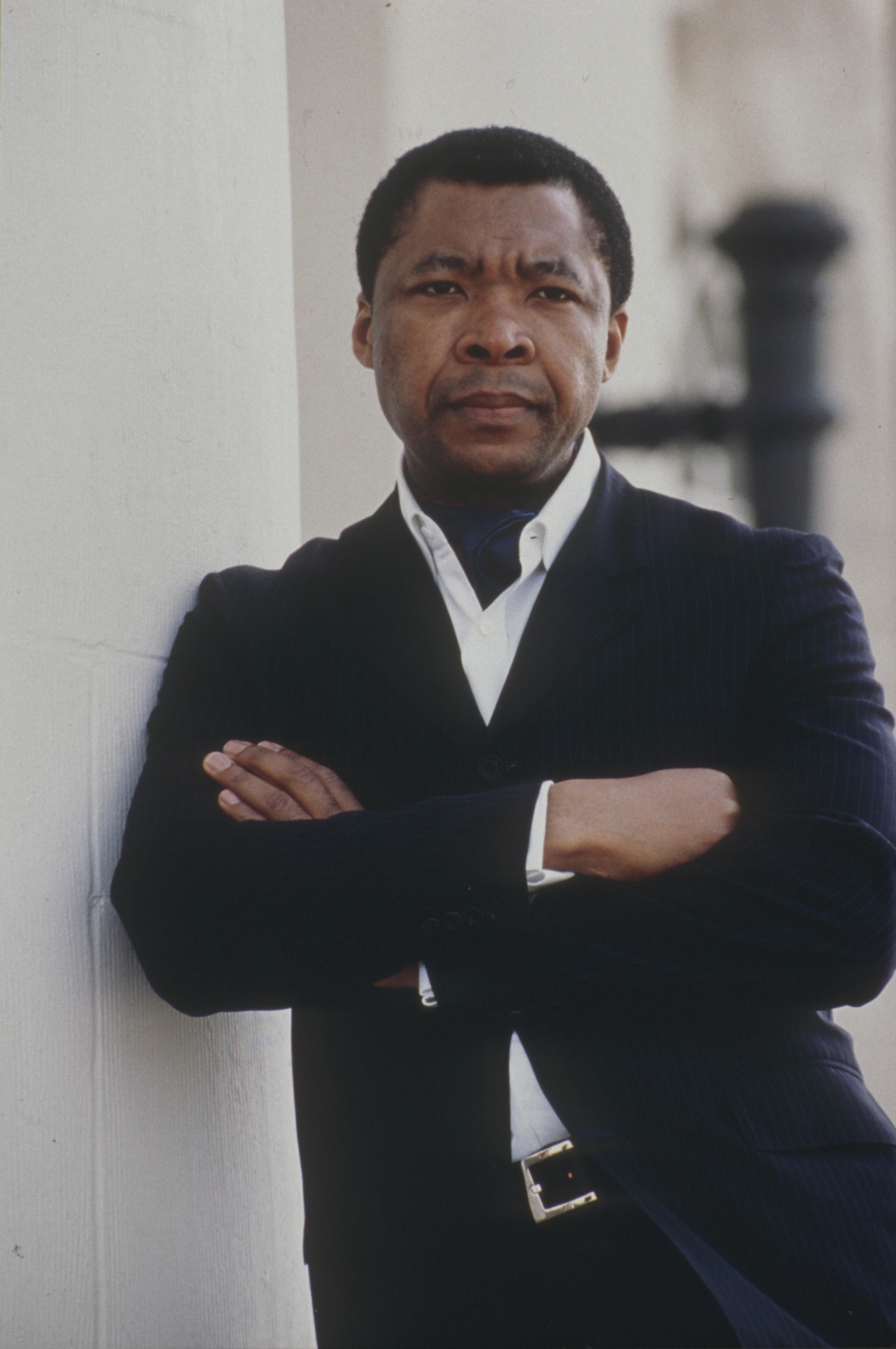 I had the great fortune and privilege to work with Okwui for almost 20 years in a number of different roles. He told me that we first met at the "Skulptur. Projekte in Münster 1997" exhibition. What I know for certain is that in July 1999, Rob Reynolds had the idea of doing an interview with Okwui for Feed. The interview took place a few days later, on August 4, 1999, at Thread Waxing Space in New York. As I remembered it, this was my first professional encounter with Okwui, who had been announced a year earlier as the artistic director of Documenta.
On May 2, 2000, Kasper König received the CCS Bard Curatorial Excellence Award, and on the occasion, Okwui asked me if I knew someone who would be interested in doing communications work with him for Documenta. After thinking about it overnight, I told him that actually I was interested in the position. He then told me that it was exactly what he had hoped I would say. We met for the first time in our new roles in Kassel on May 24, 2000, and preparations started soon thereafter. Beginning on January 2, 2001, Angelika Nollert and I were on site as the first staff members for Documenta 11. Okwui's co-curators – Carlos Basualdo, Ute Meta Bauer, Susanne Ghez, Sarat Maharaj, Mark Nash, and Octavio Zaya – had already been announced and presented to the public in October 2000.
The first platform opened on March 15, 2001 in Vienna; the second, May 7 in New Delhi; the second part of the first platform, October 9 in Berlin; the third platform, January 15, 2002 on St. Lucia; the fourth platform, March 16, 2002 in Lagos; and the fifth platform on June 8, 2002 in Kassel. One of my tasks was on-site organization and documentation of these platforms with our partners. We had a total of 79 contributors. In New Delhi there was also an exhibition with 32 films and videos that lasted just over three weeks. All this now resembles a relief moving at the speed of light, while the memory seems to be working in slow-motion. Similarly, I remember a meeting at Veselka in early May 2000, where Okwui explained to me with great precision, down to the last detail, what had been planned and what work remained to be done. He finished our meeting by going over the publications that had to be produced and came up with 16 – 16 books in one and a half years! We both laughed out loud. I still hadn't realized how much of a maximalist Okwui was, and that he wasn't laughing at the impossibility of producing so many books – academic books, no less – but rather at the fact of his excitement about the challenge and the opportunity of making all of these plans a reality. There were in the end (only!) eleven books. In the summer of 2000 Okwui also curated "The Short Century," an exhibition that opened at Villa Stick in Munich in February 2001, exactly a month before the first platform in Vienna was slated to begin. "The Short Century" was subsequently shown in three other locations until May 2002. The catalogue for "The Short Century" has since, like all the Documenta 11 books, become a landmark and resource for exhibition praxis in the 21st century. This makes the maximalist Okwui unique for his generation of curators, and maybe among all curators since. Okwui – initially known more as a poet in New York's arts and culture scene – was a dedicated reader throughout his life, and was above all a writer. His text for the catalogue for "Global Conceptualism: Points of Origin, 1950s–1980s" – an exhibition I saw in July 1999 in Queens – was the first that opened my eyes to the vital perspective of art situated outside of Western canonization.
In his text, Okwui explained that "in African art, two things are constantly in operation: the work and the idea of the work. These are not autonomous systems. One needs the other and vice versa. A paraphrase of an Igbo idea will clarify this relationship: where there is something standing which can be seen, there is something else standing next to it which cannot be seen but which accompanies the object." [1]
Thus for Okwui, any supposed separation of art, exhibition-making, theory production, politics, and so on produced a fundamentally nonsensical differentiation between supposedly independent spheres. Everything was connected with everything. Nothing was autonomous, nothing was innocent.
It thus seems important to me to recall that in Kassel, on the ground floor of the Fridericianum, Hanne Darboven, Chohreh Feyzdjou, Doris Salcedo, and Zarina Bhimji became the cosmopolitan heart at the core of Documenta 11. After Documenta opened in 2012, Okwui curated a series of monographic exhibitions at the Haus der Kunst by artists such as Haegue Yang, Joëlle Tuerlinckx, Lorna Simpson, Ellen Gallagher, Louise Bourgeois, Lynette Yiadom-Boakye, Hanne Darboven, Adele Röder, Sara MacKillop, Laure Prouvost, Polina Kanis, Kiki Smith, and Sarah Sze.
The first platform of Documenta 11, "Democracy Unrealized," was produced by Stuart Hall, Achille Mbembe, Akeel Bilgrami, and Bhikhu Parekh, and the second, "Experiments with Truth: Transitional Justice and the Processes of Truth and Reconciliation," by Kader Asmal, Mahmood Mamdani, Urvashi Butalia, and Avishai Margalit. The relevance today of the individual contributions and topics raised is as astonishing as it is frightening. Our understanding of, and relationship to, democracy is perhaps today even more fundamentally unstable than it was in 2001 – platforms 1 and 2 took place in part before 9/11 – such that today's absurd discussions on the revenant Emil Nolde could just as easily have taken place in New Delhi. The platforms and their publications also bear witness to the incomprehensible élan with which Okwui repeatedly and eloquently asked "so what?" when it came to the so-called dead certainties of "our" cultural experiences and myths. Working with him was in every respect a series of border crossings on the way to an ever-more-perfect goal. I barely had time to put my feet up before it was time to get back to work again. There were no limits on the feasibility of projects; just the potential for something better. And, of course, visitors and all participants were repeatedly summoned to face and adapt to these impositions.
In Annual Report, the catalogue for the 7th Gwangju Biennial 2008, Okwui described in "The Politics of Spectacle" the significant differences between the established views on the May 1968 of Paris and the May 18, 1980 of Gwangju, where demonstrations were held against the brutal South Korean military dictatorship.
According to Okwui, "if we examine events like the Gwangju uprising […] these events mobilize what may be called an anthropophagic or carnivalesque display of massive shock through modes of coalition-building and the establishment of absolute communities that are based on a shared and long-standing impulse of resistance to colonial power. This contrast, between May 68's identification with Western historical avant-gardes and May 18's rootedness in colonial resistance is what sets the social recollection of the Gwangju uprising apart from the student uprising in Paris."  [2]
The 8th Gwangju Biennial brought 36 exhibitions from all over the world to South Korea in the "On the Road" section. Okwui and his co-curators Patrick D. Flores, Jang Un Kim, Abdellah Karroum, Sung Hyen Park, and Claire Tancons added to this retrospective five projects referred to as "position papers" and 38 "insertions" by other artists. Flat-out maximalist.
For "Intense Proximity: An Anthology of the Near and the Far, the Paris Triennial 2012," Okwui used the works of Marcel Mauss, Michel Leiris, and Claude Lévi-Strauss as a springboard for presenting the resonances that ethnography has triggered in artistic and critical practice, both contemporary and historical. How could I ever forget the proximity and harmony of Wifredo Lam's Carnets de Marseille drawings, the Mato Grosso, Brésil photographs by Claude Lévi-Strauss, the 1970s works by Carol Rama, Stone with Hair by David Hammons, and Is it possible to be a revolutionary and like flowers? by Camille Henrot? In their own way, these works told of proximity and distance, flight and home, globalization and identity, and of artistic-aesthetic parameters making something visible that is not always visible; and, in the case of Camille Henrot, the breathtakingly sad beauty of impermanence.
With the 56th Venice Biennale in 2015 – remember the Igbo adage? – the specters of Marx entered the stage. In David Adjaye's arena, directed by Isaac Julien and Mark Nash, Das Kapital was read for six months.
It was during this Biennial that Okwui learned of his illness. An illness that he countered with just as much self-assurance and elegance as the racism he experienced every day but would never let affect him. Okwui had only encountered this phenomenon, the sinister intimacy of the vileness that is now permitted in the Bundestag, after he moved to New York at the age of 19. It was first there, he said, that he realized his skin was dark. In Munich he spoke more recently about experiencing racism – an experience that had otherwise never been worth his thoughts or comments. After the summer 2015, this was a subject that implied a new vulnerability. How was it even possible under such circumstances that he was able to put together an exhibition like "Postwar: Art Between the Pacific and Atlantic"? The show was, of course, a huge – unparalleled – success. The catalogue is an essential read. The books are, of course, what will remain with us. And the memory that in any situation, there's always a next thought – newer, more important – that contradicts those thoughts that you had just become sure of. And a next exhibition, a next text. And, most importantly, a next feast, a next amazing wine and a next social encounter with as many as possible of the friends and artists who always sat with you, who remain seated with you, though they may not be visible. An absolute community.  [3]
Markus Müller was the curatorial assistant to the Artistic Director Okwui Enwezor at the 56th International Art Exhibition Venice Biennale. He was the director of communications for Documenta11, responsible for organizing the first four platforms of Documenta11 in Vienna, New Delhi, Berlin, St. Lucia, and Lagos (2000–2002). In 2021 he will curate the exhibition commemorating 100 years of the Donaueschingen Festival.
translation by Matthew James Scown
Notes
| | |
| --- | --- |
| [1] | Okwui Enwezor, "Where, What, Who, When: A Few Notes on 'African' Conceptualism," in: Global Conceptualism: Points of Origin, 1950s–1980s, exh. cat., ed. by Queens Museum of Art, New York 1999, p. 110. |
| | |
| --- | --- |
| [2] | Okwui Enwezor, "Annual Report," in: Annual Report: The 7th Gwangju Biennale, exh. cat., ed. by Okwui Enwezor, 2008, p. 30. |
| | |
| --- | --- |
| [3] | Choi Jung-Woon, The Gwangju Uprising: The Pivotal Moment That Changed The History of Modern Korea, New Jersey 2006, p. 134. |