THE CHILDREN'S GAZE
By Violaine Huisman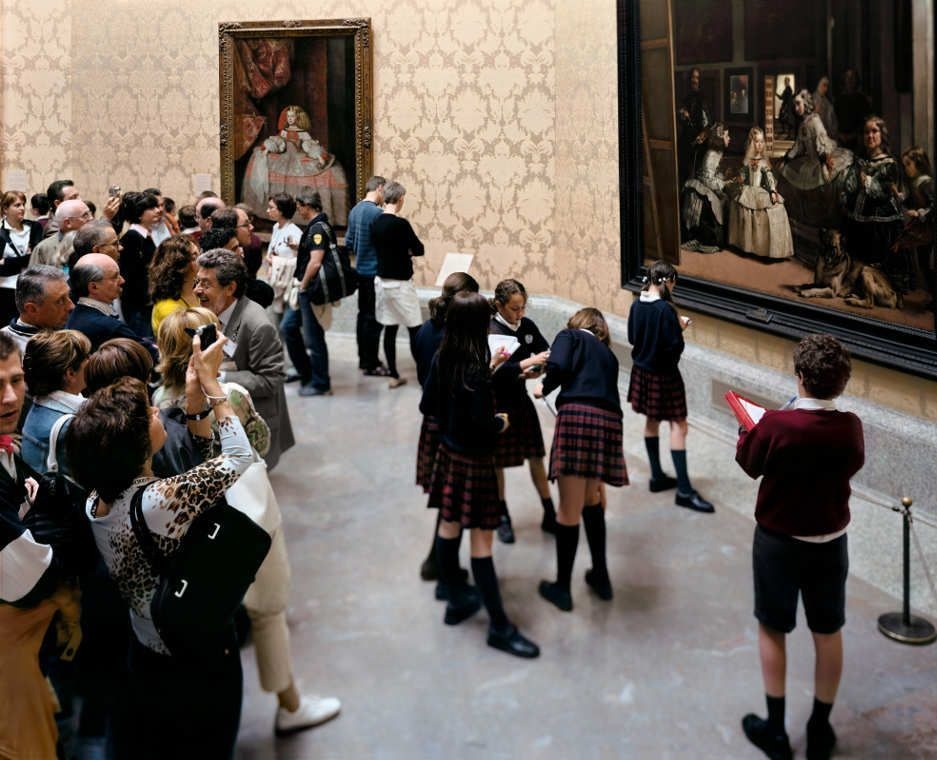 With the second text of her new TZK column, "Objets Trouvés," which we publish here at irregular intervals on Mondays, Violaine Huisman takes us on a family trip to the Museo del Prado. The venerable institution is a maze of rooms and corridors, the works exhibited there allow multiple avenues of reception. Her two daughters in tow, Huisman chooses Diego Velázquez's Las Meninas as a point of departure for a little foray into autofiction. While the children devote themselves completely to the animals and floral patterns within the picture, the writer finds herself transported to her own past.
"And who do you think he's looking at?" I asked my girls, eight and eleven, pointing to the figure of the painter in Diego Velázquez's Las Meninas (1656) at the Museo del Prado. Sissi, George, and I had embarked on a trip across Spain by train, from Barcelona to Algeciras, and on to Morocco by ferry. My plan was to teach them a geography lesson on the ground, to travel in a more ecologically conscious way, and to secretly squeeze in an epic visit to the paragon of all Western art museums.
And so there we were, at the Prado, each of us with a notebook in hand: George was sketching the prettiest flowers she could find – her favorite was a garland in Rubens's The Three Graces (1630–35); Sissi was busy hunting down animals and listing them in her painterly bestiary. Under the header "sheep" were boxes that read: Raphael, Andrea del Sarto, Botticelli (though with one t and one l in my little girl's spelling), Van Eyck, Bosch … I was feeling pretty smug as a mom, when six hours into our studious visit (minus a lunch break: an inedible bocadillo, but who cares! Right, girls?), we entered the grand hall dedicated to Velásquez.
"Who do you think he is?" I asked them. Obviously, he's a painter: he has a giant canvas in front of him and is holding up a paintbrush. Sure, ok, yes, these are smart girls. "But what do you think he's painting?" I inquired further. "And who do you think he's looking at?"
Within the painting, there was a painting in the process of being composed either right before our eyes or almost five centuries ago. "It's called a mise en abyme" I pontificated. "You can find it in literature, too. When you read a story within the story. Or when the author stages herself writing the book you are reading. In a way, it puts time on a loop, you know? It's as if something that happened in the past happens again in the present."
Ever since my daughters began to read on their own, I have been wondering when and how they might encounter my writing. While I still wondered what kind of experience that would be, they surprised me with their precociousness. They seemed to get it before I even had a chance to explain it to them. "I know what autofiction is!" Sissi interjected, cutting short my attempt at an explanation. "It's when you write real stuff and mix it with things you made up." I defy any academic to come up with a better definition.
Admiring Velásquez's masterpiece, a painting whose familiarity transported me back to Spanish lessons in grade school, I tried to imagine what my girls were seeing, whether they identified with the princess, the maids, or the artist. Sissi was only interested in the dog. George was sketching the flowers on the infanta's dress. I was looking into the painter's eyes, bewildered by the intensity of his gaze in the here and now.
In her book On Freedom: Four Songs on Care and Constraint (2021), Maggie Nelson explores the concept of "thick time" (an expression coined by cultural historians Astrida Neimanis and Rachel Loewen Walker) in relation to climate change. In this context, "thick time" refers to the layers of history sedimented in an object; the palimpsests present in every edifice, every wall, every stone; it reveals the child in the adult or the previous drafts of a manuscript. On looking at her son, Nelson writes that she can almost see "all the selves and ages he has passed through folded atop one another." Caring is another way of folding time, Nelson adds, in which "one is attending to the effects of past actions, attempting to mitigate present suffering, and doing what one can to reduce or obviate suffering, all at once." She offers this thought as a way to find freedom and hope in the dystopic vision of an impending climate apocalypse.
I took my girls on this adventure across Spain and down the Strait of Gibraltar without their father: he was on a work trip; they were on school break; it made sense. It didn't really occur to me then that I was recreating the trio I grew up in. My father was mostly absent during my childhood. My sister and I were raised by a single, divorced mom, whose mental illness made every day a wild journey into the unknown. My two published novels are about my mother. As I care for my daughters or as I write, I often find myself folding the past into the present, trying to fix the past by recreating a more sustainable version of it.
There we were at the Prado, standing in front of one of the most towering artworks of the Western canon. George and Sissi were focusing on non-human elements in the painting. Flowers and animals. Outside the temperature-controlled museum hall, a digital thermometer registered an unseasonal 39 degree Celsius in Madrid in the middle of April. I turned my attention to the materiality of the art object – the oil paint, the canvas, the conditions for preservation of artworks, of memory, of experience. The painter was resolutely staring at us, and the children in the room were looking past him.
Violaine Huisman is a writer, translator, and curator living between France and the US. Her debut novel, Fugitive parce que reine, was awarded multiple prizes in France; its English version, The Book of Mother, was a 2021 New York Times Notable Book.
Image credit: Courtesy of the artist