Anke Dyes & Anna Voswinckel on the TV series I Love Dick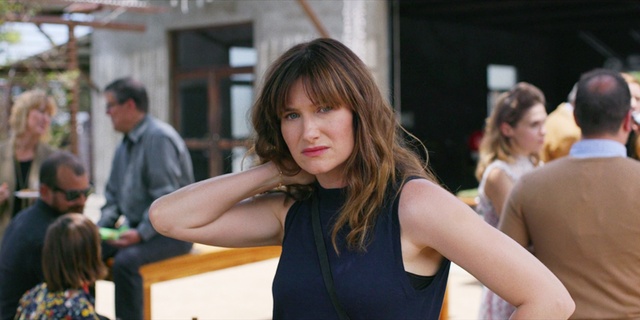 WAYS OF SEEING
In TZK #103 (Poetry) Chris Kraus, co-publisher of Semiotext(e) appeared in dialogue with poet Ariana Reines discussing the rise of auto-fiction as a key mode in contemporary cultural criticism.
The television adaptation by Jill Soloway (creator of the acclaimed series "Transparent") of Kraus's 1997 auto-fictive novel, "I Love Dick," even if niche for Amazon, tests whether this mode of critique holds when scaled and refitted to speak to a mass audience. As the series premiers on Amazon May 12, TZK editor Anke Dyes and Berlin-based curator Anna Voswinckel consider how Soloway's nuance for character explores a complex protagonism through a foregrounding of the female gaze.
"Stop making things." – Jill Soloway's advice to the male filmmakers, writers, and creators attending her master class keynote lecture, "The Female Gaze," at last year's Toronto International Film Festival. If the cis men who dominate Hollywood would just stop producing and let everyone else get a word in or make it on screen, she urged, then the "male gaze" (per Laura Mulvey) could perhaps be countered with something that doesn't objectify or exploit its protagonists. Not that Soloway wants to make visual pleasure of movies verboten, but she wants to tie it to sympathy for characters, rather than to female bodies. Soloway's programmatic lecture on the "female gaze" was structured into three chapters, first describing a feminist feeling seeing, secondly defining the gazed gaze as the shared experience of female filmmakers, and thirdly explored what returning of the gaze would do. One way we might look at Soloway's adaptation of Chris Kraus auto-fictive novel, I Love Dick, is by considering what a piece of cinema (albeit home-streamed) made according to the director's principals might look like.
In the two decades since its first publication, the book's mixture of memoir, epistolary novel and theoretical essay, has inspired countless feminist projects from a similar, "me-but-not-really-me" perspective. However, while Kraus's words follow courses of desire to explore questions of love and power as they play out through (largely hetero-normative) gender roles as defined by the idiosyncratic social norms of America's elite academic art/culture sphere, I Love Dick, as a television series, homogenizes the latter to foreground an exploration of the perspectives of desire, the gaze desire is tied to. For instance, Soloway turns the novel's antagonist, Dick into a cowboy of an artist (played by Kevin Bacon, no less). As such, Soloway renders Dick, the novel's heartthrob elusive media theorist, as an artist who has made a career of making phallic sculptures, making his belonging to the group of cis men who should finally stop making things all too obvious.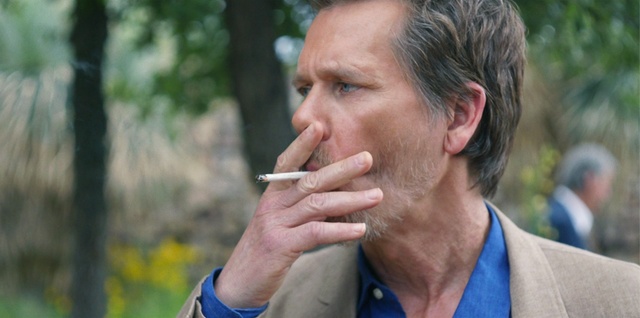 Jill Soloway: I Love Dick, 2017, film still
Or take, for example, the young art historian Toby (played by India Salvor Menuez), who Soloway created for the series. Writing to Dick, she conducts her research into the aesthetics of hardcore porn, focusing on gaping (a fetish involving the protracted dilation of the anus after multiple penetrations). She doesn't want to discuss the politics of pornography, she says, only the form. She tells of having presented her investigation of this aesthetic strategy to her art history professors and it making them sick; of how her project succeeded in feeding the sexism of art history (assessing naked women and calling it an academic pursuit) back to the system, causing it to breakdown. "We're catching up, Dick," the young art historian concludes.
At the end of the first episode, we watch as Dick's naked body descends into oasis of cool in the desert (the series is set in Marfa, Texas, rather than the book's New York and San Bernadino). Dick, the novel's British media theorist, here the macho land artist, in equal strides acting the white male conquerors of their respective frontier, is perhaps meant to emphasize the urgency of non-white, non-cis-male artists to catch up.
If Soloway ostensibly neglects the ground rules of film – she doesn't show, she tells – she nevertheless does so by formally translating Kraus's narrative voice into stand-up-like moments, or a kind of improv-theater replete with cameos, voice overs, and text plates. Flattering lighting, good music and witty punchlines reconcile a critical distance with warm empathy for the characters. This is explicitly part of Soloway's female-gaze-plan, a way of strengthening the affective agency of her characters. In doing so, she effectively parallels Kraus's own original abstraction of personal biography into protagonism – the protagonist as embodiment of a particular problem that becomes a character itself.
This method has driven Soloway's previous projects, yet it isn't something she invented (Sex and the City, and even Seinfeld also worked this way). But rendering figures as characters that each have – indeed that each are – a singular conflict, enables Soloway to engage with complex sociological positions in a television (mass viewer) format. As in recent episodes of her series Transparent (wherein questions of gender feature centrally), this mode of character building allows for a rich exploration intersectionality for her in I Love Dick as well. We see this, for example, in the way that Soloway distributes the activity of writing to Dick – which in the book was done near-exclusively by the Chris character/narrator – among several individuals, including: Chris (played by Kathryn Hahn, quite accurately portraying the real life Kraus); the aforementioned young ingénue Toby (played by Icelandic-born Menuez); and Paula, (played Lily Mojekwu, who is forty-something and African American). Through Mojekwu's "Paula," Soloway gives a woman discussing her childhood bond to her mother, who suddenly represents disgust and rejection recalling an unexpected confrontation with her mother's menstruation. In this character's confession (letter to Dick), Soloway also captures a central theme of the novel, the abjection of the female body.
The recent edition of the book quotes weirdly exuberant praise from The Guardian: "The most important book about men and women written in the last century…" (This assessment is currently being cited a lot because the recent German translation of the book.) As if to disrupt this heteronormative interpretation right from the start, Soloway's adaptation includes many instances that challenges that reading. In the pilot, for instance, Chris (Hahn's Chris, in this instance) and Sylvère (always Griffin Dunne) – having just arrived in Marfa, where Sylvère is doing something at the local art institute – first meet Devon (played by Roberta Colindrez), the cool, aspiring, writer, transperson who lives in a neighboring trailer and acts as something like a super for the New Yorkers' rental. The introduction of this character, Devon, like the substitution of land-art-Dick for Dick the academic, draws lines and potential conflicts that may be more immediately legible in the TV format, but the separation of characters into single conflicts in this case operates at a loss. Chris's relationship with Sylvère, which in the book harbored a complexly layered bond, gets distributed, here, into the conventional straight couple that has bad sex in one house, with the unconventional, non-normative, queer person who wants to be a writer (in the book, a facet of Chris), living in the trailer next door.
The series, overwriting the subtler, more precise descriptions of the book, amplifies motives – whether Chris's unsuccessful application to the Venice Film Festival (traded in for the book's Berlinale), or Marfa as the land-art-hinterland (rather than the San Bernardino's desert country, east of LA) – is without the full nuance, glamour, and psychological complexity of the book. Then again, the series manages to perfect the game of auto-fiction as different aspects of Chris encounter each other as different characters.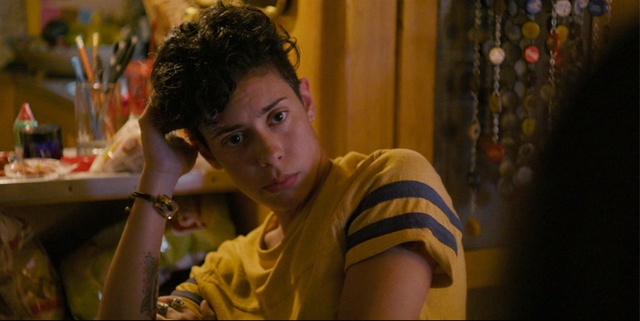 Jill Soloway: I Love Dick, 2017, film still
Meanwhile, the conceptual-leaning sensibility of the first episode does seem to quite faithfully draw on Kraus's own film productions. The correspondence and the book itself, respectively recall theatrical elements from Gravity and Grace, Kraus's "failed" feature-length film debut. The fact that Kraus's films are often most notable for their soundtracks, gets picked up, too, as running gag in Soloway's show. (The only thing the fictional film curator in the series remembers about Chris's film is the music, proceeding to hum what he can recall while at dinner.)
In the twenty years since the novel's publication, it has developed an ardent fan-base. And, near-unfailingly, descriptions of the novel begin with one's own relationship with the book – why one read it and when, and for what reasons one hadn't read it earlier, etc. – which indeed is a mode of critique mirroring the author's own. Perhaps not surprisingly Kraus's writing has even been taken up as a kind of self-help. Proving to be broadly relatable despite the exclusive milieu it describes, Kraus's writing has gained success in wider circles. Soloway's approach to the series, as with Kraus's to the book, is one created for a comparatively niche audience.
But where Chris Kraus' video art and writing are open for interpretation (and misconceptions of her person), Soloway allows her audiovisual work to function less as question and more as proof. Motivations, for the logic of TV-protagonism, must be comprehensible. And instead of reading a singular character that you'll never fully figure out no matter how much she reveals about herself, the series sets up the viewer to understand a situation by truly problematizing what motivates it. Soloway's female-gaze approach broadens the relationships Kraus has built: dispersing them into more characters, multiple Chris's and one overall Dick. Luring us to a place of understanding and empathy, via good lightning, cool music, and great actors. As such, Soloway draws us to her version of "I Love Dick" as though it were a present-day, "Ways of Seeing" – with a sitcom plot.
Jill Soloway, "I Love Dick", Amazon Studios, ab 12.05. 2017
Translation: Michael Ladner
Anke Dyes is an editor of Texte zur Kunst. Anna Voswinckel is an artist and a curator based in Berlin.