Wolfgang Tillmans discusses his political posters
HAVE YOUR SAY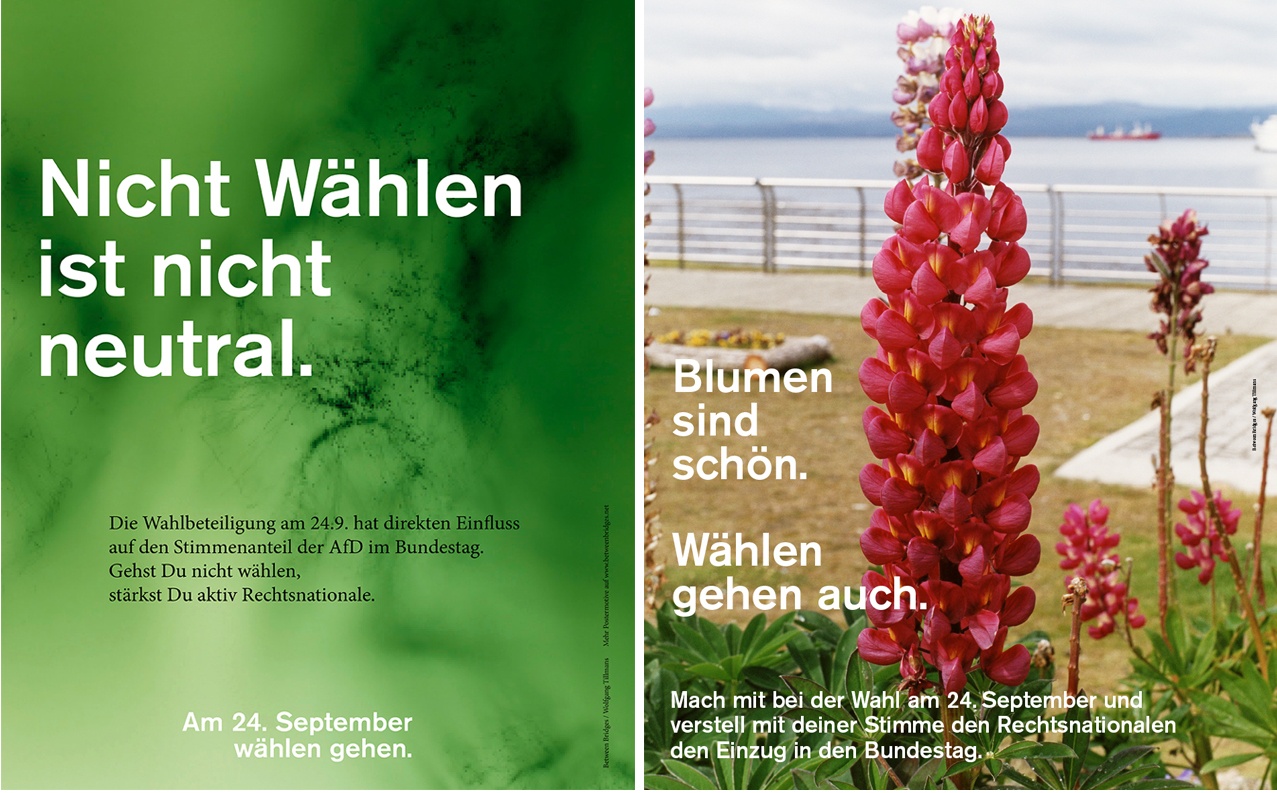 In advance of the 2016 Brexit vote, Wolfgang Tillmans, acting as an artist and independent citizen, initiated a pro-EU campaign utilizing his signature images as the basis for a series of posters and related print ads. This summer, Tillmans (who splits his time between London and Berlin) launched a second campaign, encouraging fellow Germans to participate in their country's Federal elections (a vote held September 24 and that resulted in the far-right Alternative for Deutschland party winning seats in the Bundestag).
To be sure, Tillmans's actions have explicitly (and successfully) aimed to reach beyond the art world's scope – making it perhaps only all the more interesting for the art world to then ask how the vectors of artistic production, market valuation, and political activism might square in these efforts. Deliberating the reception of Tillmans's recent campaign, TZK editor Caroline Busta posted an open comment to Facebook. Tillmans responded directly via email. Their exchange follows here.
---
[Facebook]
Caroline Busta
September 16 at 5:29 pm
Wolfgang Tillmans's anti-AfD posters are beautiful, and a thoughtful extension of his practice, which has always collapsed the exclusive reaches of the art market with direct access to mass culture. However, tell me that they don't only reinforce culture-sector aesthetic clichés; tell me that they don't mainly serve to just make the already-decided anti-AfD voter feel like her/his stance is, yes, aesthetically aligned with his/her Reebok-x-Cottweiler jacket, and that half a Berghain-printed E pill found in the pocket from last night.
Though I guess the main goal is to get the already-converted to actually vote. Still, I wonder if these posters, if/when they ever reach outside the choir, might even have the inverse effect, reminding the on-the-fence voter that not going AfD is somehow being disloyal to her/his crew?
An alternate anti-AfD strategy: one in which Tillmans uses his lens to capture the AfD as embarrassing and gross as it actually is. Pictures of the hordes of pale-faced, decidedly un-hot, basement-dwelling pro-AfD demonstrators could do; or old guys with alcoholic faces eating day-old congealed potato salad and other recognizably German delicacies out the plastic packaging. Say an image like that plus the copy AFD WÄHLEN (or, sorry, however "Vote AfD" would be written most simply/strongly auf Deutsch) ...
---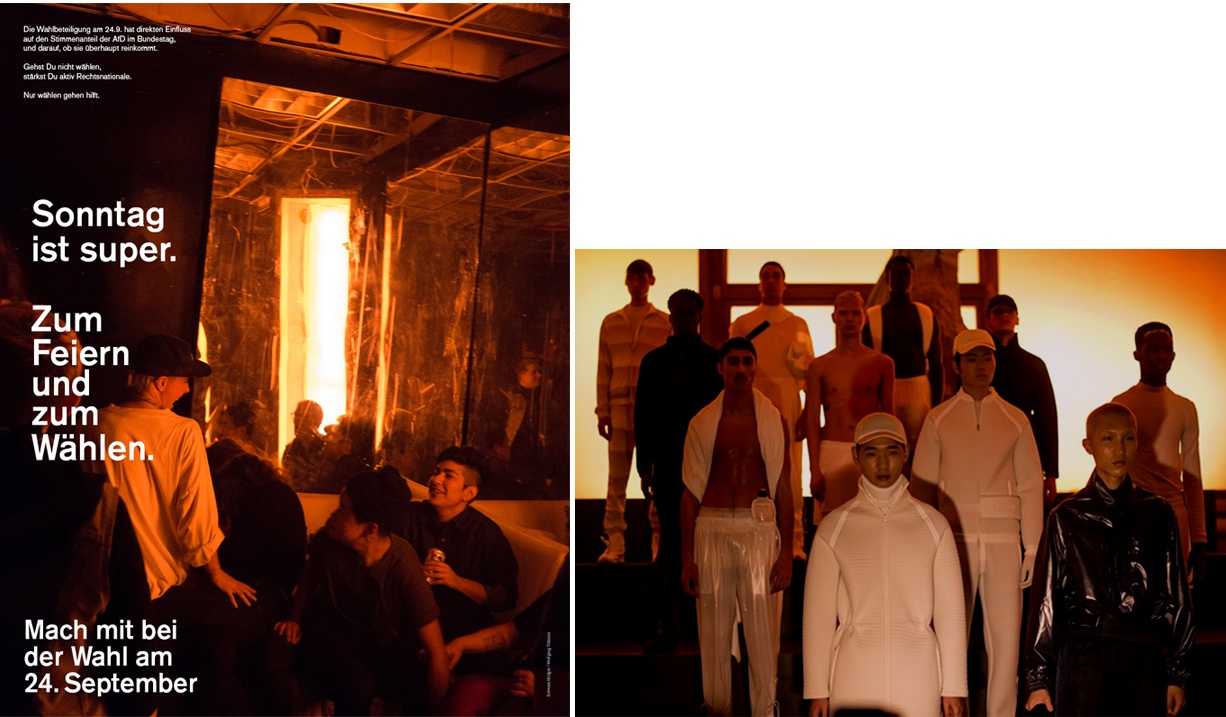 Poster via http://tillmans.co.uk/zur-bundestagswahl-2017; view of Cottweiler for Reebok AW 2017 (via dazeddigital.com)
---
Leif Magne Tangen Well, that would also confirm those who decidedly will not vote for the party. No?
Caroline Busta Yeah, but aesthetically Tillmans's posters speak so directly to the hyper-specific taste of the "art viewer." I wonder if they're even really visible/engaging to a broader demographic? (Though of course maybe they are... just asking the question). Or whether, they're instead more just visual comfort food for those of us sick of seeing the stock-photo-like pregnant-bellied, white German woman on the AfD poster that reads "Neue Deutsche? Machen wir Selber." Ugh puke. Yet for someone else, it might only be like, uhhh, yeah, I'm not feeling these avant-tasteful pretty flowers by the seaside, I'm voting for whatever the opposite of this is.
Caroline Busta There's also the question of a kind of virtue-signaling here. Do Tillmans's images become more valuable in the eyes of some on account of the fact that they come with this "good-citizen" message, regardless if they actually move the needle any degrees? But maybe that's something for another thread...
---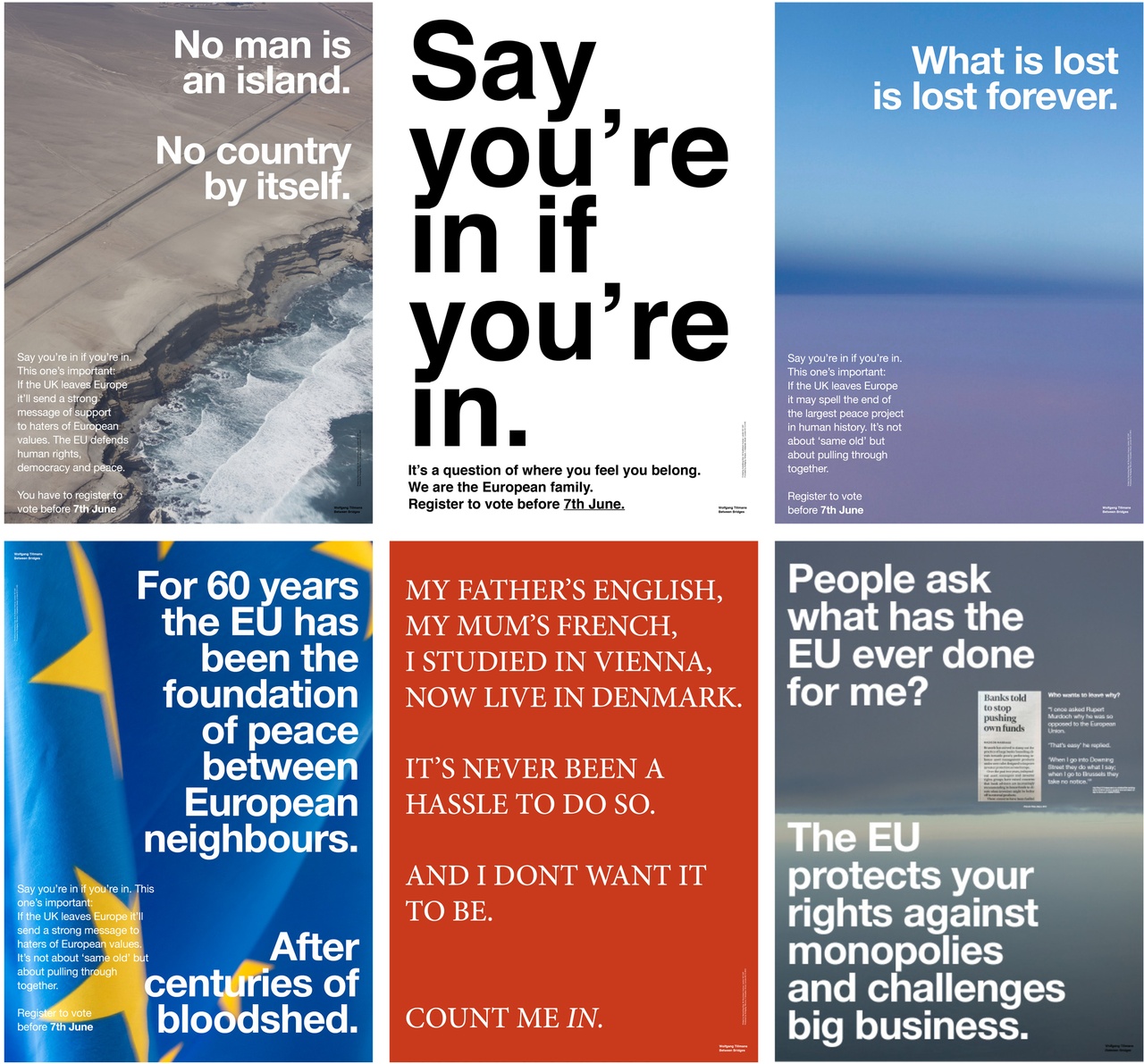 ---
From: Wolfgang Tillmans
Date: 2017-10-04 7:44 GMT+02:00
Subject: Wahlplakate btw
To: Caroline Busta
Liebe Carly,
Lena Zimmermann told me about your post on Facebook about my election posters.
I wanted to get in touch, so that I could tell you that limiting them to the art world was the number one thing I wanted to avoid.
While the narrow-scoped art world was not my audience, I also knew I wouldn't be able to avoid the art world taking interest in the project and deflecting this interest wasn't my intent. From the outset, the campaign only ever had one aim: To reach potential non-voters, mobilizing their votes for parties other than the AfD.
It was explicitly not about trying to sway AfD voters; they weren't who this campaign was addressing, plain and simple. I spent a lot of time thinking about how I could reach people who weren't sympathetic to the AfD, without "rousing" AfD sympathizers as collateral damage.
In this campaign for the German elections, [1] I tried to use what I had learned from my anti-Brexit work. [2] My team of assistants and volunteers then implemented it on four levels:
We created ads explaining voters' options in detail and placed them in the August/September issues of 58 publications. We specifically chose publications whose audience we expected to be 95% AfD-adverse: music, hemp, skater, jazz, vegan and other specialized magazines as well as a variety of alternative magazines. I bought the ads, often at reduced rates; some publications (Springer Verlag and a few others) gave them for free.
We also made Edgar postcards. These free postcards were placed in hundreds of bars. 750,000 of them were produced and I was only billed for the printing costs, Edgar took care of the distribution.
Third, were the A2 posters. For the anti-Brexit campaign, we ran into major problems distributing these on a nationwide scale, so we reworked our strategy for the German election campaign. Our printer in Kreuzberg, Bloch & Co., offered us packaging and mailing service, so that we could send out 9,000 poster roles, containing 6 posters each, to individual addresses. Here again the imperative was to reach non-voters and to avoid rousing pro-AfD voters. Part of the address list we put together ourselves, and the rest of the list we bought. Recipients included yoga studios, jazz bars, Turkish cultural associations, outdoor shops, record shops, clubs, etc. This was the most costly part of the campaign, each roll cost 6 Euros. The ads cost something similar.
While the posters were on their way by mail, we also started a self-print campaign online. I combined my own contacts with the 5,000 addresses on the Between Bridges list, which together, had a surprisingly broad spread. Four days before the election, one out of every ten Instagram posts about the election was one of our posters. This suggests that we did indeed reach far beyond the art world. Pictures of the posters in situ also confirmed that the campaign was active way beyond the art world.
The term "virtue signaling" came up in one of the comments under your post. I didn't care if some in the art world, who only saw the campaign there, wanted to see it as virtue signaling. I cared about each individual vote, regardless of whether it was coming from the art world or not. Again, I did everything possible to get the campaign out of the art world's narrow channels and into a larger audience without provoking AfD sleepers. The fact that some may have nevertheless been provoked is just nature of public work.
In late-June, I opened up the idea of the campaign for discussion among a circle of activists and other interested individuals at Between Bridges in Berlin. Then in mid-July, I got cold feet, asking myself, "Are you going too far out on a limb with a problem that doesn't exist?" and I put the project on hold. But by early-August, I had a strong instinct to not trust the German summer lull and I restarted the campaign, sending the offset posters to print and following up with social media.
Attached is a copy of the ad that we took out across Germany this August/September in 58 publications beyond the art world (with the exception of Monopol, which had offered us a special arrangement).
Beste Grüße
Wolfgang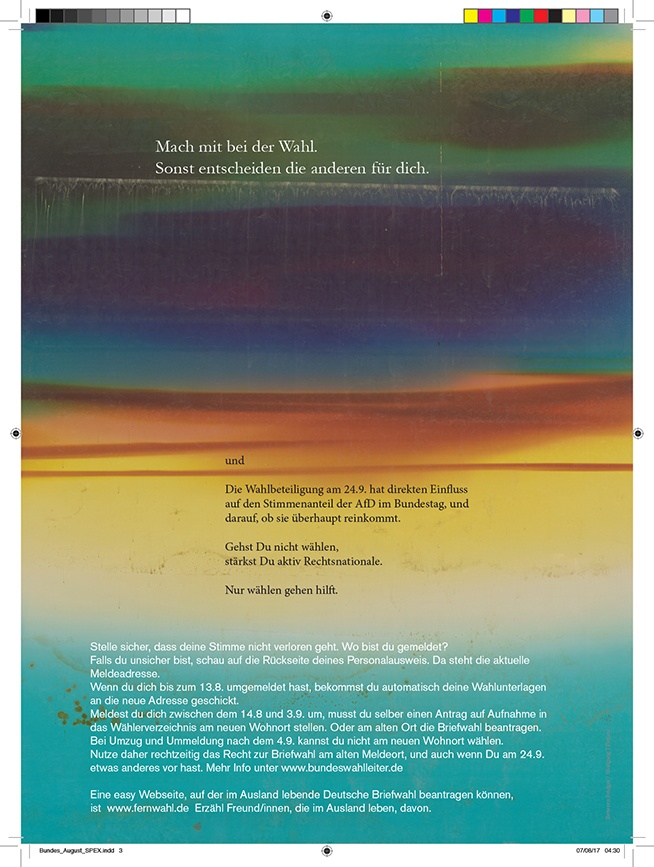 ---
Von: Caroline Busta
Datum: 2017-10-04 15:50 GMT+02:00
Betreff: Re: Wahlplakate btw
An: Wolfgang Tillmans
Lieber Wolfgang,
Ich entschuldige mich, dass ich auf Englisch schreibe, aber mein Deutsch ist immer noch sehr schlecht...
I want to tell you that I really appreciate your reply. It's very interesting to know your intentions regarding your media strategy for this campaign and your reasoning for the specific form it took – as in its material format, circulation, points of distribution, intended audience (whether yoga studios or hemp and skater mags, etc.). In light of this, I now have a different understanding of both what you aimed to do with this initiative; I also now have in mind a different metric for its success.
It occurs to me in thinking about these posters how questions of context and distribution have arguably always been central to your work – e.g., the old '90s debate over the 'artistic' status of your images in light of their simultaneous appearance in (and therefore mass distribution via) magazines such as i-D, Spex, and Purple even as they were being shown as 'works of art' on the walls of galleries and museums.
I'm grateful that you picked up on the question of virtue signaling. While I do not question your motives – if anything, I am incredibly impressed by your enormous efforts to make our community more politically active – I feel that your political posters nevertheless continue to pose an important art-critical value question: What happens when a seemingly non- or apolitical part of your production is recast in the service of a political initiative such as anti-Brexit or pro-voting/anti-AfD? Do these images not accrue a kind of additional, irreversible social (if not also market) currency? But now I'm getting away from the initial point...
To return to the main question, then: I wonder if you would be amenable to publishing your response, perhaps together with my initial FB post, as a web piece for Texte zur Kunst?
Attaching here a poster I came across in the wild (in Wedding) just before the election.
Kind regards,
Carly
---
From: Wolfgang Tillmans
Date: 2017-10-05 2:38 GMT+02:00
Subject: Re: Wahlplakate btw
To: Caroline Busta
Liebe Carly,
I specifically turned down interview requests about the campaign while it was running because I couldn't have been sure that potential AfD voters wouldn't have been roused by the attention. One exception was a request from the Leipziger Volkszeitung, because I thought the request from a local, Saxony [a region of eastern Germany, where AfD support is strongest] newspaper was interesting.
With Brexit, my personal voice as a German Londoner and EU-citizen was relevant, also because very few people there were willing to speak out as individuals in support of the EU. The federal elections in Germany were different. I didn't want to come across as an activist artist, I wanted to convey my message in image and text, which indeed weren't anonymous, but were meant to function on their own. Everything I had to say was in the ad, which purposely had a lot of text, (the posters had less text). I didn't want to speak out against the AfD publicly, I just wanted to point out the correlation between voter turnout and the percentage vote the AfD would win (this information always featured in small print on the posters and prominently in the ads). In the end, there was 5% more voter participation in this year's elections than in 2013. For me, though, the measure to go by was the outcome of three state elections in March 2016, wherein the AfD got an average of 15%. After that, I knew what we had in store. Why people are so shocked at 12.5% nationally, surprises me.
I've thought a lot about the question of what happens with a work when it gets brought into a political-activist context. At first, I was worried about putting the weight of Brexit onto the pictures of skies and horizons that I had just shown that winter at the Serralves Museum in Porto, since it could have limited the various ways in which that work could be read. However, since this series was literally about questions of borders, I thought: it's not just okay to take this risk, it's worth taking this risk. In retrospect, I feel I can say that it neither put a strain on the images, nor did it make them more valuable. I have not put the photo from what turned out to be the catchiest poster ("No Man is an Island…") as a work on the market. As a mere image, it's too "geographic" for me anyway. It only became so strong though the text and the typography.
The German election motifs, on the other hand, are works that have already been shown as art and will continue to be. But the diversity of these images, which I selected for that reason, prevents any of them from functioning as the campaign's logo. So I don't think any of the seven motifs are particularly politically loaded. At least not any more than my work normally is. On the other hand, you have to ask, why shouldn't I use the language I've found in image and text to communicate outside of the gallery space? For 25 years, I've always understood my journalistic work to be an amplifier to garner greater attention for topics and people. Nevertheless, something new appeared in both campaigns.
For me, words are the definitive element. The images are backgrounds and they carry the sentences. I've continuously thought about anti-rightwing posters over the last ten years, what an effective poster could be, but never found the words. Early last year, the urgency of Brexit was suddenly there and I overcame my insecurities and inhibitions and wrote the copy, finding language. Paul Hutchinson, an artist and assistant in my studio, contributed a third of the text.
I hesitated for a long time before getting involved directly. The enormity of what's happening caused me to get over my shyness. And today I still think that it doesn't have to matter to me if a few people deploy the argument-killing cliché, "virtue signaling." I am the citizen that I am and I neither can nor want to change to appear to be more neutral.
Beste Grüße
Wolfgang
---
Translation (Tillmans): Michael Ladner