Loren Olson on the Art Book Fair as Model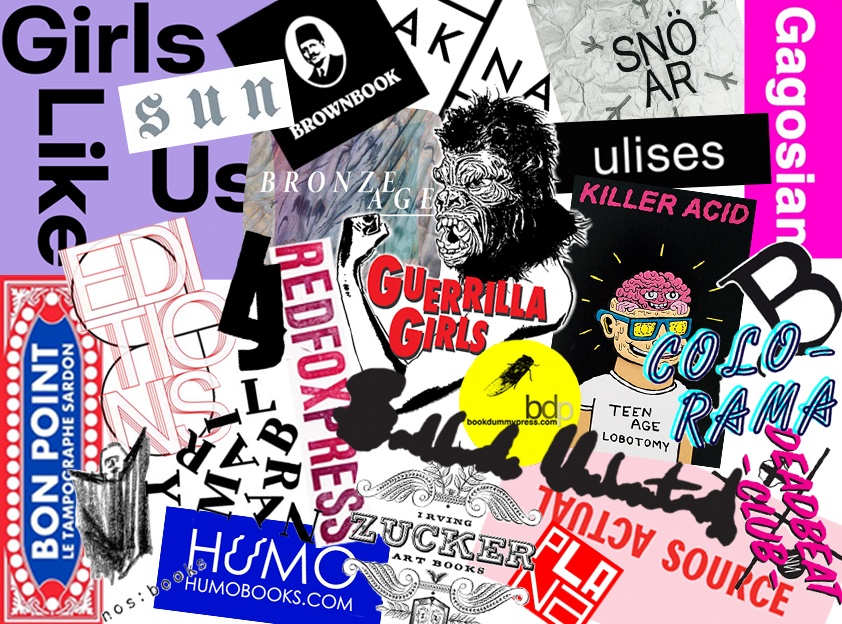 THE PLEASURE OF OBJECTS
If the events of this fall are any gauge, a restructuring of the art world is at hand. However delayed, this shift is at least in part catalyzed by the digital turn. And so it's surprising, perhaps, that among the culture sector's various outlets, the art book fair – with its in-person, seller-to-buyer contact and decidedly analog wares – would emerge as a model format.
Yet indeed it has, or so writer and editor Loren Olson argues, finding the 2017 New York Art Book Fair to be a veritable (if neoliberal) contemporary ideal within the screen-centered, hyper-networked channels of art and literary commerce.
For four sweltering days each September, MoMA PS1 teems with bibliophilic life drawn to Printed Matter's New York Art Book Fair (NYABF). This year, some 370 exhibitors from twenty-eight countries and 40,000 guests converged on the institution's Long Island City compound for the twelfth annual gathering of rare book dealers, galleries, institutions, academic presses, activists, small publishers, distributors, zinesters, and at its core, artists who make books. At a time when many in the art world have voiced concern over the size and proliferation of (despite dwindling enthusiasm for) major art fairs, it is notable that the NYABF continues to gain support. Increased attendance here and at the mushrooming number of art book fairs worldwide [1] must also be considered in light of book publishing's spectacular growth in the digital space: despite having been long heralded as print's probable Charon, the screen now often acts as publishing's producer, distributor, storefront, and terminal reader platform. Within this context, the art book fair format engenders what we might take to be the ideal of commerce under neoliberalism, a condition in which the form of the art book itself is a key agent.
It is hardly news that digital publishing has failed to eclipse print on the scale predicted by the commercial publishing community of the late aughts, those looking out at rising e-book sales – in the shaky economic climate of a post-crash American market – finding probable truth in the dire articles sounding the industry's death knell (which, to be sure, was first declared in the 1990s with the emergence of digital forms). Yet in 2012, e-book net sales leveled off, and have declined precipitously since 2014. [2] At the same time, hardcover and paperback sales have slightly increased, showing that, while disappointing e-reader technology and its pricing ecosystem play a part in this trend, print's centuries-old siren's song apparently endures. And studies affirm what artists, theorists, and other knights of the round table have long believed: There is value in the limited object-form of ideas. Readers continue to better remember that which they glean from print books; further, the physicality of object-bound printed matter allows owners to imbue these items with personal memories – as, of course, Walter Benjamin famously did, speaking of his cherished book collection as a memory palace in which identity could be vested with the sensual perception of each volume. [3]
For art books, whose reproductive needs (image color constancy, for one) render them already incalcitrant converts, the benefits of retaining objecthood are manifold. [4] Within the art world's field of desire, a book's comparatively modest price point offers enthusiasts the opportunity for physical ownership at lower income levels than often required for other physical art works. At its worst, an art book is the diffusion line to an artist's couture (their primary object production; assuming, that is, that the artist herself follows the traditional notion that such gallery/fair/exhibition-oriented pieces are in fact her true primary work). At its best, an art book is a work in its own right, responding to the particular parameters of the medium. In this latter scenario, the art book is more than merely representative of some "real" work existing elsewhere; rather, the art-book work itself is its own definitive container. These same physical limitations grant art books significance especially, not despite, online visual culture: The art book's particular form creates a fixed point of reflection, which the web can never offer. [5]
Rather than pushing print to a point of obsolescence, competition with digital alternatives has spurred commercial publishers to make products that celebrate print's unique attributes: more deckled edges, foil stamping, finer paper and cloths. [6] This holds especially true at the form's bleeding edge, the Art Book Fair, where most producers are free from commercial publishing's physical and economic constraints. Global sales and distribution demand materials suitable for mass production, and an ultimate object that withstands the physical pressures of a commodity industry: shipping, unpacking, consumer handling, and returns. Sculptural works – books pierced through with chainmail, [7] oversized tomes composed entirely of cloth and stitches [8] – these covetable objects can, at present, only circulate in certain ecosystems.
While the experience of handling an art book is replete with individual aesthetic, emotional, and sensual pleasures, the fair also offers the public delight of attending a bazaar. At the NYABF, an egalitarian spirit prevails: everyone is a potential customer (the wares are affordable) and a potential player (a high percentage of attendees are or will be artists, designers, publishers, writers, and printers). [9] One can read this dynamic as clearly neoliberal: individual creatives converted to economic actors that are organized according to an increasingly polished booth model that positions the entrants in intramural economic competition, promising distribution (exposure to a larger audience) in exchange for participation in a direct sales system antithetical to the stated aims of certain printed ephemera, particularly anticapitalist zines. And while one could further argue that this transplanting diminishes the subversive value of some publications, the broad visibility, potential for economic support for future creative endeavors, and access to actual in-person interactions is arguably neoliberalism at its ideal.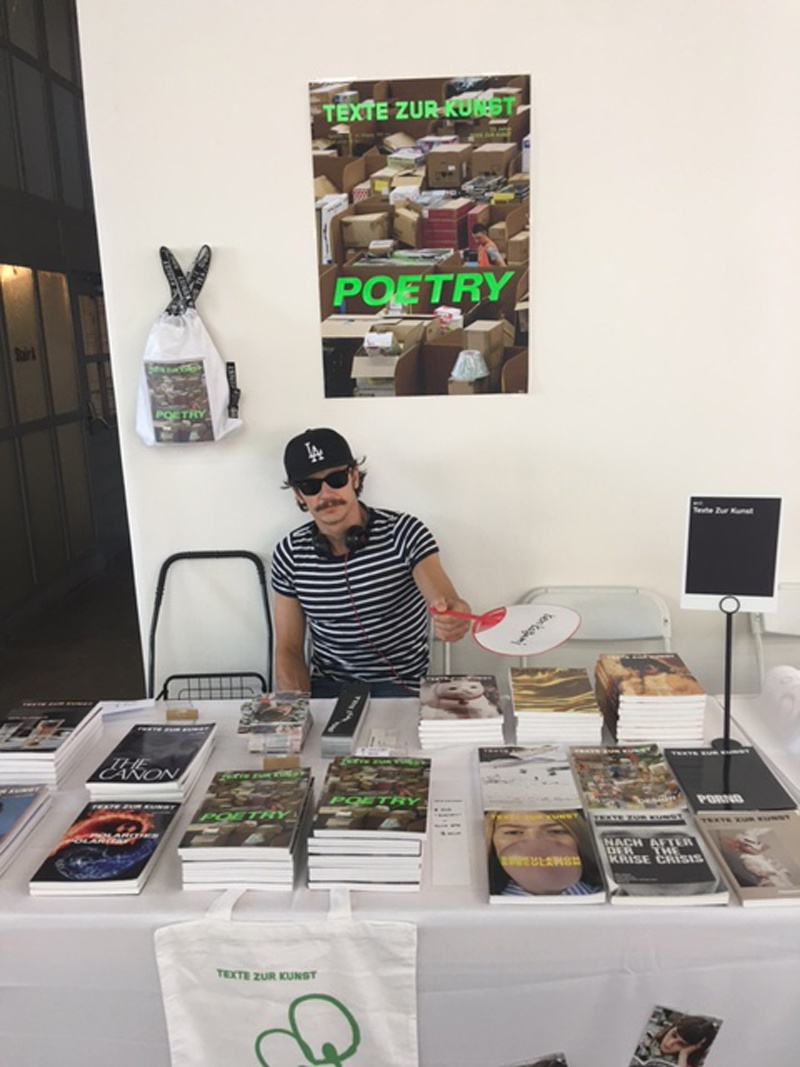 Playing into the requirements of neoliberal exchange, the possibility for the formation of non-monetized collaborative networks are encouraged by the fair's unique conditions. These are distinct from the dynamics of an art fair or gallery setting, wherein the public may be welcome, but handling of the objects and interaction with the gallerists who deal them is typically restricted to serious collectors and institutions; neither does it follow the rules of most museums, which are public-facing but expect guests to maintain a certain hushed decorum. At the NYABF, however, the viewer and seller are compressed tightly over a table of paper goods. Physical presence and proximity allows the audience to interact directly with the publisher or artist, perhaps aided by a low economic barrier. While the crowded fair lacks the reflection that a bookstore affords, its display style improves on the latter's discoverability value, [10] as almost all objects are presented face-up; meant to be handled. Among the publishers, there is the rare pleasure of communion, the chance to share the private considerations and trials behind the veil of a finished book. This shared context (which, to be sure, is often built from limited resources), oriented around the demands of creating and distributing a physical object, might then serve as a model for collaboration in larger scale creative endeavors. For now the object-oriented community NYABF fosters serves as a protective enclave, a somewhat separate bubble from the towering financialization of the art world, even as it has internalized the same neoliberal principles.
Beyond the booth paradigm, ordered by region or level of establishment (e.g., the "Feature" or "Positions" categories of Art Basel, and reflecting many of the same hierarchies), Printed Matter has created distinct exhibitor zones, [11] allowing, for example, Japanese bear culture, skater zines, feminist projects, and the nuanced particularity of a simulated bodega (Paul Chan's Badlands Press booth) to coexist in the same space. In turn, the NYABF attendee is allowed the flâneur's pleasure of freely passing through discrete, cohesive physical worlds, and interacting with their denizens. The very fact of the art book's promised demise converted it into an object of refined interest, which has attracted – and indeed demonstrably engendered – a particular community. [12] At the Art Book Fair, the niche collector and neophyte at least share a love of print, an appreciation of materiality more broadly, and an affinity for independent maker culture. These factors create a supportive community capable of using neoliberal exchange to achieve different ends.
For its part, Printed Matter has done much to appeal: In addition to creating the nexus for these physical exchanges, this fair also features a politically engaged academic conference, as well as an overwhelming assortment of performances and activities. Curiosity over new manifestations (including experimental digital outings), for which the fair serves as incubator and grand exposition, lure both artist and bibliophile from their preserves. The NYABF's real draw, however, is ultimately the physicality of the objects themselves, and the interactions the conditions of the fair uniquely afford.
No longer freighted with the political import of serving as sole alternative source for subjects neglected or misrepresented by commercial media, [13] the zines and art books on display remain a fulcrum in the post-digital age. Physical print objects are the locus around which loose and variable creative structures organize themselves for production and distribution. [14] The art world's friendliest convention, the scrappiest of its major institutional outings, is, at least by the elements discussed here, neoliberal – but in this, for better or worse, is it not also its most egalitarian? And its most humanizing? After all, it is one of the few places where $150 and an hour-old stack of zines grant their creator entry to the same platform as moneyed industry stalwarts, alongside those with years of expertise. The collaborative networks required by the objects and encouraged by the conditions of the fair represent vital opportunities for interaction and exchange in the midst of the art world's professionalism, and a rowdy refute to the de-objectification of knowledge.
Loren Olson is a writer and editor at Rizzoli New York. Her titles include Feelings: Soft Art, Jim Lambie, Carpenters Workshop Gallery, Hayv Kahraman, and forthcoming projects on Henry Taylor and Hood by Air.
Notes
| | |
| --- | --- |
| [1] | Alex Greenberger, The Rise of the New York Art Book Fair: A Look at the Numbers, Art News, September 26, 2015.26, 2015; Attendance for last two years and number of worldwide art book fairs reported by Printed Matter |
| | |
| --- | --- |
| [2] | At the Frankfurt Book Fair this October, Penguin Random House CEO Markus Dohle spoke of an energized print market, and stabilization of print and digital sales at 80 and 20 percent of the book market, respectively. See: Ed Nawotka, "Frankfurt Book Fair 2017: Dohle Highlights Stability of the Book Business," PublishersWeekly.com, October 10, 2017. For a longer discussion of American reading habits, see "Book Reading 2016," Pew Research Center, September 2016. In the UK, Nielsen Book Research found that sales of printed books increased by 7% in 2016, while eBook sales declined by 4%. |
| | |
| --- | --- |
| [3] | Walter Benjamin, "Unpacking My Library: A Talk About Book Collecting," Illuminations, ed. Hannah Arendt, trans. Harry Zohn, Schocken 1978 p. 59-68. |
| | |
| --- | --- |
| [4] | For an overview of these concerns from art book publishers in Germany and the United States, see D. Vanessa Kam, "The Tenacious Book, Part 2: Publishers' Views on the Once and Future State of the Art Book," Art Documentation: Journal of the Art Libraries Society of North America, vol. 33 (spring 2014), and Ian McDermott and Erin C. Dunnigan "Art Book Publishing, Past Present Future," Art Documentation: Journal of the Art Libraries Society of North America, vol. 32 (fall 2013) based on the author conference "The Future of Art Book Publishing," New York Public Library, February 12, 2013. |
| | |
| --- | --- |
| [5] | See: Michael Hagner, "The Photobook – Post Digital," Texte Zur Kunst, Issue No. 99 (September 2015). |
| | |
| --- | --- |
| [6] | Note: Guardian and Times articles from summer 2017 have gone so far as to declare the present a new golden age of book design. |
| | |
| --- | --- |
| [7] | Tauba Auerbach's 2014 paperback Maille, bound by the metal links its black-and-white printed pages portray, is produced in an unlimited edition. |
| | |
| --- | --- |
| [8] | Pia Camil's spectacular Xiuquilla/Blue Milk Weed (2017) is composed of handmade and repurposed fabrics selected in Mexico City. Edition of eight variants and two artist prints, retails for $18,000, made in collaboration with Zucker Art Books. |
| | |
| --- | --- |
| [9] | Author interview with Max Shumann and Shannon Cane of Printed Matter, September 24, 2017. |
| | |
| --- | --- |
| [10] | Ram Bezawada, S. Balachander, P.K. Kannan, Venkatesh Shankar (2009) Cross-Category Effects of Aisle and Display Placements: A Spatial Modeling Approach and Insights. Journal of Marketing: May 2009, Vol. 73, No. 3, pp. 99-117. |
| | |
| --- | --- |
| [11] | From the NYABF's first edition, Printed Matter's Max Schumann created a political section called Friendly Fire, offering exhibitors free tables and encouraging wild decoration. Now, the fair includes a zine tent, special exhibitor and project rooms, a dome for small publishers, wings for galleries and antiquarians, sections devoted to photography, and a densely packed floor of international small presses and art periodicals. |
| | |
| --- | --- |
| [13] | For a specific discussion of the democratic multiple as an artist book form, see "From Democratic Multiple to Artist Publishing: The (R)evolutionary Artist Book," Art Documentation: Journal of the Art Libraries Society of North America, vol. 31 (spring 2012). |
| | |
| --- | --- |
| [14] | Note: For example, a visitor one year may become a publisher the next, with a book created by a Risograph printer he or she met in the zine tent, distributed by the bookseller who is also a writer for a periodical on display in a stand upstairs. The next project requires a completely different formation. |