169
The Young Americans
Ina Blom about "Uncertain States of America", Astrup Fearnley Museum of Modern Art, Oslo, October 8 thru December 11, 2005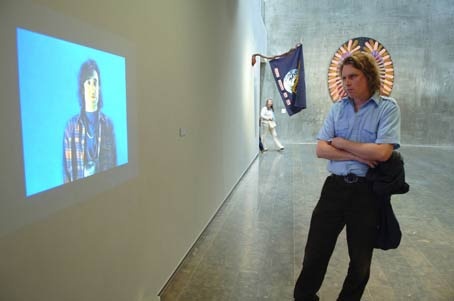 Seth Price, "Folk Music and Documentary", 2004, Installationsansicht
The project could hardly have been more overdetermined. Imagine three European curators of international renown traveling all across the US for the better part of a year to put together a show of new-generation American art. Imagine whatever content, attitude and curatorial strategy this show might present not being read in the shadow of, on the one hand, political, moral and financial trouble zones like the Iraqi war, Guantánamo, the rise of Christian fundamentalism and the Enron collapse and, on the other hand, curatorial territorialism in the style of Harald Szeeman taking on China for the 2001Venice Biennial. Imagine, in short, the show not being read as a heroic exploratory departure from the safe EU shores of political nuance and deliberation to the raw US territory of fear and loathing, lies and manipulation, its political left fenced off in campuses and Hollywood cocktail parties … It is simply not possible. Even the sympathetically stated curatorial intention to present a more multifaceted view of American culture, (uncertain "states" of becoming is posited as a contrast to the steady-state of permanent dominance) attests to the overarching presence of a too weighty context. So in a certain sense this is a case of the exhibition as travel letter, informed by an anthropological drive to present other images of the Other. The irony is of course other that this time around the Other - the object of endless European projection - is also the world's dominant imperialist force. The downside to this turnabout is the way in which it inscribes the chosen artworks within a certain set of expectations. The works in this exhibition risk seeming harnessed to the task of fulfilling righteous dreams of specifically American difference or routes of escape. Again, projection intervenes: there is the hopeful image of young artists, taking on the world with fresh resolve, the spirit of irreverence and dissidence flowering in the face of oppression …
The question is, as always, whether the artworks and artists in question themselves seem to participate in this projection. The question is in short whether this projection has actually had the force of an interpellation, of a call to artistic activity. In the past, this has often been the case, and the effect on general culture has at times been remarkable, at other times less so. However, the critical victory of the historical avant-gardes during the last decades seems only to reinforce a built-in preference for those cases where young artists seem to answer the call of this projection, so that considerably less interest is channeled towards cases where the response does not seem to be immediately forthcoming. I believe that any visitor to the future versions of this show would be well advised to take as a positive point of departure the fact this might well be one of those occasions where the call to youthful dissidence is met with - if not silence - then with something resembling a confused mumble. To the extent that the exhibition portrays a generation (voluntarily or involuntarily), it appears here as a rather withdrawn generation, marked by a skeptical, guarded attitude. And the artistic result of this attitude is a mix of self-deprecating downsizing and quiet escapism.
In fact, this show, which contains many moving, thoughtful and intelligent works, reminds me of nothing as much as the spirit of 1950's students described by the American writer Joan Didion as a counterpoint to the spirit of a 1960's generation which she observed at close range in the collection of texts entitled "The White Album" but with which she could not identity. She described the very adult ambiguities of a generation frozen in a preoccupation with the personal - or rather in a less than optimistic view of personal potential - and therefore as distrustful of political highs as of the idea of the righteousness of any form of social organization over another. (A decade later, as we know, youthful innocence and optimism were reinstalled). The exhibition reminds me, in addition, of the distinctly unheroic spirit that surged through American rock in the late 80's and early 90's, with bands like Galaxy 500, Spacemen 3, the Pixies, Sonic Youth. What could be heard here was definitely not the future of rock n' roll but the self-conscious muting of rock - a rock hyperconscious of its endlessly rehashed clichés and its lack of any other option than to just go on. It was at this point that rock seemed to loose a lot of its life-affirming sexual fervor and took refuge in noise, loosing itself in an endless layering of its own amplified feedback.
In the exhibition, this attitude comes forth not just in a lack of conspicuous newness - the rooms contain an entirely familiar mix of large-scale scattered-object installations, stage set-type installations and informal drawing & magazine clippings installations as well as paintings, object-like sculptures and video projections - but, above all, in the attitude with which the lack of newness is treated. It is as if a number of works look back at earlier instances of heroism and intensity with a sense of wonder as well as distance. A case in point is Mario Ybarra Jr.'s wall decorated with the early 90's L.A. rave posters collected by his friend and co-partier Haven Perez: The suggestion that one put on 3-D glasses in order to properly "experience" their psychedelic colors and patterning is like being invited to a historical diorama rather than to a party. Another case in point: In his paintings, Aaron Young's sifts various late modern art heroes, from Jasper Johns to Christopher Wool, Gerhard Richter and Michael Heizer through a weird encounter between the visual codes of photographic negatives and spray can graffiti. The multiple layers of appropriation at play here, assembled under the title "Never Work" is hard to read in terms of something as strong willed as critical displacement. It is rather as if they articulate a sensation of something (some aesthetic system, imagery, art politics) residing in the uncomfortable realm between the half remembered and the already worn out.
This attitude gets transposed onto contemporary politics in Seth Price's lucidly confused political monologue, presented under the strange title "Folk Music & Documentary." Staged as a gawky one man audition-style video performance, it sets the tone exactly as it rambles on about the IMF and the WTO as well as NGO's, Rio, Seattle, Davos, Porto Alegre, Hemp Coalitions, Zapatistas, The Pink Fairies of Prague, "disaffection" as well as "optimism", but above all - although this is not an overt theme - of a certain way of handling information. It speaks of a world of internet access and the feeling of a pressing urge to somehow - but how exactly? - be with it all. It speaks, in fact, of how an affective relationship with information itself emerges as the primary product of media machinery that wires us to a semblance of connectedness. A vaguely related handling of information and media formats emerge in Matthew Brannon's use of the horror movie poster genre. But again, this is no self-assured appropriation of popular culture or dominant media. For the actual poster genre only barely shines through behind words, images and design styles (see Matisse's paper cutouts) that have no relation at all to the genre. The promoted "Public Breakup and Career Backlash", starring (among others) "Repeat Offender", "Walking in a Parking Lot", "Disconnected Phone" and "Condescending Lover" and produced by "Sofa Sized Painting", "Painting Size Photograph" and "Backyard Sculpture", painfully and narcissistically shapes and frames and displaces minor and not so minor personal damages through various abstracted aesthetic formats …. much the way a depressed obsession with a bathroom tile detail grows into a tapestried surround in another work by Brannon.
In contrast, Miranda July's films serve the mess of personal relationships up raw, but laces them with an edge of pop quaintness that basically tells us that people are strange and that it will probably be all right in the end. With its quietly pretty flower motif, Paul Sietsema's film "Untitled (Beautiful Place)" might at first view be associated with the same brand of tensely cultivated innocence, but extended exposure changes all that. The film gives little apart from the idiosyncratic, oblique and obsessive relationship it establishes with the painstakingly constructed plants it inspects from every angle in a flickering light that seem to make the very access to visibility precarious. The film is a world truly folded in on itself and offering itself up for reflection as precisely that. This has nothing to do with formalist or conceptualist tautologies - i.e. with producing more or less convincing figures of aesthetic self-containment: Sietsema's work seems, rather, to observe the very gestures and conditions of withdrawal itself. To say that this is all a far cry from the recent surge of art activism would then simply be to state the obvious. A more pressing task would be to search for the implications - or potential - of this newly minted politics of ambivalent withdrawal. "Young" American art may not exactly deliver as expected, but this fact leads to a questioning of that expectation itself. Given half a chance, the exhibition is actually a reminder not to foreclose on the issue of the politics of the aesthetic.