202
It is your first mirage, Sophie
Marie Murraciole on Guy de Cointet at Le Quartier, Centre d´art contemporain de Quimper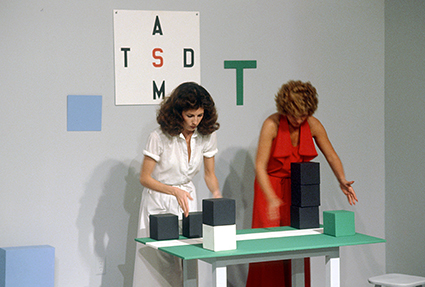 Guy de Cointet, "Tell Me", Rosamund Felsen Gallery, Los Angeles, 1979, performance
In the delayed or belated relationship between France and the United States in the matter of the avant-garde and theory since World War II, Guy de Cointet (Paris 1934–Los Angeles 1983) is an offbeat figure: a distant legend on the American West Coast; rarely exhibited in Europe. Thanks to Paul McCarthy, who introduced de Cointet to his home country with a show in 1996 at Le Magasin in Grenoble, the apparition of this œuvre maps a disconnected context and opens investigations.
De Cointet's art relates in many ways to the question of archiving and documentation, which represent both the top and the invisible part of his iceberg. It is about reading and interpreting – drawings and paintings, objects and books are correlated to writings or printed matter. Most of the works are also traces and documents of the specific events they were part of. The œuvre spreads enigma and seeks information that de Cointet didn't reveal, which has to be seen as one of his artistic approaches. His production also stays quite mysterious due to his sudden and early death. From this perspective, "Dessins et Documents", at Le Quartier in Quimper, is right on point in building constellations of the different steps – and different lives – of some of de Cointet's projects.
After briefly studying at the École nationale des Beaux-Arts in Nancy, Guy de Cointet joined his longtime friend, the fashion photographer Jérôme Ducrot, in New York in 1965, where he practiced painting and worked as a graphic designer. Eventually he crossed paths with Andy Warhol's Factory and Viva Auder, who introduced him to Larry Bell. As Bell's assistant, de Cointet traveled to Los Angeles in 1968, where he became a member of the small artistic community that grew apart from Minimalism. From paintings and diagrammatic drawings, which play quite impenetrable games with numbers or letters and texts, he initiated his first performed deciphering, a kind of a free reading, with an actor in 1973. One year later, in the performance "The Paintings of Sophie Rummel", Auder sat on a ladder in front of three canvases and articulated sentences such as "The electric blue light was spreading and receding like an orgasm. Relax, Frederick said. It is your first mirage, Sophie." Although the artist taught performance at the Otis Art Institute from 1975 to 1977, what he produced in this realm seems far from a radical dematerialization of art, from body art or "out of limit" actions. His public actions were more about staging, in a unique mood, illogical discourses coming from – or referring to – artist books or constructed objects displaying language, used like a kind of method of loci that originated with the Roman orators. In Paris, de Cointet was exhibited at Ileana Sonnabend in 1973, then mostly appeared in theaters: Récamier ("An evening with Raymond Roussel") in 1976, Marie Stuart ("Tell me"), and Rond Point ("De toutes les couleurs") in 1982. Meanwhile Jérôme Peignot invited him to "Écritures", a group show (1980). The only reactions at the time were in newspapers' theater headings. The works left only a few traces in Los Angeles' art scene, and de Cointet died in 1983 at the age of 49. His studio documents and notebooks were put into boxes, and consequently nothing happened with his work from 1985 to 1996.
Guy de Gointet's second act started in Gre-noble, with McCarthy's choice to exhibit forgotten Europeans from Los Angeles: Guy de Cointet, Bas Jan Ader, and Wolfgang Stoerchle. Mike Kelley has since claimed the importance of this confidential œuvre for his own practice [1] (as may have been the case for John Baldessari, James Welling, Allen Ruppersberg, and others as well). The art critic Marie de Brugerolle, who had worked with McCarthy in Grenoble, was also crucial in contributing to de Cointet's recognition, with a show in Mamco, Geneva, in 2004, followed by another exhibition in Sète in 2006 as well as a forthcoming monograph. In 2010, both the Louvre Museum and the fiac mounted a presentation of three pieces performed by de Cointet's most acclaimed actress, Mary Ann Duganne Glicksman, with whom he realized many projects. As a next step, the estate run by the family donated most of his studio archive, to the bibliothèque Kandinsky at Centre Pompidou. Today, quite a few young artists cite de Cointet as an influence, and the works – at the moment constantly traveling – will be presented in this year's Venice Biennale.
In Quimper's Le Quartier, an institution that opened in the 1990s and contains a suite of intimate spaces, curator Frederic Paul now shows how process materials have their own life. Fifty of de Cointet's works on paper, mainly a corpus of drawings in which sentences, numbers or letters are enclosed and transformed into diagrams and compositions that sometimes echo some "Secret Characters" from Paul Klee, display intriguing phrases or titles like "She's in a wonderful shape" (1977) or "Now I'll go and smoke a cigarette" (1982). These titles derive from soap operas or B-movies, trivial or absurd conversations, as well as from modernist literature in the likes of Rimbaud, Baudelaire, and Poe. The first two rooms focused on ciphered graphic material and events. Then notes and printed matter surround videos of different performances from the book "TSNX C24VA7ME, A Play by Dr Hun" (1974) in which de Cointet created a code based on license plates and phone numbers. The following room stands more for quite geometric drawings, "She's in a wonderful shape" (1977) or "My Husband left me" (1978) in which encoded texts build abstractions. Those texts could be either transformed into some landscape outline or indefinable diagram, or stay totally indifferent to the shape or even meaning. "World War Two" (1971) for instance, is a mirror writing that enumerates years vertically so the numbers are illegible. The last space is a display of material from the performance "De toutes les couleurs" held at Parisian theater Rond Point in 1982, as well as one of the staging of "Tell me" in the United States in 1980, providing a constellation of fragments and remnants of missing events or knowledge. Of "Tell me", de Cointet said, "that it is a performance about language and abstraction, and how they are perceived by the mind and the senses."
Installed this way, especially the rarely seen documents about different productions of various performances, the exhibition allows memories to react on numerous levels, each piece documenting the other, each element offering diverse possibilities to enter the work. Some projects for exhibitions displayed in vitrines ask the viewer to imagine multiple meanings and create connections between the actual drawings hanging – therefore to figure out the many disconnections within them. While, on the one hand, the material resembles both scores and relics of actions; inscriptions and objects can, on the other hand, be understood as sources, décors and manipulated accessories of some fictional texts that actors are more or less unraveling. Their act of speech is the actual work as well as its (awkward) interpretation. The whole process strongly questions the status of art objects, which could be fetishes to be activated, marginal relics, or lost meanings seeking artifacts for multiple incarnations.
Guy de Cointet was not in the realm of John Cage or Fluxus. His position seems far removed from Allan Kaprow or Vito Acconci, who taught in California in the 1970s. There is something about his work that stays quite pop, glamorous and theatrical, like the flashy costumes and colors he used for the dresses and the paintings. He probably never heard of Marcel Broodthaers, with whom he shares some surrealist influences or wakes, but nothing of his melancholic romanticism. It was "Impressions d'Afrique" (1910), in which Raymond Roussel experimented with some of his elaborated wordplay, that raised de Cointet's interest into the materiality and mechanics of language, and made him involve painting in the border of conceptual art – another legacy of Marcel Duchamp that begs a parallel with Ed Ruscha. The issue of de Cointet's art is not to "understand", but to read. As Jacques Lacan stated, mostly about his own practice and the way he was expressing himself, to understand is not always the issue, regarding some readings that are never to be achieved in a straightforward message [2] . It also means that trying to understand is sometimes a more interesting way to deal with the mind and the real than any immediate knowledge, and association is more important and alive than repetition. In the end, de Cointet's work stands for interpretation, and construction of a (language) self.
Guy de Cointet, "Dessins et Documents", Le Quartier, Centre d'art contemporain, de Quimper, February 12–March 27, 2011.
Notes
| | |
| --- | --- |
| [1] | "Fragments et bribes", in: Trouble, No. 2, Automne–Hiver 2002, pp. 110–117. |
| | |
| --- | --- |
| [2] | See for instance the metaphor of the rocks in: "Discours de Tokyo", April 21, 1971, but this is an allegation that came again in Lacan's seminars, which was also a position toward the effects of any simplification of psychoanalysis. |