Amy Lien and Enzo Camacho on Skulptur Projekte Münster 2017
Public Sculpture Pokéstop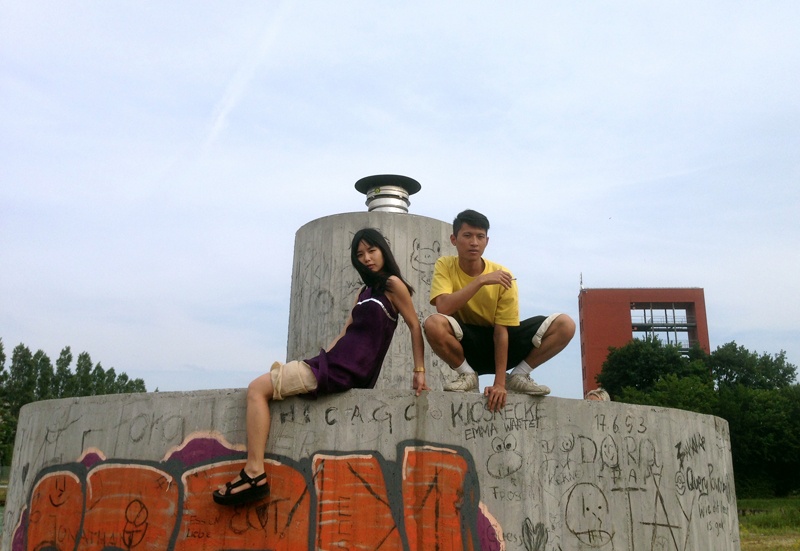 Amy Lien and Enzo Camacho
The general public seems more excited than ever about contemporary art; curated mass-events and the masses that attend them speak to art's persistent draw. But who is the public that, this summer, again went to Venice, Kassel, Münster (and now Athens, too) to see this collective production of some 400 artists spread across more than 150 sites? And to what end? To prove that, yes, art is for everyone? That it is capable of broadly addressing deep social/ political problems while offering a pleasant break from them? As self-expression now happens most directly (and internationally) online - and when art world protocol has, anyway for decades supplanted local cultural norms - one might wonder what drives interest in travelling to share space with contemporary art.
Age could be one factor. In their respective reviews of Skulptur Projekte Münster, art historian Eva Ehninger and artists Amy Lien & Enzo Camacho question the future (and present) value of this decennial survey of public art in public space, like 65+ crowds it attracts, are also maturing in the digital age.
Given the generally accelerated pace of circulation, consensus formation, and obsolescence, Skulptur Projekte Münster's distended ten-year cycle begins to feel like an overweight, out of shape historical sprinting into the present. How many generational turnarounds have marked the last ten years? In iPhone lives it's 7.
Since it's inception in 1977, SP has subjected the category of "public sculpture" to various reorientations, from monumental object to scandalous intervention to multi-sensory experience to functional public service. In this year's iteration, many of these strategies reappeared, in some cases exuding a certain nagging exhaustion with the given task. The city of Münster is a safe space where public sculpture can be continually dismantled and regenerated, and also where the elderly can enjoy a nice vacation, observes NYC and Austin-based artist Michael Smith, as he ponders his own advancing years. His prankster-ish "Not Quite Under_Ground" consisted of a functional tattoo parlor with tattoo designs commissioned from various artists (including SP alumni and current participants, as well as local tattoo artists), which extended a 45% discount to customers over the age of 65. An advertorial video playing in the waiting room showed the artist with a group of silver-haired companions enjoying an open-deck red bus tour of the city (itself permanently landmarked with past SP contributions), taking a visit to said tattoo parlor, and ending at a sun-drenched lunch spot with the sweetly smiling seniors giggling at each other's freshly plastic wrap-patched limbs. SP is never too old to try something new; Smith cheerfully agrees, while jabbing at the lugubrious nature of its agenda. His LA-branded irony (recalling in some ways Mike Kelley's 2007 "Petting Zoo") throws the interrogation of public sculpture behind a smokescreen of nostalgia, placing it in a suspended state of misalignment. A blunt joke well taken.
Notably, the last time SP occupied Münster was the same year the first iPhone hit the market, and since then, our conceptualization and experience of urban public space has been transformed dramatically, with onscreen virtualization paralleling (and facilitating) developments in surveillance/control and real estate markets, while at the same time making cities more navigable, more fun for tourists. In traversing this year's SP edition, despite the failure of the SP17 smartphone app to deliver a usable navigational interface (you couldn't zoom in to the built-in map close enough to read street names), it was impossible not to feel the psycho-cartographical imprint of last summer's breakout hit app Pokémon Go (which itself drew millions of users to public art sites around the world by tagging them as Pokéstops), [1] making the unaugmented reality of a public sculpture scavenger hunt feel all the more physically spatial, and all the more like novelty for being so.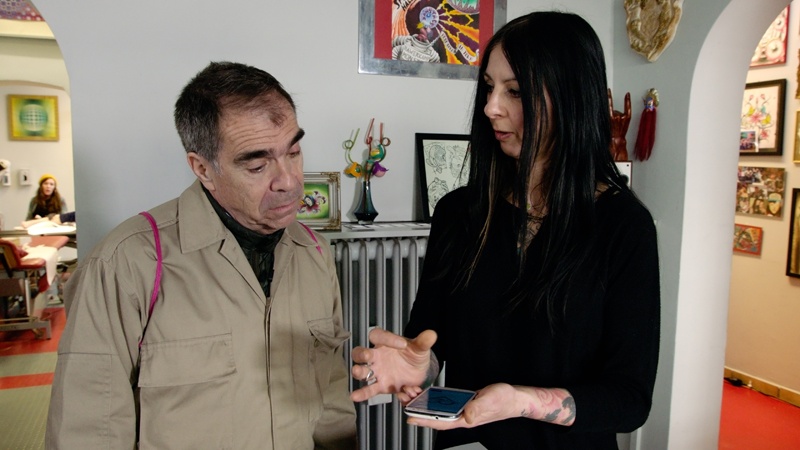 Michael Smith, "Not Quite Under_Ground", 2017
Perhaps expectedly, there was a greater emphasis this year on video works (e.g., Koki Tanaka, Mika Rottenberg, and others), which were generally sequestered in various darkened indoor venues scattered around the city like mini gallery presentations. Other contributions tried harder to reflexively enfold the screenal interface – and its potential reconfiguration of both the public and the sculptural – to lesser and greater effect.
Most ambitiously, there was Pierre Huyghe's contribution, "After Alife Ahead": an abandoned ice skating rink on the outskirts of the city housing a bio-technical system linking cell growth to mechanical architectural operations, all accompanied by a specially designed augmented reality app. It sounded spectacular in description, but the eager tourist-gamer arrives to some disappointment. The peacocks are missing (animal welfare issue). There are bees, again. An aquarium contains some murky aquatic organisms, the opacity of its lenticular walls mysteriously fluctuating in sync with the intermittent opening and closing of one of the mechanized geometric cut-outs in the roof above. Occasionally there is a dull bass popping sound. Meanwhile, the app merely reproduces your smartphone's camera view but overlays some vibrating rhomboids onto the ceiling. The attendants strain to explain how the system functions (supposedly it is responding to the reproduction of cancer cells contained in an opaque steel box incubator). While the piece employs many of the same motifs as Huyghe's 2012 work for Documenta 13, it is both more bloated and more static, an all-over composition of weird tech effects that has the mind-numbing impact of an elaborately physicalized screensaver.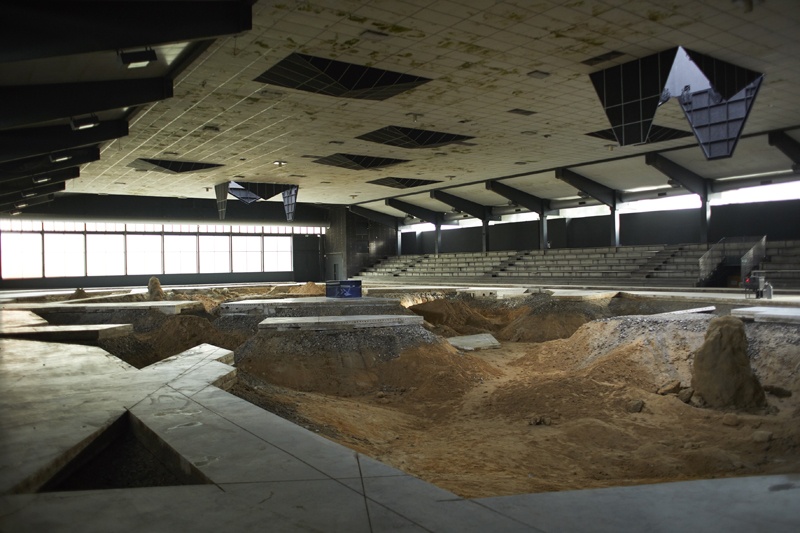 Pierre Huyghe "After Alife Ahead", Skulptur Projekte Münster, © Ola Rindal
The airy and often swarming foyer of the Westphalian Landesmuseum (LWL) was the site of another ambient dismantling of public sculpture norms, with much fewer means. Digital-scramble noises seemed to physically move through the foyer space as they faded in and out between four speakers installed near each corner, providing a jittery surround-sound accompaniment to two projections – one projected by the lockers near the museum's entrance, the other projected high on the central atrium wall adjacent to its top floor. Both projections displayed prerecorded drone footage shot in the same foyer space, which provided only fleeting bits of information through its erratic, jerky movements. This busted audiovisual mapping was complemented by a 1969 Olle Bærtling sculpture loaned from the Skulpturenmuseum Glaskasten in Marl and re-situated on the LWL central staircase, its stark spindly digits pointing outward at nothing in particular. It appeared like a crack in space. The entire mise-en-scène (which also included light-grey carpeting on the floor and plastic sheeting over the skylight) constituted a Nora Schultz artwork, entitled "Pointing their fingers at an unidentified event out of frame." As this title suggests, and much like Huyghe's "After Alife Ahead," Schultz's contribution worked via a screen logic of capturing, directing, dispersing, and modulating attention. Functioning almost in negative to Huyghe's piece, its decentralized system of perceptual interventions was itself prone to being modulated by the unpredictable, noisy surges of art tourists, which would almost-but-not-quite drown out each gesture. This felt like an augmented reality, which could be counter-augmented by reality.
As a format, Skulptur Projekte was born to die; [2] and this year, there seems to be a reflexive awareness that maybe now it has finally run its course in full, making use of the ephemeral, the flexible, and the event-based as means to occupy whatever physical public space Münster has left. Screen interfacing has perhaps offered new sculptural/spatial possibilities, but it has also accelerated the foreclosure of the public, generally tending toward private and privatized viewing. Did public sculpture already feel like an avatar of itself in 2007? Will it still feel this way in 2027, 2037, 2047…?
For TZK's Documenta 14 coverage (review by Sabeth Buchmann & Ilse Lafer) toggle Deutsch.
Notes
| | |
| --- | --- |
| [2] | Skulptur Projekte Münster wasn't conceived as an indefinitely recurring event, and its continuation seems largely driven by the city's desire to maintain a flow of tourists. Artnet News reported: "In fact, SPM has raised the city's appeal (and income) so much, that the local authorities wanted to host it every five years – a suggestion that König strongly rejected. 'It was not originally intended to be a long-term project,' he told Artnet News in an email. 'After 2007 I said, if you do it every five years, I will take you to the highest court. You're not allowed to do it. I'm not sure I had a legal basis, but they backed down, and then I said, OK, I'll do it myself and build the team for it.'" Hili Perlson, "A Brief Guide to Skuptur Projekte Münster," https://news.artnet.com/art-world/brief-history-skulptur-projekte-muenster-968450. |