A HOME WITHOUT A CAT IS JUST A HOUSE
Annette Weisser on Vincent Fecteau at Fridericianum, Kassel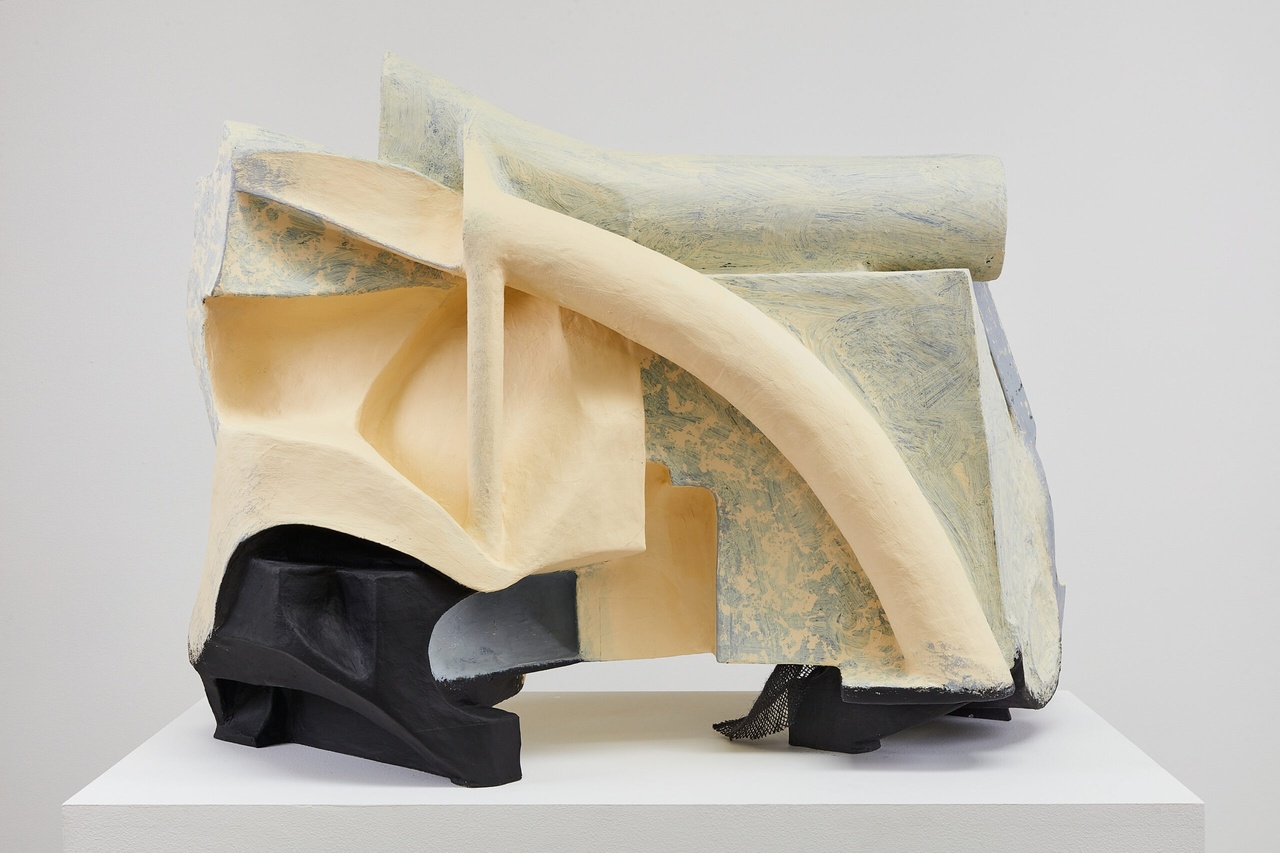 The proliferation of online "Viewing Rooms" as an interim alternative for viewing art during the pandemic is hopefully not a permanent development. Bolstered by specious claims that they democratize art by delivering it to anyone with an internet connection, these virtual realities tend to reduce exhibitions to a flat, glossy interface that best serves the market, not art or viewers. Here, artist and writer Annette Weisser narrates her first post-lockdown exhibition visit – Vincent Fecteau in Kassel – and describes the sensations of this experience, reminding us, through Fecteau's work, just what is so great about tangible encounters with artworks.
About a year into the pandemic I got nervous: I realized that I didn't miss looking at art the way I expected to miss it. I mean, I'm an artist and an art teacher; how can I not miss the experience of being face-to-face with the material manifestation of someone else's aesthetic sensibilities? But I had my books, I had MUBI and Netflix, and I had my own inner cinema of memories and emotions to fill the idle hours of the day. When it became possible again to actually go and see shows, it felt like at the end of a fasting cure: I got very, very picky about what I would put in front of my eyes.
Vincent Fecteau's solo exhibition at Fridericianum in Kassel turned out to be the perfect first meal: light and well-balanced, it went down like a spoonful of honey. On my first visit I was all by myself on the second floor of the museum. Five medium-sized sculptures, well-spaced out, were mounted on the wall of the rotunda and gave a taste of what to expect. Works from the 1990s to 2020 filled the entire floor, grouped roughly by size and type, which, in Fecteau's oeuvre, also corresponds with chronological order. The rather conservative presentation didn't get in the way of engaging with the works, which is really all you want.
Being a person who usually scoffs at the cineast's notion that great films have to be watched on the big screen, I found myself overwhelmed by the pure pleasure of looking: my hungry eyes followed the lines of Fecteau's sculptures, sucking up every slight change of color or the way a line makes an unexpected turn, taking the gaze on a joyride. After this long period of deprivation, I discovered all over again that art has to be experienced in the round, with the viewer (me) practically dancing around it, with it, allowing the work to take the lead. It's a form of abandonment. It's like getting fucked. How could I have not missed this?
Fecteau makes his art from stuff most people have at home: old newspapers, glossy magazine images, popsicle sticks, shoe boxes, cardboard rolls, pushpins, rubber bands, twigs, paint, and such. His sculptures since the early 2000s play off the contrast between the highly finished and the raw (interior, or underbelly); they never bore the viewer with simple perfection. However, this creating of openings in the otherwise seamlessly painted, smooth papier-mâché skin never comes off as coquettish. It's more like the open seams in early Comme des Garçons, where the frayed edge of an impeccably tailored blazer adds texture without introducing an additional element. In a similar way, the layers of newsprint visible on the underside of a sculpture add a dash of nervousness, or blur, that highlights the overall serenity of the work.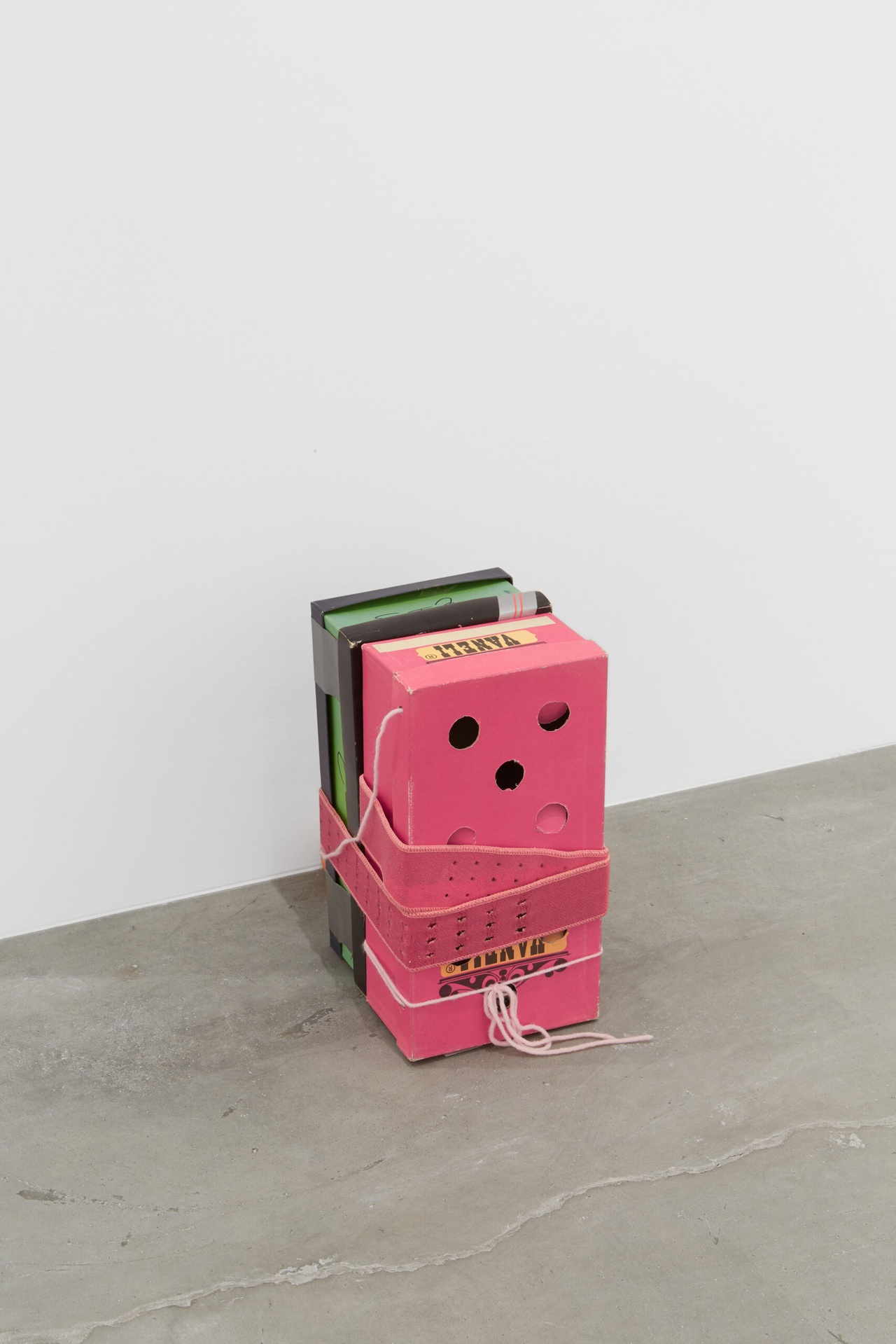 Whereas the earlier works in the show sometimes have a stage-like quality with a front and a back, from the 2000s onwards the sculptures become increasingly complex and also gain in size. In the earlier works, a seashell or a walnut half might anchor the proportions, to a certain degree, to the world they're taken from, whereas the most recent sculptures from 2020 shed any of those references. They are majestic; they are both monumental and fragile, their colors muted blacks, blues, and greens.
Near the entrance of the show is a collage of cat photographs from 1994, titled Chorus. It appears twice, the second time shrunk to the size of a post-it. The cats set up the viewer to pay attention to matters of scale, and, in their own discreet way, introduce domesticity as a theme and the domestic as stage: the public that is contained in the private, and vice versa. The domestic is present in the surprising beauty Fecteau reclaims from his household materials, and also in his celebration of décor: both in decorating the sculptural bodies with carefully chosen additions, and in appropriating images from interior design magazines which he collects.
A great number of Fecteau's sculptures have holes in them, their diameter roughly corresponding to the cardboard cores of toilet paper rolls or other common household items. They bring the butt into play, while, on a formal level, they also function as the hollow centers around which the sculptures seems to rotate very slowly, and sometimes they function as wormholes that swiftly take the gaze to the other side, both literally (if you're willing to bend down) or figuratively. The other side is, without exception, a total surprise. Fecteau's sculptures from about 2004 onward seem to invite the viewer to play a game: "Look at us thoroughly, then scan your memory for everything you have ever seen, from architectural to natural forms, from scientific models to car parts, and try to figure out our backside. Good luck." There is no way of knowing the other side of a Fecteau sculpture, there is only feeling it out with the eye by following its lines. It's a delicious and slow process. Being neither a man nor gay, I nonetheless don't feel excluded from the sensuality that Fecteau's oeuvre exudes.
Fecteau is from the generation that has lived through the AIDS pandemic, and in fact he had moved to San Francisco in the early 1990s to join the ACT UP coalition there. I can only try to imagine the devastation that AIDS had brought unto a whole generation of gay men, and the hostility with which its victims were met. In this context, Fecteau's gentle insistence on something close to but not exactly "domestic bliss" is especially touching. In queer biographies, a fulfilled domestic life still isn't the kind of default mode one could reasonably hope to fall back on if everything else fails.
From a feminist perspective, I am used to regarding the domestic sphere as a battleground. Think of Hannah Wilke, for example, for whom Fecteau briefly worked as a studio assistant. Wilke traced the struggles of domestic life with her artist husband and made her work from the fallout. For feminist artists, the domestic was and still is a place to analyze, deconstruct, and ultimately escape. In Fecteau's oeuvre on the other hand, the domestic is imagined as a happier place – a stage for the private performances of intimacy and friendship. With the world still being in the clutches of the Covid-19 pandemic, I think much could be said for both of these positions.
I had seen Fecteau's work before in smaller solo presentations at his galleries in Berlin and Los Angeles; his most recent exhibition at Fridericianum allowed me for the first time to follow the artist's trajectory from the smaller works from the mid 1990s like Shirley Temple Room #1, #4, and #5, with their more obvious references to celebrity culture (when Fecteau worked on these, details of slumber parties Michael Jackson hosted for young boys on his Neverland ranch had just emerged – apparently, he had named the boys' bedroom the Shirley Temple Room), to the later works, which are apparently more removed from this context. The Shirley Temple Rooms are bright red shoe boxes stacked and held together by shoestrings, tape, and cord. Fecteau has punched holes in some of the boxes, a few have cardboard tubes sticking out, and one hole is plugged with an oversized cork. These works look like what a kid would make for his hamster: care and cruelty in equal measure.
Cardboard boxes as readily available interior spaces feature large in Fecteau's earlier oeuvre. In another body of work (from 1996 onward, the artworks in the exhibition are Untitled) Fecteau uses the shoe box as base; some works are constructed by fixing the lid to the box in an L-shape, in some the lid frames the box, and others use just the box or the lid. This base is then complicated by adding compartments and/or planes, covered in a thin layer of papier-mâché and decorated with sticks or other stuff before being given a coat of unifying black paint. (One piece has a black sphere balancing delicately on top like a pin ball.) The insides are then decorated with carefully arranged cut-outs from interior design magazines in ways that explore the depth of these tiny spaces while simultaneously cutting through the illusion with, say, a bold yellow line, or multiple repetitions of the same image. Nine works from this series are mounted on the walls at eye-level; each one offers a space to look into, like a diorama. Here, the domestic is negotiated visually, spatially, and socially. Fecteau brings up questions of class and taste; the signifiers of a particularly exuberant version of American upper-class lifestyle are at the artist's fingertips, collaged into the velvety black of a nightclub.
During a second visit to the exhibition a few weeks later, I checked in on my first impressions. I asked myself why I was so willing to abandon myself to this work, apart from my general visual starvation. Beyond this emphasis on looking rather than knowing, it's of course the subtle humor which I find most seductive: A Henry Moore for the poor, Fecteau conjures up high modernist form while taking a decidedly anti-heroic stance. His sculptures wear beauty patches, or rubber bands hanging from a nail. Some wear painted oversized screws, alluding to monumental steel sculptures in the tradition of Alexander Calder. Often a piece of rope highlights a rim, a line, attempting to de-emphasize the formal rigor of the work by playfully suggesting a maritime "theme," only to remind you that formal rigor is the foundation of this whole experience.
It's great fun. I laughed all the time, which in itself is a form of abandonment.
"Vincent Fecteau," Fridericianum, Kassel, April 3–September 5, 2021.
Annette Weisser is an artist and writer based in Berlin. She currently teaches at Kunsthochschule Kassel.
Images: 1. © Courtesy of the Artist and Galerie Buchholz, greengrassi, Matthew Marks Gallery; 2. & 3. © Courtesy of the Artist and Galerie Buchholz, greengrassi, Matthew Marks Gallery. Photo: Aaron Wax