AUTO EROTICS
Brit Barton on Pippa Garner at the Kunstverein München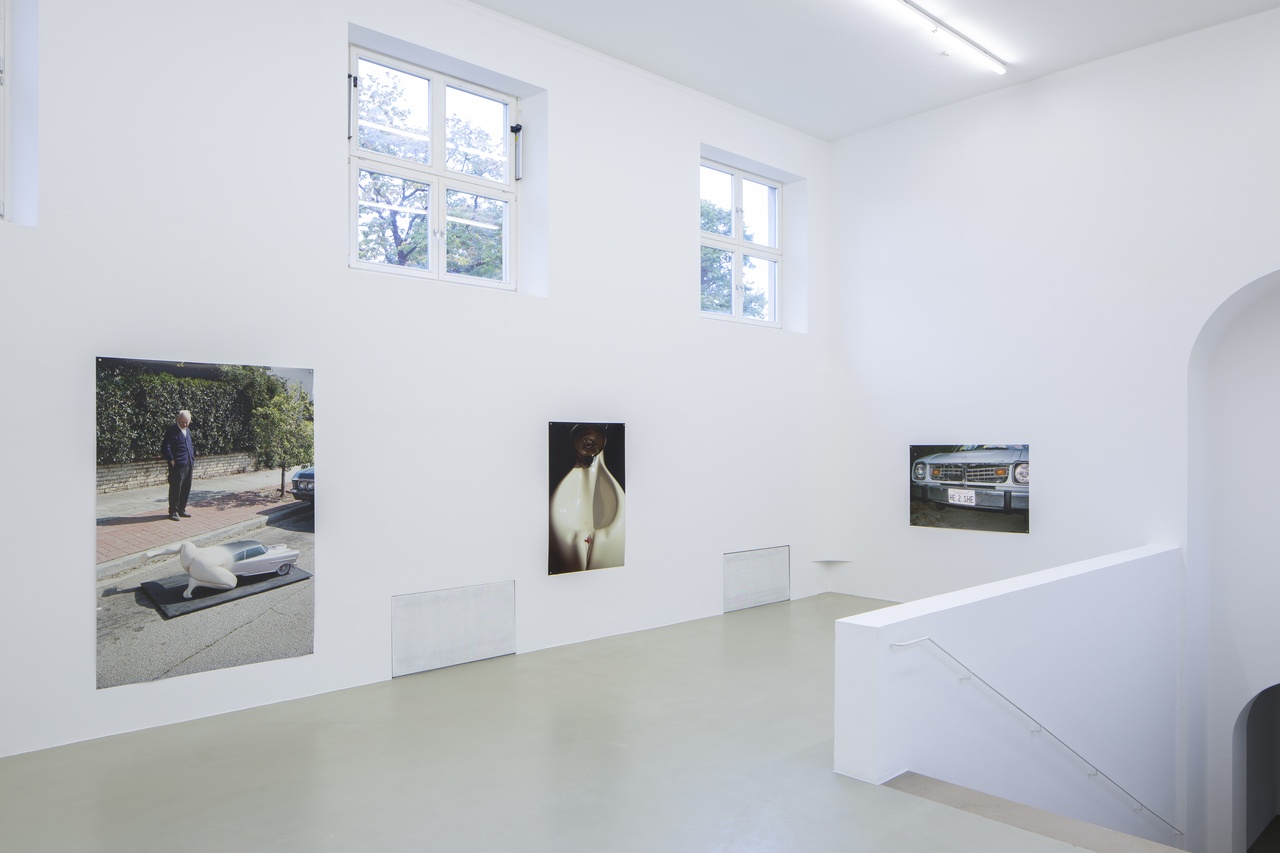 In hardly any other context does the excess of consumer culture emerge in such clear physicality as in the US automobile industry of the 1960s, with its most brawny car models subsequently dubbed "muscle cars." It was in this environment, where unbridled capitalism met burgeoning countermovements, that Pippa Garner began to thematize the relationship between human body and car in her work – first as an industrial designer, later as an artist who, with a critical eye on the industry's commodity fetish, referred not least to the body politics of a system that pushes the subject into binary role models. As Brit Barton points out, the comprehensive look into Garner's progressive practice now provided by a series of exhibitions beginning in Munich was long overdue.
Pippa Garner's oversized photographs were presented unframed, held up by a clever magnetic system that allows objects to go unpunctured and without looking too pristine. Their placement and humble display in Garner's first European solo survey exhibition, "Act Like You Know Me," at the Kunstverein München, vaguely mimicked a tidied-up artist's studio, moments before an important guest arrives. The selection and the sensitive arrangement of the 25 works from the late 1960s to early 2000s indicated that this was only a fraction – that there are probably thousands of other scans and photographs on a hard drive somewhere else, waiting to be sorted through. Exhibited alongside the photographs, a muted, slick, and streamlined pedestal-table-sculpture recalled an aerodynamic automobile and existed almost as a shrine, supporting the many personal effects and out-loud radicalities of Pippa Garner's multivalent, multidimensional practice. The artist's objects, along with the wealth of other ephemera, publications, and inventions, speak to the poetics of liminality within her embrace of dichotomies: identity and gender, human versus machine, consumer and consumed, preservation and reinvention.
"You can't go back," Garner wrote in a 1995 text; "The finality is satisfying. I did it, I really did it." The "it" she recalls is her 1993 gender-affirming surgery in Belgium, completed after years of transitioning via black-market hormone medication in 1980s Los Angeles. Though the artist had many moments of adaptation. Born and raised in the Midwest, the suburbanite became progressively obsessed with technology and movement, having watched from an early age her father make his daily commute to Chicago. In one of the most striking photographs exhibited, Un(tit)led (Self-Portrait in Military Uniform) (1997), a vernacular-style snapshot of a stoic soldier on the front lawn of a house is portrayed. Here, a middle-aged Pippa mimics her youth and what prompted her initiation into photography. In 1966, while working at an auto assembly line in the Detroit area, Garner was drafted and flown to Vietnam at the age of 21 and took on the role of "combat artist" for 14 months – a comfortable position occupying the liminal role of an artist-witness to faithfully document air operations for strategic purposes. In Vietnam, she was exposed to Agent Orange, the effects of which she still suffers today.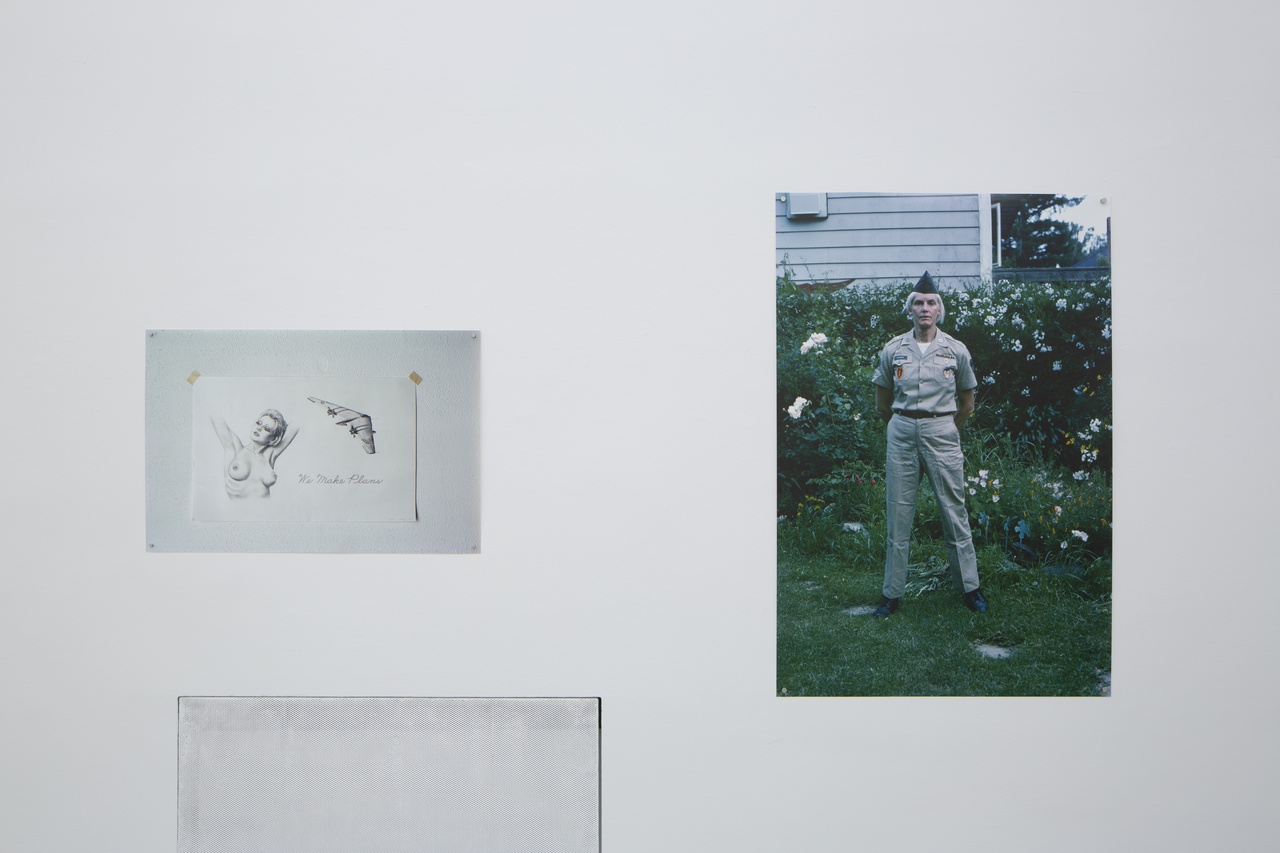 After returning from the war, Garner enrolled in the prestigious Automotive Design department at ArtCenter College of Design in Pasadena, California, but was expelled after submitting her year-end project in 1969. The incident proves to be a moment of dual metaphor for Garner's work, simultaneously launching an uncanny conceptual art practice outside of the institution and creating performative pieces with objects only to be lost to time. The photograph Un(tit)led (Man with Kar-Mann), circa 1969–72, embraces both head-on. In what could be staged but probably isn't, an older man in a suit and carrying a briefcase looks to the side staring at the mock-up of an auto design on the street, Garner's Karr-Man assignment. It's a classic 1960s-style silver and white sedan at the front and an accentuated male body from the waist down at the back. Moreover, one leg is lifted like a dog anticipating urination, or simply marking territory. Last seen sometime in the '70s, the original sculpture is gone but the photograph exists as a mischievous gesture against the prevailing sentiment of suburbia and urban sprawl, reveling in the critique of made-in-America machismo.
Other works in the exhibition touched on similar themes of the era's dysfunctional delusion of grandeur and capitalism, born out of a turbulent period when the US postwar economic boom was busted, the oil and Watergate crises of the 1970s were roaring, and the yuppie was inevitable. The cover image for the exhibition brochure, Neopop Businesswear (Half-Suit) (1980/81), shows the artist in a self-portrait, pictured in a suit and tie modified as a corporate crop top, on the move and holding a newspaper. The black-and-white photograph, wrapped in the pastiche of advertisement's glossy pictorial lexicon, is a touchpoint of the artist toying with the notions of proprietor, performer, and gender bender.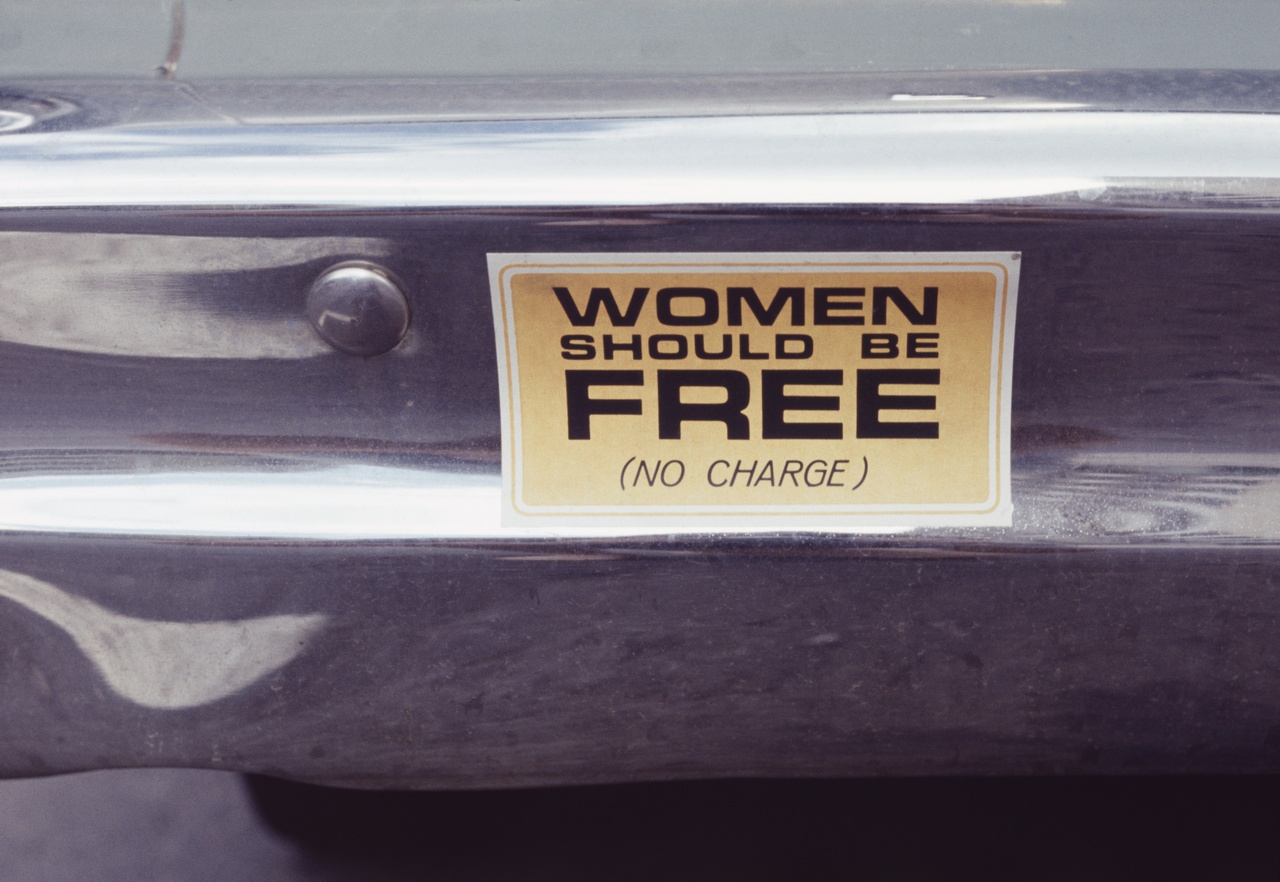 Throughout the 1980s, Garner worked extensively within the world of commercial photography for various high-gloss magazines and published several books, including Pippa Garner's Better Living Catalog (1982). The same year she would appear on the Tonight Show with Johnny Carson. Dawning the half-suit, Garner went on to showcase several zany do-it-yourself contraptions that mock America's simultaneous obsession with convenience and need for the new and improved but not necessarily adventurous. It's hard to tell if the audience, egged on by the sardonic Carson, is laughing with or at Pippa.
Then, as now, those who are in with Garner's jokes are undoubtedly convinced. The highlight of "Act Like You Know Me," were archival works and documentation of Backwards Car (Golden Gate Bridge 1) (1974) both as a feat of engineering and as an incredible performance art happening. Garner, facilitated by GQ magazine, reconfigured a used Chevy sedan to appear as if driving against traffic while literally moving forward. It's absolutely maniacal and yet such a perfect manifestation of critiquing US auto and expansionist culture, all while having a men's popular magazine pay for it. Simultaneous to the deadpan conceptualism of California at the time, Garner's outsider status – as both a commercial photographer and trans woman – cemented a certain niche that gave way to queer aesthetics of camp by reevaluating masculine symbolism.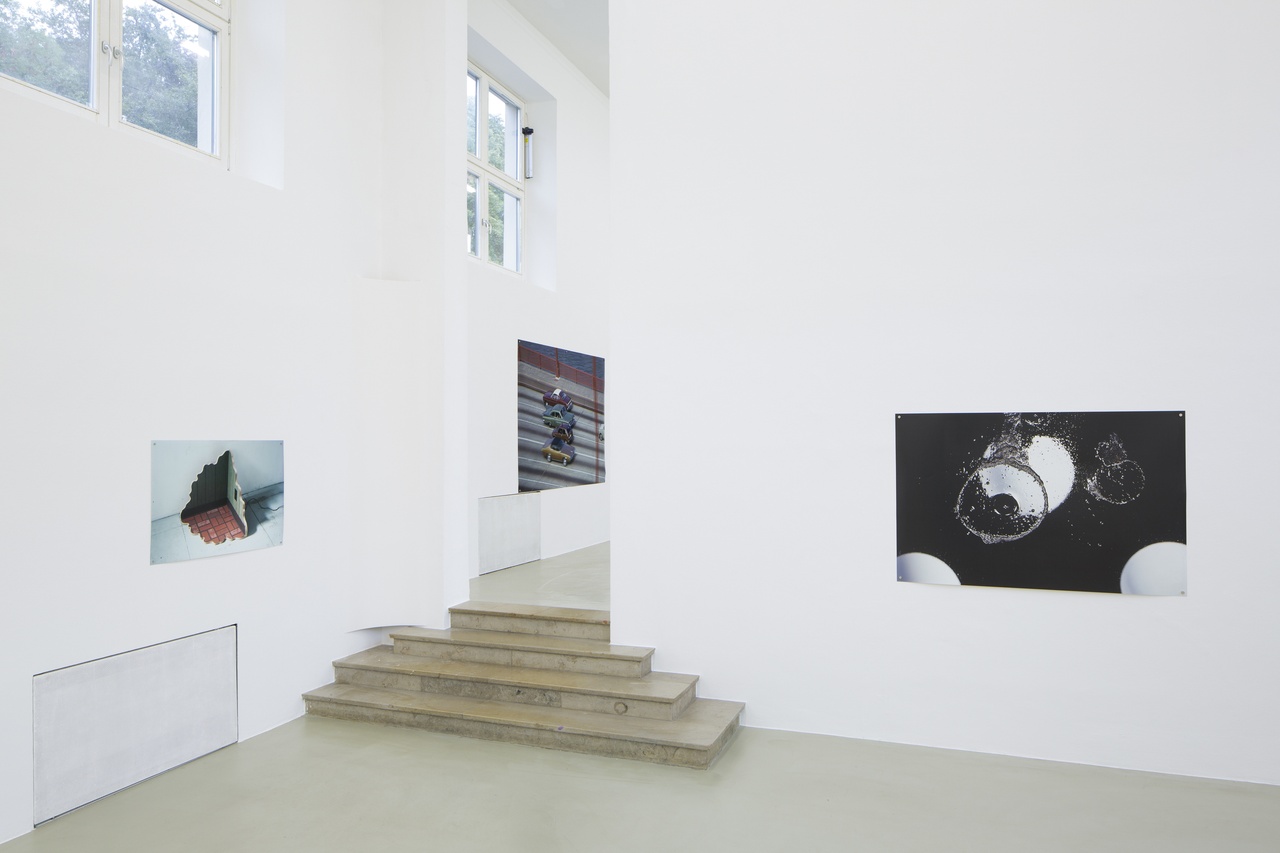 There are tender moments of the exhibition that may be considered more as quiet works that contemplate the spatial poetics around architecture, including façades and straight edges. In Un(tit)led (Room Corner) (circa 1986–88), a faux room corner is placed in the center of the photograph, showing a room's edge where very retro-looking green vinyl walls and a ceramic stone floor meet. The curved perimeter mimics a puzzle piece but is uniform in its grooves, a strong contrast to the institutionally precise white floor and white wall it is placed in. Its installation was a subtle and thoughtful nod to the Kunstverein's curved edges within the exhibition hall, a curious part of the storied and elegant space stained by its historical association with the "Degenerate Art" exhibition.
Among the displayed archival pieces, a short and undated proposed book synopsis for the never-made publication Beauty 2000 is attributed to Garner. It promises "A new century guide to personal image management; featuring millennium make-overs, treatments of tomorrow, futuristic fashions and cosmic cosmetics." In some way, the modest note is a riff on the others next to it, another work in progress and behind-the-scenes notations, ideas of something to fabricate in anticipation of the anxiety of tomorrow. Although starting off in Munich, the exhibition continues with varied archival iterations and curatorial teams this spring in Zurich and Metz, begging the question of audience and institutionalisms all over again. Continuing Garner's aspiration to unabashedly command a space while working with and against conformist intentions or patriarchal norms, the exhibition will be reconfigured to evolve with each new iteration. As such, "Act Like You Know Me," is a witty but wicked reminder that sometimes what we need to know was kept from us, was unpublished or unexhibited for far too long.
"Pippa Garner: Act Like You Know Me," at the Kunstverein München, Munich, September 24–November 13, 2022, will travel to Kunsthalle Zürich, where it will be on view from February 4–May 14, 2023, as well as to 49 Nord 6 Est – Frac Lorraine in Metz, from February17–August 20, 2023.
Brit Barton is an artist based in Zurich and Chicago.
Image credit: 1., 2. and 4. photo Constanza Meléndez; all images courtesy of the artist and STARS Gallery