PUTTING IN THE WORK
By Dana Kopel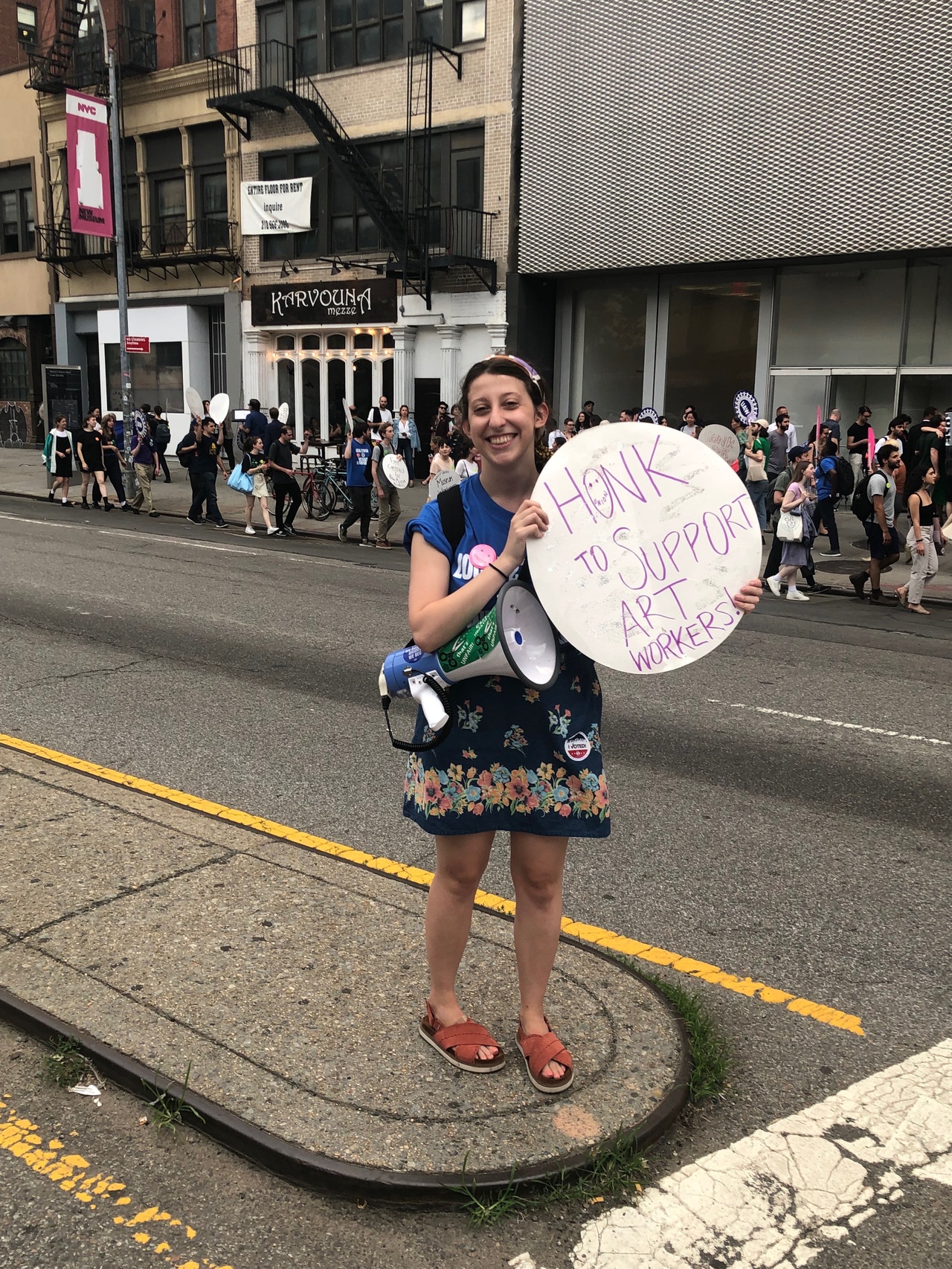 In 2019, employees in museums and cultural institutions across the United States began unionizing in order to secure fair, livable wages and basic labor protections that often aren't already in place. The wave of organizing has continued amid the pandemic – which has only exacerbated precarious labor conditions and underscored the importance of unions – and it took on new urgency as the Black Lives Matter movement again exposed the racial inequity in museums. Writer and union organizer Dana Kopel reports here on the recent developments, arguing that the changes being pushed for in art institutions are intrinsically connected to larger processes and global injustices.
The Black-led uprisings this past summer in response to the murders of George Floyd, Breonna Taylor, and others by police gave rise to a lot of beautiful things: enormous protests against policing and white supremacy, precincts set on fire, new experiments in collectivity. In the art world, the uprisings made antiracist organizing within cultural institutions more visible and more intense. Pre-pandemic efforts — notably, that of Chaédria LaBouvier, who publicized her experience of systemic racism and retaliation as the Guggenheim Museum's first Black curator in 2018 — made this organizing possible. Institution-specific Instagram accounts, many of them privately citing LaBouvier as an influence, sprung up to share anonymous stories of workplace racism, discrimination, and abuse. The account @changethemuseum formed to do the same for museum workers across the United States, presenting individual narratives in screenshots of text from the iPhone notes app. Many of their posts detail egregiously racist behavior from museum executives or board members, who are never held accountable; others recount more general descriptions of a toxic workplace.
These social media initiatives mobilize both shock and relatability to build outrage at a deeply unjust art industry, offering a rare, necessary outlet for art workers to share all-too-common experiences of discrimination and exploitation by museum leadership. In doing so, and with varying degrees of efficacy, they reveal the power as well as the limits of digital organizing in the art world. Current and former workers at the Museum of Contemporary Art Chicago, for instance, formed MCAccountable in mid-June 2020, using their Instagram account to share a public letter to MCA leadership pushing back against the museum's unsafe reopening plans and its "performative allyship" in response to calls for racial justice. When MCA management laid off 41 employees at the start of 2021, MCAccountable was able to quickly form a relief fund that raised nearly $25,000 for the laid-off workers in a few weeks.
In fall 2020, Change the Museum used social media to initiate a month-long boycott under the hashtag #NoMuseumOctober, hoping to pressure museums to institute meaningful diversity initiatives and hazard pay for workers forced to come in during the pandemic. Their post announcing the boycott immediately received a barrage of critical comments from all angles: boycotts hurt museum employees, only corporations should be boycotted, boycotted museums will be forced to close, museum visitors (not museum employees) will be the ones to effect real change. While some of these criticisms reflect the long history of anti-unionism in the United States, the overall response to #NoMuseumOctober points to the difficulty of organizing that relies primarily on social media, which, as writer and organizer Alex V. Green has pointed out (on Twitter, no less), "is literally designed to incentivize individual personal brands and adopt moralistic, defensive/offensive engagement with an audience."
This also comes on the heels of a wave of union organizing in US art institutions, one that arguably started at the New Museum in New York in early 2019 – where workers, myself among them, voted to unionize with UAW Local 2110 despite management's hostile and well-resourced anti-union campaign – but has since spread across the country, from the Museum of Contemporary Art Los Angeles (AFSCME District Council 36) to the Philadelphia Museum of Art (AFSCME District Council 47), the Milwaukee Art Museum (IAMAW District 10) to the Museum of Fine Arts Boston (another UAW Local 2110 shop). Labor organizing extends beyond unions and can take many forms, but organizing in the art world – or anywhere, for that matter – is bound to hit a wall when its primary mechanism is making unethical behavior visible; inevitably, then, organizers rely on some higher, more ethical power to hold institutions and stakeholders accountable for the wrongdoing their campaign has revealed. Shifting public opinion – public shaming – is a tool, and sometimes an important one. But it's not in itself a strategy. There is no higher power to turn to for justice. We, the workers, have to make that justice ourselves.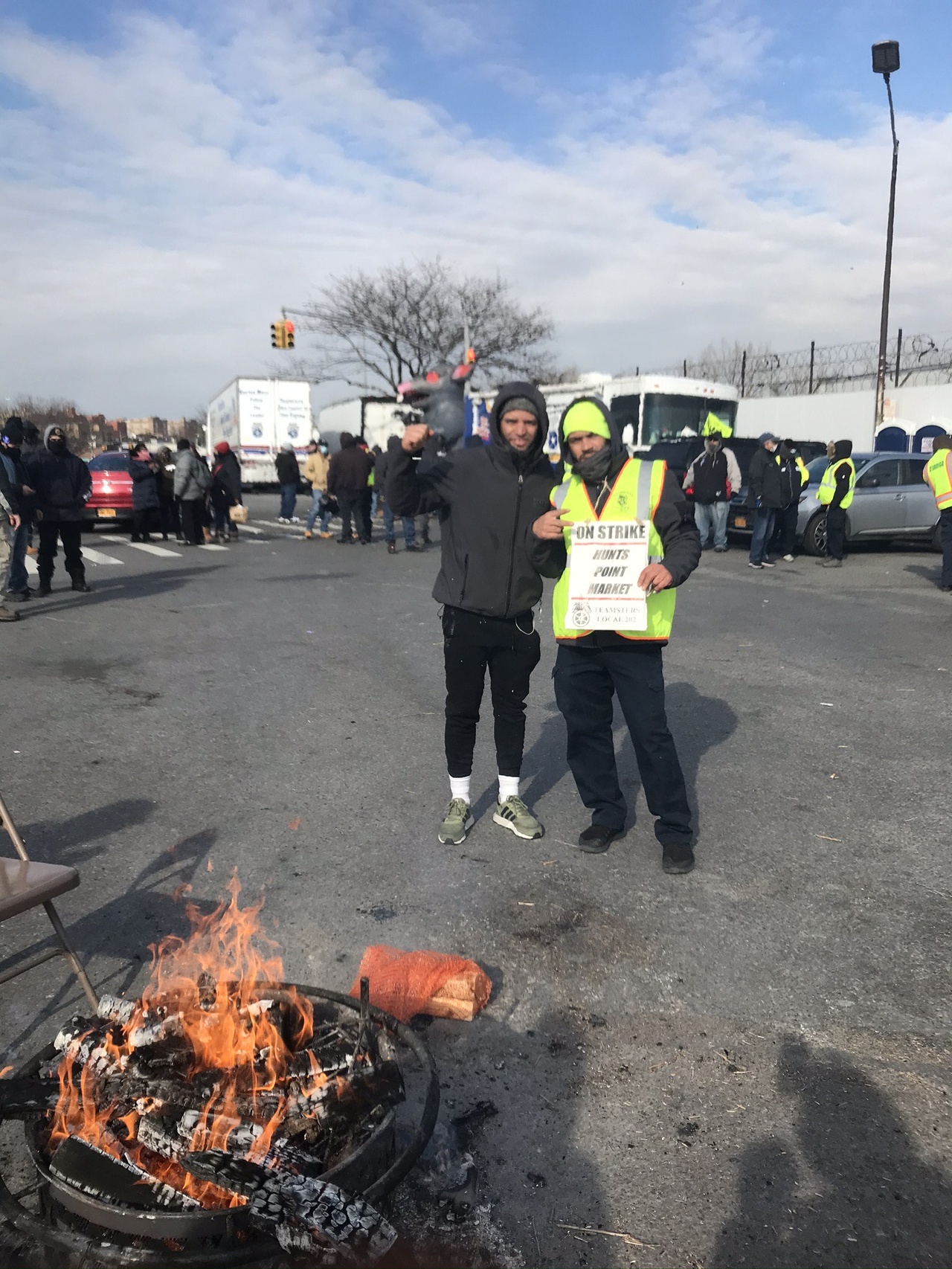 Clearly, it's been a significant couple years for labor in the art world. I've been excited by the renewed circulation of the term "art workers," which was first popularized in the late 1960s and early '70s, when the Art Workers' Coalition formed to pressure art institutions to make political and economic changes, and when museum workers first unionized at the Museum of Modern Art in New York and the San Francisco Museum of Modern Art. But this past year has been huge for labor in general, with the onset of the pandemic further exposing the brutal contradiction of labor under capitalism: lawn signs offer thanks to "essential workers" who are underpaid, overworked, and now left to die by their employers. Thousands of gig workers for the grocery delivery service Instacart, who are not unionized, went on strike last March to demand safety precautions and hazard pay; just weeks ago, workers at Hunts Point Market in the Bronx – one of New York City's main hubs for fresh produce – held a week-long strike that won them major pay increases from a notoriously hostile employer; Chicago public school teachers just prepared to strike in response to the city's unsafe reopening plans and will now vote on a tentative agreement; as I write this, ballots are being sent out to Amazon warehouse workers in Bessemer, Alabama, for their historic union election.
When we formed our union at the New Museum, one dismissive manager claimed that "unions are for coal miners." But anyone who sells their labor deserves a say in their working conditions, whether they pack and ship vegetables or artworks. The point of the term "art workers" is that it positions those whose labor maintains the cultural industries as workers – not some special category or class of workers, but ones who share class interests and solidarity with workers in the Bronx, in Bessemer, and around the world. It's crucial not to lose sight of this, because there is no art world separate from the rest of the world, and the changes being pushed for in art institutions – equitable compensation, an end to white supremacy, giving all workers a say in the conditions of their labor – are intrinsically connected to larger processes and global injustices. If we focus too narrowly on changing the art world, our wins will be partial, temporary, and coopted by institutions that continue to cause harm.
Worker exploitation in art institutions is hardly exceptional, as accounts like Change the Museum make clear. Indeed, these institutions originated as repositories for colonial plunder and remain fundamentally structured – as Susan Cahan and many others have argued – by cruel stratifications of race and class. In a review of Cahan's 2016 book Mounting Frustration: The Art Museum in the Age of Black Power, Eunsong Kim traces the shift from museums of the 1960s and '70s, which constituted "a realm of exception from social and political change … for various gatekeepers, politicians, and corporate managers," to the contemporary – neoliberal – art museum, in which leadership "no longer felt as though they needed to do the work of abolishing structural segregation and racism in the museum world, as the work would fall onto the shoulders of one or two people of color in the 'community outreach' or 'diversity' departments […] with little to no ability to affect structural changes." The work on view gets updated, representing more diverse perspectives, while the segregated structure of the museum remains intact. [1] As the pandemic rages, these structural fault lines become ever more apparent: the "essential" employees forced to come into work as art institutions reopen – risking their health and their lives – work mainly in security, maintenance, visitor services, and installation, departments that tend to represent the lowest paid staff and the majority of workers of color in museums.
The anti-racist organizing and call-outs that swept the art world during this past spring and summer's uprisings have offered a way for art workers not only to speak out against abuses of power but also to find mutual understanding and, hopefully, solidarity. Without that solidarity, without also building real power among art workers, though, I'm afraid that what we'll be left with is more museum hypocrisy – more public apologies from executives with ballooning salaries, more ostensibly radical artwork plastered over the ongoing racist (and ableist and transphobic) mistreatment of underpaid museum and gallery workers, more exhibitions about the violence of incarceration (as with "Marking Time," currently on view at MoMA PS1) funded by prison profiteers like Larry Fink and war criminal CEOs like Leon Black, both of whom remain on MoMA's board of trustees despite ongoing organizing by art workers and activist groups to remove them. These contradictions are the museum: as Decolonize This Place put it recently, it's "the same shit making news over and over. [...] Another institution, another oligarch artwashing their death-dealing profits." Can that just be changed? Labor organizing in the art world is critical, but so is acknowledging that there will never be a "good" museum under racial capitalism. We have to imagine other structures, ones that foster solidarity rather than use it as a buzzword, an apologia for expropriation. Why cling to the museum when we could start anew, toward justice?
Dana Kopel is a writer and the former senior editor and publications coordinator at the New Museum, where she helped organize the New Museum Union-UAW Local 2110. She now works as a union organizer with OPEIU Local 153 in New York.
Image credit: Dana Kopel