On Our Streets, in Our Blocks, Down with Cops
by Cornelia Herfurtner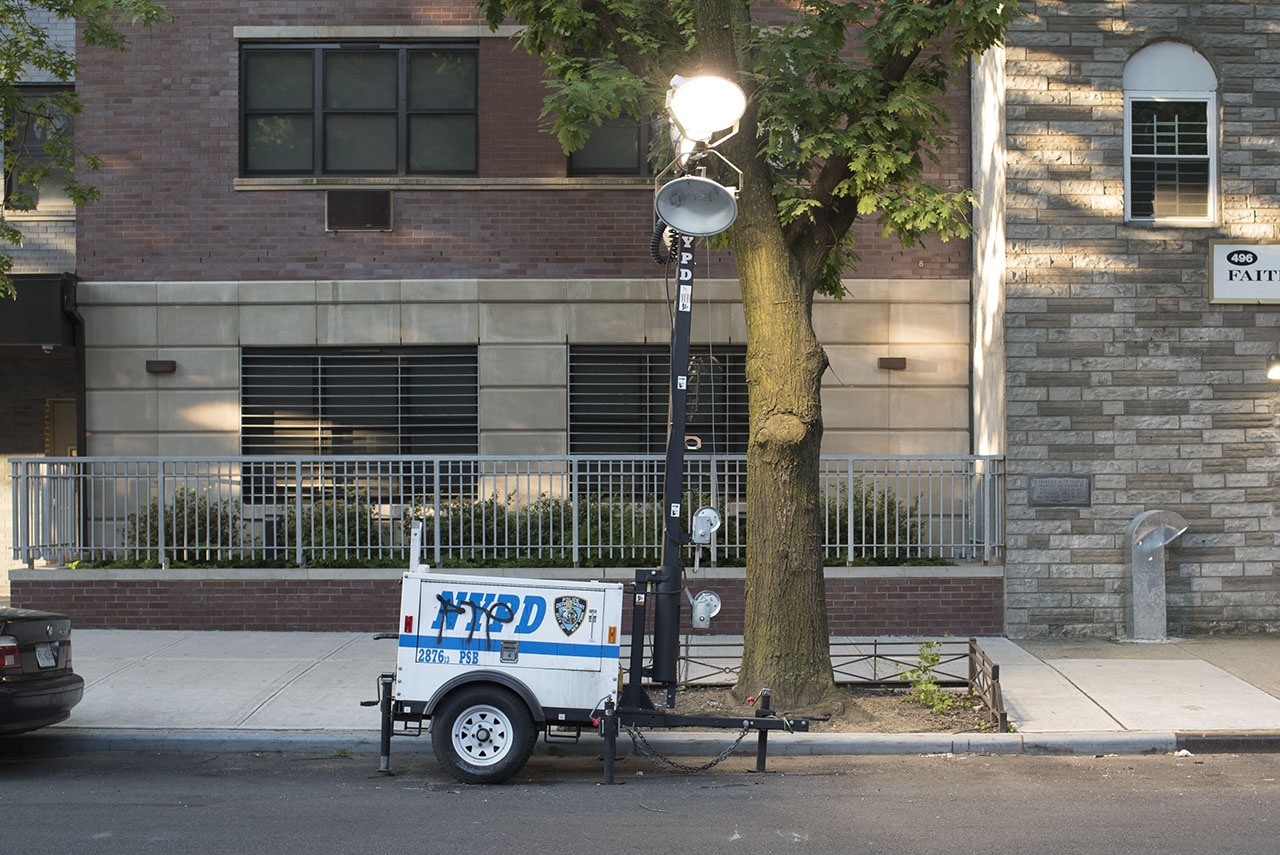 "A friend and I try to do a jail support shift and fail. We drive through cop-occupied Manhattan for two hours without being able to find our contact person, and the phone fails us. The town is full of cops and fences. It is difficult to move." In the 13th contribution to our column "Notes from Quarantine," artist and activist Cornelia Herfurtner portrays the chronology of events amidst the protests after the public murder of George Floyd by a white policeman. It's the first of a series of other texts about Black Lives Matter that we will publish here in the coming weeks.
I write this text from my room in Ridgewood, Queens, on a hot day after two weeks of protests and protesting throughout the city of New York. As a white woman who is new to both the US and NYC, being on the streets and part of the protests against police terror and the murdering of Black, Brown and Indigenous people meant also trying to understand the social and political conditions that shape the protests. This text follows my movements through the city and the process of capturing the dimensions of injustice and deception.
Saturday, May 30th
I meet with a friend at an assembly and march in South Brooklyn. The assembly is crowded and it's difficult to understand what's said. Later, I learn that in NYC a demonstration doesn't need to be registered – unless any kind of sound amplification is used. That explains the 'wild' demonstrations that stop and pass through traffic, blocking motorways and bridges. As we approach Bedford Avenue, every cop car we pass gets beautified. The march is surveilled by helicopters. When we get kettled near a parking lot, one of the helicopters pretends to land within the crowd and causes a moment of panic. The helicopter flies so low that noise and wind become intolerable, with dust and stones hitting our faces. The next day I read that this is a maneuver used in war to disperse crowds. The cops have riot gear and batons, and some have their badge numbers covered. They seem tense and excited. The confrontation continues for several hours, filled by the chanting of the crowd. Two cops get pepper-sprayed and are escorted out of the crowd. The crowd cheers. One of the most popular chants of the protests that I am introduced to today is: "NYPD – Suck my dick." The cops seem to hate it. I cannot imagine it being co-opted.
Sunday, May 31st
I go to a demonstration in Manhattan and hear the new chant "Peaceful protest," which implies the act of distancing from so-called violent protests. Another chant that will be used regularly in the following week is "Hands up, don't shoot," which highlights the violence of the cops against protestors and unarmed Black people. The march is interrupted when the crowd takes a knee. We stop at City Hall and, after some speeches, people start to ask the cops to take a knee. I can't see them, but suddenly they seem to kneel and are cheered. It happens faster than I can think. Other protesters start to articulate disagreement – that the protests against police violence should not be co-opted as PR for the cops. The march continues to Brooklyn, but I stay in Manhattan. On every corner I encounter marches or gatherings and I witness the cops attacking people. They just run into crowds and hit people with batons. There's also airmail (things being thrown at cops), as numerous cop cars speed through the streets of Manhattan with sirens and blue light while fire trucks extinguish burning garbage cans. The mood among the protestors is animated and peaceful.
Monday, June 1st
Today is the first day of the curfew in NYC. A curfew has not been used here since 1943 when it was used to oppress protests of Black people against a white police officer having shot a Black soldier in Harlem. In the morning I'm in SoHo, looking at camera teams and professional photographers taking photos and videos of broken glass and empty storefronts of international (luxury) retail. These are the businesses that will be protected by the curfew tonight. Then I join a gathering at Times Square. The organizers are a group of young Black people, around 20 years of age. It's a 'wild' assembly without microphones, and they use rap and poetry to describe their experiences with racist police and capitalist American society. A young woman reads a text to her "unborn Black son" and the crowd lies down for a die-in among neon ads. I continue to a rent strike in Grand Army Plaza in Brooklyn, led by experienced Black organizers. The crowd interacts with the speeches: "That's right." "It's enough." "Shame." We sing together and the protest marches to Mayor de Blasio's private residence. As darkness falls, I am back in Manhattan where the situation is chaotic. Groups of young, mostly Black and Brown people flow around in groups, discuss, and smash shop windows. In NYC, police scanners are publicly accessible, with their data also posted through SM, so relatively accurate information on the cops' movement is available. Within seconds, the groups disperse on bikes and skateboards before the cops arrive to board up the broken windows with plywood once more. Around 10 p.m. I join a gathering at Foley Square, where the organizers are young, Black, and gender diverse. They speak about their ideas of a different society, from an America without cops to Black businesses in Black communities. A young man next to me voices his skepticism: "The suits hear us and they laugh at us. We have been peaceful for 400 years, they treat us like animals." A speaker replies: "To the brother down there, I hear you, I wanna talk to you... come up here."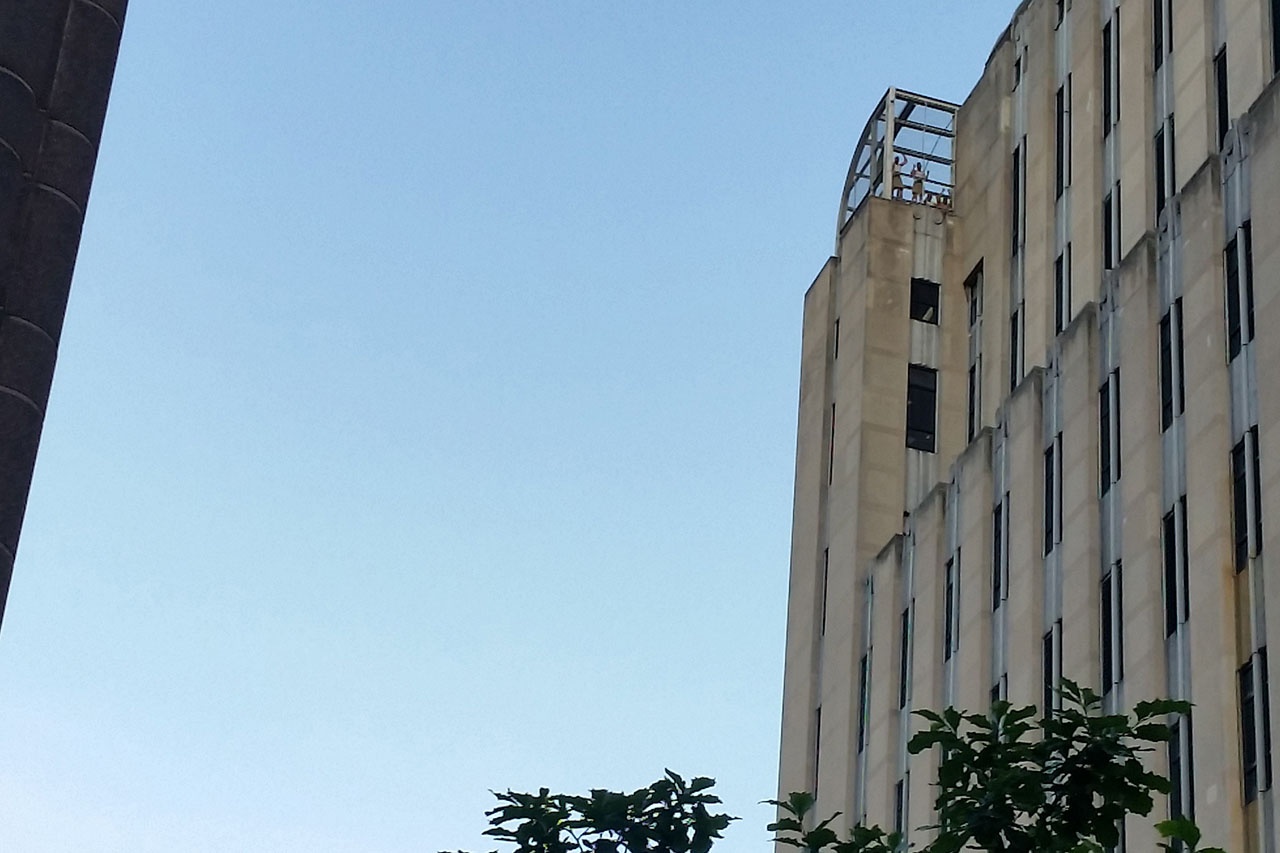 Tuesday, June 2nd
Today the curfew starts at 8 p.m. and south of 96th Street. That means that Harlem and the Bronx are not included in the curfew. Do the cops hope what they call looting will continue, but targeted against small and family-owned businesses? In the evening I join a small spontaneous demonstration in my neighborhood, where the dominant chant is "Fuck your curfew." People cheer from windows, and some young Black folks kick trash bins. We pass a police precinct that is guarded by far more cops than would fit in the building.
Wednesday, June 3rd
I'm on a huge march again, in Manhattan. Today is the first time I notice numerous people distributing water and snacks out of laundry carts or cars. Before today, they were mostly handing out sanitizer and masks. Every protester wears a mask, by the way. The cops usually do not. Today's distribution includes face shields, swimming goggles (against pepper spray), and earplugs (against LRADs [1] that the cops might start using). New chants today: "Redistribute the wealth! Redistribute the power!" and "We need a new system!" I leave at Trump Tower (which the cops hectically block with metal fences) and head to Gracie Mansion, the official residence of Mayor De Blasio. This assembly is all silent. The cops fence us in and start to push the fences into our backs. We protest. The cops say they need space for an ambulance, and locals disagree. Protesters want space to not infect each other with COVID-19. This is the most liberal assembly I have been to yet; signs encourage voting or advocate police reform. I leave at a quarter to nine. Manhattan is empty except the pig cars on every second corner. The Williamsburg Bridge is locked down. I have to stop to get through a checkpoint. Ten cops inform me that I will not be able to return to Manhattan this night. On the other side of the bridge, 80 cops block its base. I have to stop again.
Thursday, June 4th
A friend and I try to do a jail support shift and fail. We drive through cop-occupied Manhattan for two hours without being able to find our contact person, and the phone fails us. The town is full of cops and fences. It is difficult to move. On the same evening, at 8 p.m. on the dot, the FTP [2] march in the Bronx is violently attacked by cops: people are beaten up, hospitalized, or in jail. The curfew is used to justify the attack. I follow on SM when I get home. I also learn that Jamel Floyd, a Black man incarcerated at the Metropolitan Detention Center in Brooklyn, was pepper-sprayed in his cell and died. Another murder.
Friday, June 5th
In heavy rain I join a huge crowd that marches to the Metropolitan Detention Center. It's a massive building complex watched by heavily armed guards. Several people, among them the mother of Jamel Floyd, speak. Parts of the speech are repeated by human microphone, though I still understand very little. There is also an eerie sound, like silent clapping. I need a while to understand that these are the sounds of incarcerated people knocking on windows from the inside of their cells. For some reasons it is not possible to see them. The chants are "Free them all!" and "Shut it down." This is so bold – without compromise: the prison industrial complex is part of a system of racist oppression and must be abolished. I read earlier this year that in the US there are currently more Black men incarcerated than were enslaved in 1850. Felony also almost always suspends or takes away the right to vote and thus serves the continuation of racism and the status-quo. [3] Today, Manhattan's District Attorney announces that low-level offenses (for instance, unlawful assembly) will not be prosecuted, effectively undermining the curfew. Brooklyn's District Attorney will follow suit the next day.
Saturday, June 6th
In the afternoon I'm on a march from Fifth Avenue and 34th Street in Manhattan. People cheer from windows, and when we stop cars, the people in them cheer and honk. In the evening I join another "Fuck your curfew" march starting from Washington Square Park. When I leave the march with two friends to find a spot to pee, we see an enormous succession of cop cars, transport trucks with bikes for the brutal bike units, and prison vans passing by in the direction of the march. We're wondering if marchers will be brutalized. Another friend later tells me that the march continued until 10 p.m. and was not interrupted. We walk through Manhattan and meet a white local who is stressed out about the siege, with cops everywhere and the noise of helicopters circling non-stop in the sky. I think she blames this more on the protesters than on the cops. We also meet an activist from NYC Shut It Down [4] who draws my attention to the connection between policy decisions and the work of New York's largest police union, the Police Benevolent Association. The head of the PBA, Pat Lynch, represents law and order, rehires cops that get fired over brutality, makes sure that cops don't lose their pensions if fired for misconduct, and defends 50a, a statute that prevents the public from accessing the disciplinary records of any cop. It will be necessary to attack both the PBA and 50a to restrict – or dismantle – the NYPD. "It's a marathon, but people treat it like a sprint," the activist says. Later, we sit on Cooper Square when a cop car pulls up and announces to us through its PA system that we are not allowed to be outside.
Sunday, June 7th
The curfew ends. I go to a demonstration at McCarren Park in Brooklyn. The protest is organized by a group of around thirty Black people. We start with singing "Freedom Side" [5] and "Rich Man's House" [6] and then change a famous blues song to "Hit the road, cop, and don't you come back no more." The diverse crowd is instructed to speak out the words of Assata Shakur, former member of the Black Liberation Army:
"It is our duty to fight for our freedom. It is our duty to win. We must love each other and support each other. We have nothing to lose but our chains." [7]
The group comes together. It is very beautiful, and I feel strong. The organizers ask not to chant "Peaceful protest" on the march as it delegitimizes protest. Under the Williamsburg Bridge we pass some cops; two white women close to me confront them: "Take the knee, you piece of shit." There is a discrepancy between their anger and the liberal demand to symbolically take a knee.
Monday, June 8th
This is my first day off protest, and NYC starts to reopen its economy. I think the protests will continue. The Minneapolis City Council has voted to abolish the police.
Tuesday, June 9th
50a is repealed. I go to a gathering at City Hall organized by the families of Delrawn Small, Shantel Davis, Sean Bell, Anthony Baez, Kawaski Trawick, Ramarley Graham, Kimani Gray, Noel Polanco, Jayson Tirado, Antonio Williams, Eric Garner, Mohamed Bah, Saheed Vassell, Carlos Lopez Jr., Akai Gurley, Amadou Diallo, Kadeem Torres, and Clifford Glover. They were killed by the NYPD. Their relatives, in many cases their mothers, give accounts of their deaths. Helicopters surveil the assembly; their noise makes it difficult to hear what is being said. After two hours we start marching north and pass the Manhattan Detention Complex. A group of incarcerated people are in some sort of cage on the roof of the building. They start waving and jump up and down. The march stops, we look up and chant: "Free them all!" "Abolition Now."
Cornelia Herfurtner is an artist and active in the Interventionistische Linke. As an artist she works under her given name as well as in the artist group Michelle Volta and the bookshop and publishing house b_books.
Notes
| | |
| --- | --- |
| [2] | FTP (Fuck the Police) is a Black- and Brown-led coalition that started to take action against the criminalization of fare evasion and intensified policing of public transport in NYC. |
| | |
| --- | --- |
| [3] | Angela Davis, Are Prisons Obsolete? (New York: Seven Stories Press, 2003). |
| | |
| --- | --- |
| [4] | NYC Shut It Down describes itself as "a group of activists who came together after no justice was served in the murders of Mike Brown and Eric Garner." www.nycshutitdown.org |
| | |
| --- | --- |
| [5] | "Which side are you on my people/which side are you on?/We're on the freedom side/Fannie Hamer was a freedom fighter/She taught us how to fight/Now we're gonna fight all day and night/Until we get it right/Ella Baker../Dolores Huerta../Harriet Tubman../Fred Hampton../Frederick Douglass.." |
| | |
| --- | --- |
| [6] | "Well I went down to the rich man's house/And I took back what he stole from me/I took back my dignity/Took back my humanity/Now it's under my feet (Where?)/Under my feet (Where?)/Under my feet (Where?)/Yea, it's under my feet/Ain't no system gonna walk all over me" For anyone that still wonders why looting is a means to attack the unjust social order. |
| | |
| --- | --- |
| [7] | Assata Shakur, Assata – An Autobiography (Chicago: Lawrence Hill Books, 1987) p. 52. |