ECONOMIES OF EMPIRE AND THE PRECARITY OF MOBILITY
Ashley Raghubir on Cosmo Whyte's "Section 2: Red, Green, Blue and Black" from his series "The Enigma of Arrival in 4 Sections"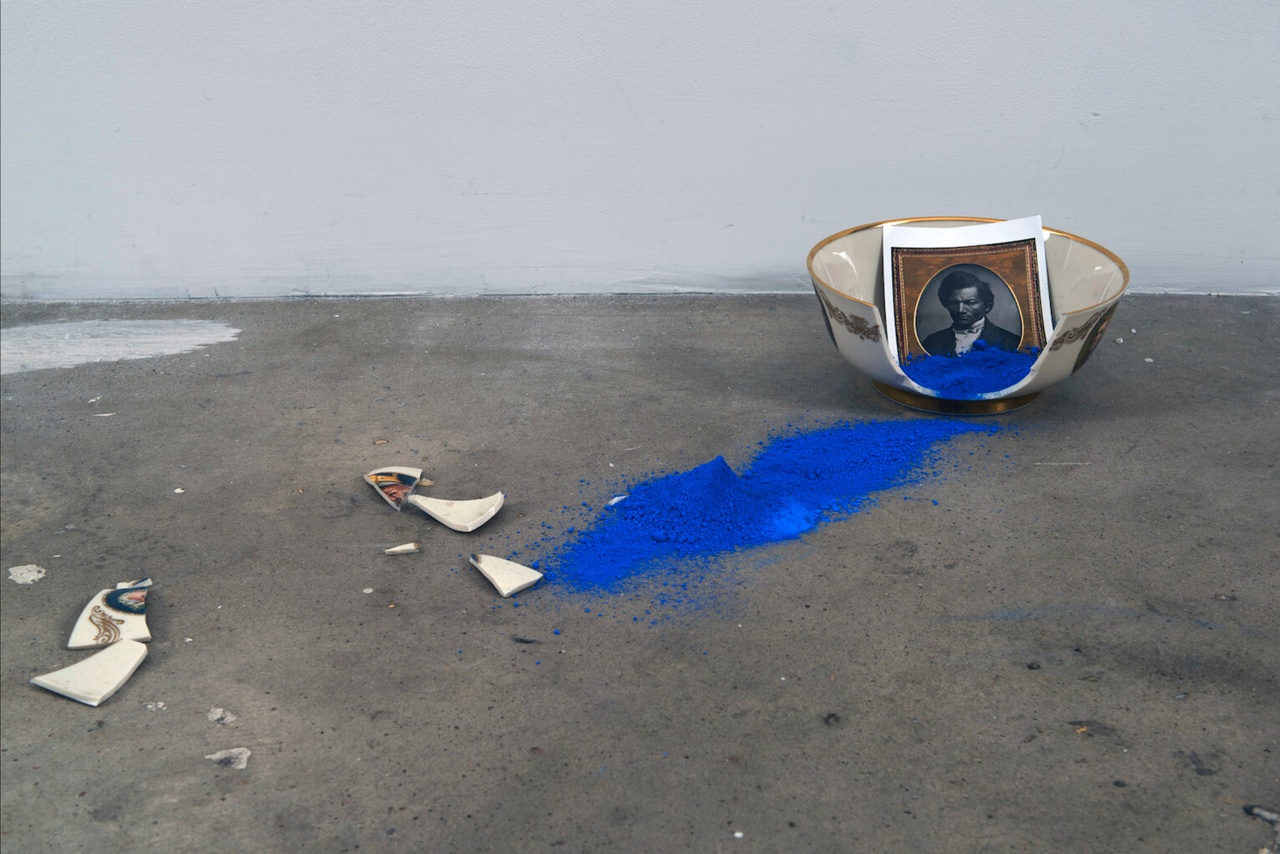 Artist Cosmo Whyte often works in series, combining different media to address themes of belonging and migration as they intersect with racialization and the nation-state. In the latest iteration of our biweekly column Current Attractions, which concludes our "Art History Update" theme, Ashley Raghubir engages with one part of Whyte's installation The Enigma of Arrival in 4 Sections. Raghubir discusses Whyte's work in relation to scholar Katherine McKittrick's intervention into prevailing methodological practices in North American Black studies scholarship that foreground descriptions of Black dehumanization and conflate past and present into a singular and linear temporality. For Raghubir, Whyte's work enables a consideration of what it means to attend to the specificities of our 21st-century present and to recognize centuries-long practices of rebellious living despite subjugation.
I have been thinking about and with contemporary interdisciplinary artist Cosmo Whyte's mixed-media installation The Enigma of Arrival in 4 Sections, specifically the work's second part, entitled Section 2: Red, Green, Blue and Black (2017). Whyte's work compels me to think about my own methodological tendencies, and an attempt to practice otherwise in my own art historical scholarship and art writing. I am inspired and productively challenged by Black geographies and Black studies scholar Katherine McKittrick's intervention into particular methods in Black studies scholarship that centralize the conflation of past and present into a singular, linear temporality as it relates to enslavement of African persons. [1]
McKittrick troubles this theorization – that the times of enslavement and our 21st-century present are the same – by asking us not to diminish the memory and transgenerational effects of enslavement but to also attend to today's differently formed racial capitalist subjugation and to recognize an ongoing insistence on fulsome Black personhood and practices of living then and now. Whyte's Section 2: Red, Green, Blue and Black does this work of responding to the particularity of historical and contemporary migration and mobility without conflating past and present into a singularity. Born in St. Andrew, Jamaica and currently based in Los Angeles, Whyte centers his artistic practice on questions of migration with particular attention to Blackness and specters of empire in Jamaica and the United States by drawing on his lived experience initially as a racialized immigrant and, now, as a US citizen. The implication is clear: the enigma of arrival is without easy resolution, if any at all.
Section 2: Red, Green, Blue and Black is comprised primarily of material and immaterial commodities – porcelain, indigo pigment, and gunpowder as well as the advertising of US citizenship and visas services – alongside an image of Black American abolitionist and statesman Frederick Douglass, but the installation refuses to merely replicate the racist and colonial construction of Black objecthood. In my reading, Whyte's Section 2 does this by way of its shattered porcelain bowl – a break that disrupts an easy flattening of past and present, historical and contemporary migrations, and of Blackness and commodity. A break that might ask us to also think about the long history of indigo production and trade in the Middle East and Asia, the centuries-long making and trade of Chinese porcelain, indenture in the Caribbean, US, and Africa, and the heterogeneity of racialized persons currently seeking US refuge and citizenship.
I have yet to experience Section 2: Red, Green, Blue and Black in person, and so I draw primarily on the work's documentation in the catalogue for Swiss curator Selene Wendt's group exhibition of contemporary art "The Sea Is History" (2019) at the Museum of Cultural History at the University of Oslo, a show which was titled and framed in relation to Saint Lucian poet and writer Derek Walcott's poem "The Sea Is History" (1978). In its installation in the exhibition, Whyte's work includes a black rectangular square mounted on the wall, upon which is affixed neon signage in blue, red, and green that reads "We Process VISAS & GREEN CARDS here." On the concrete floor, to the right of the sign, is a cracked white and gold-rimmed porcelain bowl decorated with painted color portraits of the US's so-called Founding Fathers. Positioned inside the vessel, and partially nestled in a bed of combined indigo blue pigment and gunpowder, sits a postcard with a black-and-white photographic portrait of Frederick Douglass. The bowl, with its connotations of a bourgeois household, is entwined with the circulation and exchange of goods and persons. The wealth generated by empire made possible the trade, consumption, and display of valued commodities in European and North American domestic spaces. Modern liberalism's formations of personhood, liberty, and citizenship were dependent on the violences of enslavement, indenture, and settler colonialism – a contradiction scholar Simon Gikandi calls "the co-existence of doctrines of freedom and domination" within the formation of Western modernity. [2] In Whyte's work, the indigo blue powder spills out of the bowl to densely pile on a small area of the floor, leading one's eyes to fragments of broken porcelain. There is a strong sense of the haptic: the tactility of the bowl's smooth surfaces, the sharp edges of its fragments, and the fine texture of the saturated blue. The beauty of the indigo pigment – and here I think Whyte is also referencing Western art history – obscures the trade and use of gunpowder. Importantly, I read not only a reference to the history of enslaved African indigo plantation labor in the Americas but also histories of rebellion, including the 1859–60 Indigo Revolt in India led by Bengal laborers against the British planter class. The entanglements of racial capitalism and empire permit a connection between disparate geographies and temporalities. Returning to McKittrick's intervention into method, this interconnectedness is not a sameness in time, place, or form. And, to foreground the description of subjugation in scholarship risks overlooking rebellion, fulsome personhood, and liberatory action.
I am drawn to the broken bowl: what it contains and cannot contain, the seemingly willful path forward forged by the indigo-gunpowder mixture, and what remains intact (the image and position of Douglass) over what has been destroyed (the integrity of the image of George Washington, the first president of the United States and slave holder). The bowl's shards range in size and appear in their disorder before the neon sign advertising access to citizenship. The precarity of migration and the barriers to belonging are suggested by the rupture, but the break could equally be understood as refusal and rebellion. As Wendt writes in her catalogue essay, Whyte destroyed the image of George Washington to make space for, and give primacy to, an image of Frederick Douglass. [3] In the 19th century, Douglass's image was extensively documented, highly reproduced, and widely circulated, as was his 1845 Narrative of the Life of Frederick Douglass. More than a representation in Whyte's installation, the image of Douglass in a vessel might be understood in terms of what art historian Marsha Meskimmon describes as an embodied subjectivity materialized "in and through a network of circulation and exchange." [4] Again, with McKittrick in mind, it is a methodological choice to attend both to formation as a dehumanized object within a racial hierarchy and, importantly, to the making and remaking of Black subjectivity in spite of the logics of racial capitalism and empire.
Whyte's Section 2: Red, Green, Blue and Black addresses the temporal and geographical entanglements of unfreedom and rebellion. In the placing together of the promise of American naturalization and the mobility of commodities, the artist brings into relation contemporary and historical migrations and racial capitalist economies. An intimacy is established between the corporeal economy – as represented by the image of the formerly enslaved Douglass – and the exchange of commodities that generated European and North American imperial wealth. An entanglement is also suggested between contemporary migration crises and the historical image of abolitionist Douglass; however, in my view, Whyte maintains the distinction between these different temporalities and formations as they pertain to citizenship.
Wendt notes that the title of Whyte's four-part installation references both the Trinidad-born writer V. S. Naipaul's novel The Enigma of Arrival: A Novel in Five Sections (1987), inspired by the author's personal migration from Trinidad to Britain in the mid-20th century, and the Italian surrealist painter Giorgio de Chirico's painting The Enigma of Arrival and the Afternoon (1912). [5] Naipaul's writing has been widely criticized for upholding European imperialism by perpetuating anti-Black racism, undermining Afro-Asian solidarity, and sustaining notions of racialized hierarchy. For this reason, Whyte's reference to Naipaul is likely one of critique rather than homage. Naipaul's novel The Enigma of Arrival has five sections and Whyte's installation has four, which recalls the artist's characterization of migrant subjectivities as ever changing and unresolved, or what he describes as "an unfinished arc of motion." [6] Whyte's The Enigma of Arrival has omitted the fifth, and concluding, section and in doing so complicates the notion of finality as it relates to migration and points to the fallacy of "post-" as it pertains to colonialism but does not suggest that appeals to citizenship then and now are the same.
Section 2: Red, Green, Blue and Black addresses the aftereffects of empire, the precarity of Black life in North America, and the uncertainty of knowing and holding onto home. However, the shattering of the porcelain bowl intervenes in a singular reading – this break compels us to think about insistence upon being, instead of only the violences of containment and networked exchange. To overlook this is, as McKittrick argues, to choose description of Black dehumanization over attending to rebellious practices of living. By way of conclusion, I refer to Stuart Hall's statement from a 1996 interview where he reflects on his immigration from Jamaica to Britain: "I know both places intimately, but I am not wholly of either place. And that's exactly the diasporic experience, far away enough to experience the sense of exile and loss, close enough to understand the enigma of an always-postponed 'arrival.'" [7] Whyte's The Enigma of Arrival attends to the complexity of interweaved migration histories and the ever-changing complex subjectivities of those who move without claims to resolution or singularity.
Ashley Raghubir is a Trinidadian Canadian art writer and PhD student in the Department of Art History at the University of Toronto. Her doctoral research considers the work of contemporary artists from the Caribbean and its diasporas with attention to artistic practices since the 21st century. Her art writing has been published in C Magazine and Momus.
Image credit: Courtesy of the artist
Notes
| | |
| --- | --- |
| [2] | Simon Gikandi, "Race and the Idea of the Aesthetic," Michigan Quarterly Review 40, no. 2 (Spring 2001): 324. |
| | |
| --- | --- |
| [3] | Selene Wendt, ed., The Sea Is History (Milan: Skira, 2019), 42. |
| | |
| --- | --- |
| [4] | Marsha Meskimmon, Contemporary Art and the Cosmopolitan Imagination (London: Routledge, 2010), 54. |
| | |
| --- | --- |
| [5] | Wendt, The Sea Is History, 38. |
| | |
| --- | --- |
| [7] | Stuart Hall, "The Formation of a Diasporic Intellectual: An Interview with Stuart Hall by Kuan-Hsing Chen," in Essential Essays, ed. David Morley, vol. 2, Identity and Diaspora (Durham, NC: Duke University Press, 2019), 192. |