I DON'T KNOW IF YOU'RE BREATHING BUT IT'S BEAUTIFUL
Rose Higham-Stainton on some experimental video footage from Just Above Midtown (JAM)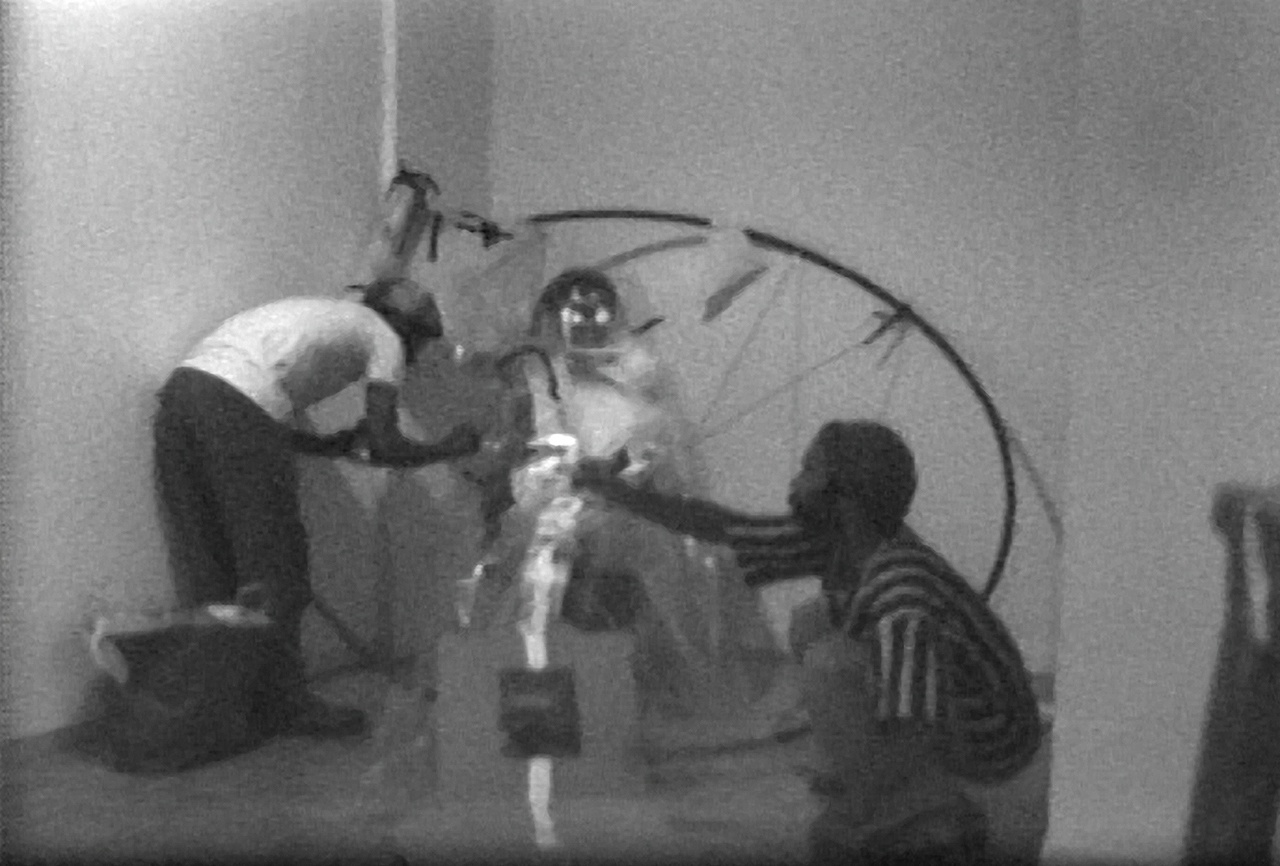 What cannot be neatly categorized is often given short shrift in art historical canonization. Thus it is all the more gratifying to see idiosyncratic projects receive institutional recognition despite, or precisely because of, their recusant character. In the newest iteration of our column Current Attractions, where authors from different disciplines discuss a cultural object or practice that relates thematically to our current issue ("Art History Update"), Rose Higham-Stainton reflects on a video that is currently on view at MoMA as part of the survey "Just Above Midtown: Changing Spaces." Occupying an intermediate position between archival material and artwork, the footage is exemplary for demonstrating the disruptive work of the iconic New York art space, which itself defied clearcut categorization.
The artist dresses the collector in layers of plastic and diaphanous material.

The collector is dressed by the artist in layers of plastic and diaphanous material.

He – the artist – rotates.

She – the collector – pivots.

Two other artists join him, moving in and out of the frame and the indeterminable gray of a videotape recorder, operated by a gallerist.

Long sheets of plastic and reams of paper are fashioned into a skirt, a sash, and corsage.

The artist, or this artist, moves around the collector with the deftness and theatricality of a draper.

"Do I step into it?" says Marquita Pool-Eckert from the corner of JAM – a gallery just above midtown, on 57th Street in New York, run by Linda Goode Bryant.

Artists Noah Jemison and Randy Williams are at Pool-Eckert's feet, helping her into something sheer – perhaps bubble wrap – the footage so out of focus that it is hard to tell. She laughs as it slips over a summer tea dress and espadrille sandals that lace up around her ankles.

"Do this now … Do this now. I want to see that yellow come through there," says Jemison with a smooth musicality to his voice.

In 1974, Goode Bryant, an arts educator set up JAM as a "laboratory" and gallery amidst the commercial gallery district flanked by Carnegie Hall, Central Park, and MoMA. Goode Bryant said of the 1976 exhibition "Statements Known and Statements New" that the point was to "present African-American artists on the same platform with other established artists,"

[1]

exhibiting the likes of Senga Nengudi, David Hammons, Howardena Pindell, Randy Williams, and Lorraine O'Grady. But JAM also functioned as part of a wider network of self-organized spaces in NYC in the late seventies and early eighties that galvanized around friendship, sociality, and community and were autonomous from institutions.

Like any good network of things, JAM was made of moving parts and refused to be tied down, operating first out of Midtown and then later the Meatpacking District, eventually closing its doors in SoHo in 1986 due to disagreements with its landlord and late-night noise complaints. Filmed by Goode Bryant in JAM's Midtown premises between 1974 and '79, video footage captured the artists David Hammons, Noah Jemison, and Randy Williams dressing the collector Marquita Pool-Eckert, who was closely affiliated with JAM.

As an artist-educator at the Met in New York, Williams had access to a half-inch videotape recorder, a device with then-new technology that Sony had donated to the museum. Williams borrowed the camcorder to self-document and record everyday life at the gallery and to conduct interviews, often collaborating with Goode Bryant and Hammons, demonstrating an informal assembly space that encouraged a continuous play with process, materials, and ideas rather than hard and fast art production.

Jemison and Williams fold sheets of white paper into striking geometric shapes and Jemison masterfully tucks them into Pool-Eckert's belt and collar, stands back, and says "Parisian."

Williams, who is tending to the outfit from behind Pool-Eckert unfurls an arm as if he were striking a pose.

"Do it, David. Do it. Do it, David," chants Jemison, from out of the frame, while Hammons curls his arms up and down, up and down, tentacular and casting crude shadows against the wall. "It feels good," he says.

"It's Randy's anniversary so we have to do something. Enumerate this, my brother," says Jemison, folding paper into flowers. "Oh it's the corsage for the lady, right? Gotta have it."

Soon Williams has draped a length of paper, supposably fax machine paper, over Pool-Eckert's shoulder, and it trails onto the floor.

Jemison laughs and shrieks with delight. "Classical. Isn't it? Look at this crane you got coming across the shoulder."

Hammons wraps masking tape around Pool-Eckert; the camera closes in on her shoulders and face, bespectacled, bemused, perhaps not wholly comfortable.

"You've gotta have some wings," says Jemison, slipping fanned paper into the heels of her sandals. "Turn around completely," he says, assuming the position of master, or at the very least, voiceover. "Isn't that nice, that nice."

And there is Pool-Eckert being both process and outcome, dressed in ephemera – paper, plastic – like some striking luxury. She is alone in front of the camera and at the center of the frame – constricted by its sharp edges and idolized by its focus. She stares off toward someone or something out of shot, her arms resolutely limp as if the staff-like trident pinned through the reams of paper and plastic were holding her in place.

In Homer's

The Odyssey

, the Sirens were merely mouths, a voice heard from the meadows, seducing passersby with "piercing songs."

[2]

"It is unclear," writes Emily Wilson – the first woman to translate it – "whether deceit is being presented as a naturally feminine mode of operation,"

[3]

but over time and at the hands of male translators, the voices have become figurative – given or burdened with a body and conceptualized into the picture of feminine allure.

Pool-Eckert appears, at first, to have all the marks of a masterpiece – or to be all the marks – compositionally sound, with a loud and brilliant master and the subservient assistance of other artists.

"Miss America" says Goode Bryant. "Right?" says Pool-Eckert, "I feel more like the Statue of Liberty somehow." "That's supposed to be a Barnett Newman Stripe," says Williams in reference to the revered painter's "zips."

"You're going to the ball, Cinderella," Jemison announces, pronouncing and mocking received ideas of whiteness and femininity and assuming the position of narrator as the story switches from Lady Liberty to Cinderella, The Invisible Man to American Gothic.

So that against this relentless roll call of cultural cues, we are forced to ask: Who gets to tell the story? Whose story gets told? Who is left outside the frame?

Here, Pool-Eckert is defined and redefined and ill-defined – being and then failing to be, by Western standards – moving in and out of the frame, and thus between pedestal and a position of abjection. What if this liminal space – and the margins of the frame – become generative, and even radical?

The composition, like the cultural roll call, is broken down by the film's improvisatory nature, the inconsequence of its ephemeral material, its animated conversation.

Williams hangs something from the staff of Pool-Eckert's costume and Jemison and Good Bryant yelp and clap; "That's a touch," Jemison says. And then, "she needs a hat."

"I don't like hats. But if I need one …" says Pool-Eckert, trailing off.

Hammons suddenly awakens – interjects – "The camera says: DON'T TALK BACK. The camera says: BE THERE."

At this point, the film's tongue-in-cheekness, its theater of abstraction, stutters and breaks down to expose the violent placement of women, particularly Black women, in Western culture.

"Don't be intimidated, overthinking shit," shouts Jemison, playing master again. Pool-Eckert throws something at him and drops the broom, which resonates against the hard edges of the space.

A large hoop is brought into shot, part of Jorge Luis Rodriguez's Circulo con cuatro esquinas (Circle with four corners, 1978), and placed over Pool-Eckert. The three men lay a sheet of plastic over her face and body and affix the hoop to the wall and the plastic to the hoop with a series of metal posts.

Pool-Eckert is captive – interpolated into somebody else's work; there is a discomfort in watching it that extends beyond the world and time of the room and the picture.

"Marquita, you're going to love this," someone says.

"I love what's happening in the triangle and square and the circle," says Goode Bryant; "Are you alright, Marquita?"

"I don't know if you're still breathing," the gallerist says to the collector inside of the artwork, "but it's beautiful."

Pool-Eckert is shrouded, trapped and demarcated, with two patches of white paint applied to the plastic over her eyes.

"Chase the spirit. You gotta get the spit out of it." Jemison says, entering the frame with some palo santo, lit on fire. "You can do it slow or just do it, any way you feel like it."

The collector – made into a masterpiece – shifts her leg slightly – it is barely visible – but the entire composition collapses to the floor with the clattering of steel and Jemison yelping in the background. The object of our attention emerges from the plastic membrane as Marquita Pool-Eckert.

In her essay "Choosing the Margin as a Space of Radical Openness," bell hooks talks about "when one transgresses, moves out of one's place," and how "for many of us, that movement requires pushing against oppressive boundaries set by race, sex, and class domination. Initially, then, it is a defiant political gesture."

[4]

As a woman, as a black woman, as a woman of economic means, and thus as a collector, Pool-Eckert was challenging those boundaries.

The video recording raises questions beyond the violence of cultural roll call, to the institution of the gallery, and the question of parts – or roles, or who gets to speak – is complicated by the particulars of an art world infrastructure.

"With physical movement often restricted," writes Legacy Russell in

Glitch Feminism

, "female-identifiying people, queer people, Black people invent ways to create space through rupture."

[5]

And as a Black woman, both friend and collector of many JAM artists, Pool-Eckert ruptures categories, exposing the limitations of institutional structures that in the mid-seventies rarely represented artists and collectors and gallerists of color.

Marquita Pool-Eckert was born in Illinois in 1945. Educated at Boston University and then Columbia, she went on to become an Emmy-winning public TV documentary producer. Around the time the footage was shot, Pool-Eckert was starting out with WABC-TV in New York, using her earnings to buy art. She would become a longstanding member of the New York Association of Black Journalists, the Women's Media Group, and the board of directors of New York Women in Film.

"I look at art and the first thing when I see something is I ask myself if I like it," says Pool-Eckert, in other footage from the same time frame – head to camera, casually leaning on a painter's ladder, Styrofoam coffee cup in hand. "To me, that's the most important thing. All the other things that most people consider are poor seconds."

I linger on these brief not poor seconds – minutes even – and on the indeterminable footage of Pool-Eckert being dressed – re-dressed and redressed again, which becomes a kind of double entendre. Her outline is so ill-defined that there appears to be no artwork to speak of – no definitive title, no author, and operates instead as supplementary footage in "Just Above Midtown: Changing Spaces," a survey of the gallery's work, which is currently on view at MoMA (until February 2023) and captures JAM's particular style and feeling toward art-making – disrupting the various hierarchies between artist, subject, collector, and gallerist through the warm sociality of the space and its concern with process over product.

Over the course of the film, Pool-Eckert ceases to be the muted object and transforms into the subject – or a subject – and speaks. "I think art can be a process. I mean, I think art can be a way of life," she says, pressing that coffee cup into her hand. "I think it's something to reach for, to strive for, to shoot for."
Rose Higham-Stainton writes criticism, essays, and experimental prose in a bid to further feminisms. Her work is published in The White Review, Art Monthly, LA Review of Books, Apollo, MAP Magazine, PIN—UP, The Skirt Chronicles, Worms Magazine, Passe-Avant, and Bricks from the Kiln and is held in the Women's Art Library at Goldsmiths College. She has published several chapbooks, including Herēma (Sticky Fingers Publishing) and Foam of the Daze (Bottlecap Press), and is currently working on a book about decentralization and art for the interdisciplinary publisher JOAN.
Image credit: Collection Linda Goode Bryant, New York
Notes
| | |
| --- | --- |
| [1] | As quoted in the press release of the exhibition "Just Above Midtown" at the Museum of Modern Art, New York, October 9 2022–February 18, 2023. |
| | |
| --- | --- |
| [2] | Homer, The Odyssey, trans. Emily Wilson (New York: Norton, 2018), book 12, line 38. |
| | |
| --- | --- |
| [3] | Emily Wilson, introduction to The Odyssey, by Homer, trans. Emily Wilson (New York: Norton, 2018), 45. |
| | |
| --- | --- |
| [5] | Legacy Russell, Glitch Feminism (London: Verso, 2020), 7. |